the feelgood organization
Home
up
Lose the fear, enjoy the freedom.
Yamaha Bike Tour Crisscrossing USA

The bon fire party was on the Friday night after my job ended. Friends came over and in the back yard we burnt a skateboard ramp and a few worthless bits of furniture left over from Dan Christianson's house on Lake Ponemah. It was end of March at about 25. The jeep was loaded for trip from Michigan to Los Angeles. Saturday morning the phone rang. It was before I was ready to get up. Some kid wanted to buy my jeep. I'd been trying to sell it for the past many months but gave up a few weeks ago. Speaking on autopilot, I told him it was great deal. "Come by and check it out. You'll like it!" He bought it that morning. Now I had a wad of cash in my hand and no transportation for my trip to Los Angeles. Some time before, a co-worker showed me a Yamaha Virago 750 in his garage. Like a lot of bikes in Michigan garages, he didn't ride it anymore, it looked clean, and it had only a couple thousand miles on the odometer. I gave him a call and bought his bike. Then I downsized my trip to the things I could take on my new bike; backpack, camping/fishing gear, and a few tools. The rest I boxed up and sent to my parents place in Los Angeles. My final night in Michigan was with Karla Froehlich at her new place in downtown Flint. Karla was my girl for the past three years and she had just moved out from here parent's house to a nice place downtown. After saying goodby, I headed south to visit my sister Annmarie in Austin, Texas. At the moment, the most important task was south. It was typical cool moist spring Michigan weather and riding was cold; even with full leather boots, jacket, and gloves. I also wore gortex over pants. However, when it's cool and damp outside, it doesn't matter what you wear on a motorbike traveling at 100 kmh. It's going to be cold. The first day I made it through Cincinnati, Ohio and on to the north side of Louisville, Kentucky. There were horse trailers everywhere and people were all excited about the Kentucky derby horse race. Since it was also raining the next morning, I was excited about heading further south to warmer climates. At Mammoth Cave National Park I picked up a Golden Eagle season pass for $25. This took care of admission fee to all national parks for the rest of the summer. Then I took a tour of the biggest cave. It is a huge cavern with far more color than the average cave. Next I passed through Nashville and Memphis, Tennessee. Near Little Rock, Arkansas I stopped at Hot Springs National Park. After the hot springs I stayed off the highway and stuck with secondary roads through Texas. It was warming up. I passed through places like Tyler, Palestine, and then followed state highway 79 into Round Rock. I called my sister Annmarie to let her know I would be coming by. Then I picked up a bunch of flowers and some beer before pulling up to her house.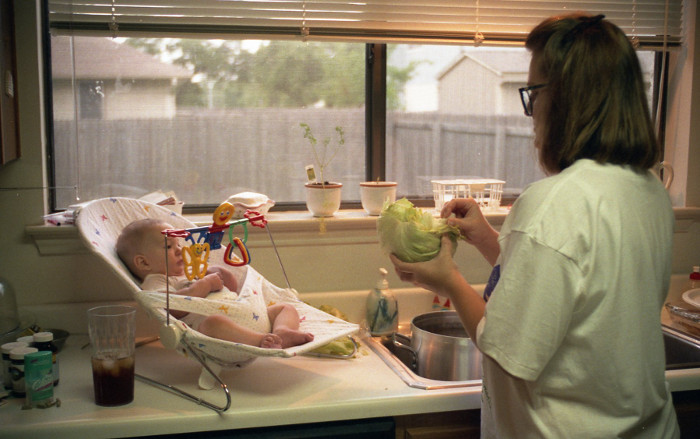 Annmarie was busy with little Lia and Casey (her children then 2 and less than 1 years old). Her husband Chip was mostly taking care of the children and Annmarie was building her first catering business cooking out of the home. She would make box lunches for businesses and her cleaning lady would come by in the afternoon to clean the kitchen. She later built this into Austin's largest corporate caterer and shared her advice in a book titled
Recipes from a Life: Essential Ingredients for your Business Success
. After spending a few days with Annmarie in Austin, I headed west to El Paso to visit my friend Mark Gresock. Towards the start of the trek I passed through Fredericksburg. West of town a local squall came up very suddenly. I was not aware enough to see it coming. One moment the conditions were fine and the next it was raining very hard, like full buckets falling, and the wind was very strong very gusty. Most of the cars driving along the road pulled over and waited for it to pass because they couldn't see the road. Unfortunately, the shoulder of this two lane road was clay/dirt and now very slippery mud. I could not pull off the road without slipping and dropping the bike in the mud. It was very difficult to see and gusty winds made riding a challenge; blown leaning heavily sideways one moment and then erect the next. I crept along in low gear. Eventually, I came upon a pull off as the storm passed. I pulled over to gather my nerves and rest. At the same time, the cars that had been able to pull over and stop during the squall, started their engines and resumed their drive. The sun was fine, it made way for a wicked storm for a few minutes, and then it was fine again. In El Paso, Mark Gresock rented a room in a nice house near the college. We went for a hike in the hills north of town searching for artifacts. Another day we walked down into Juarez to explore around a bit.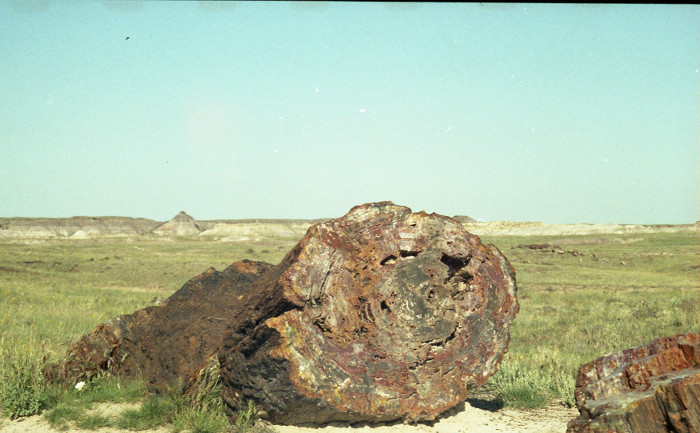 After spending a couple of days with Mark, I headed north along 180 to see Petrified National Park in Arizona. Next I headed off to Flagstaff and the south rim of the Grand Canyon. The weather was fine in Flagstaff but up at the rim of the canyon it was overcast and rainy. I toured around the south rim and camped just outside park in a pit near Tusayan. From the rim above, you can't see the bottom of the canyon very well. Hiking down to the bottom is best. The problem is it's a long hike to do in one day and you wouldn't have time to see much. So, I went to the ranger's office to get back country permit to learn people reserve back country permits to camp in the Grand Canyon years in advance. Along with 100 other people, I put myself on the waiting list. Every morning for the next many days, I went to the rangers office to wait in line and see who had forfeited their back country permit reservation. After about 5 days, I finally secured a three day permit to the campground at confluence of the Colorado River and Bright Angel Creek. The next morning I headed to Yaki Point and hiked the trail to the bottom of the canyon. The people who take donkey tours stay at a site right at the point where Bright Angel Creek dumps into the Colorado River. A few steps further up the Bright Angel valley is where the hiker campsites are. I set up my tent and filtered some water. They piped drinking water down to this area but the pipe wasn't working so my water filter was much appreciated by some of the other hikers. The Colorado River is very muddy and silty; Bright Angel Creek is clear.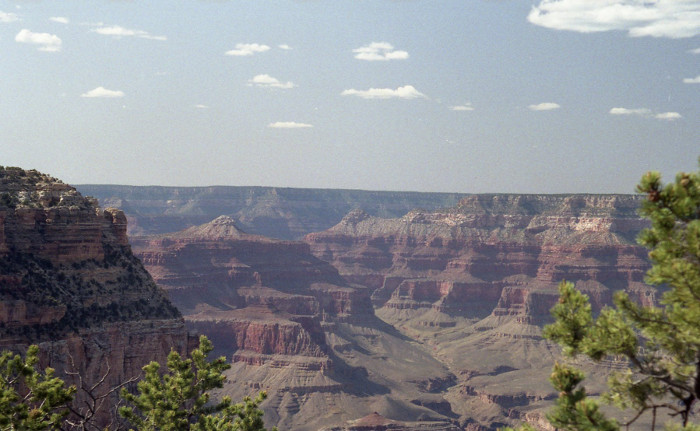 Next day I hiked up Bright Angel valley many miles. There were some water falls to the west. I stopped there for a bit to eat and then headed back to camp for the day. On the following morning I hiked back to the south rim along Pipe Creek and Garden Creek to the Bright Angel Trail head. It was cool and rainy the entire week I was on the south rim waiting for my back country permit. It was hot and sunny the entire time I was in the canyon. When I got up back to the rim, it was overcast, cool and wet again.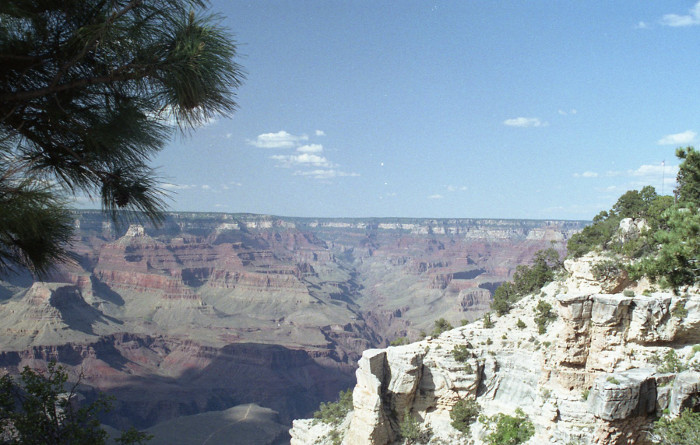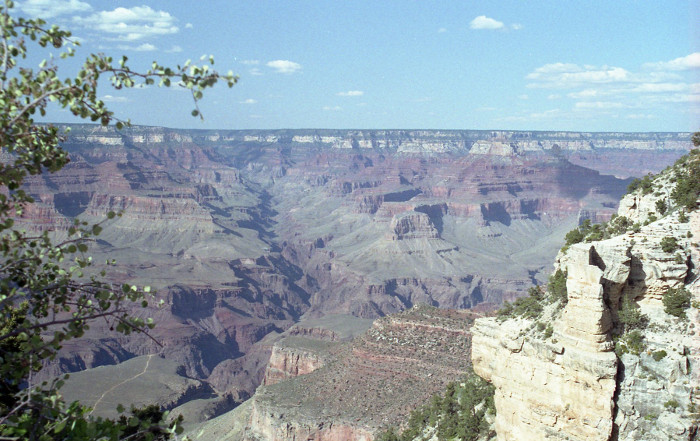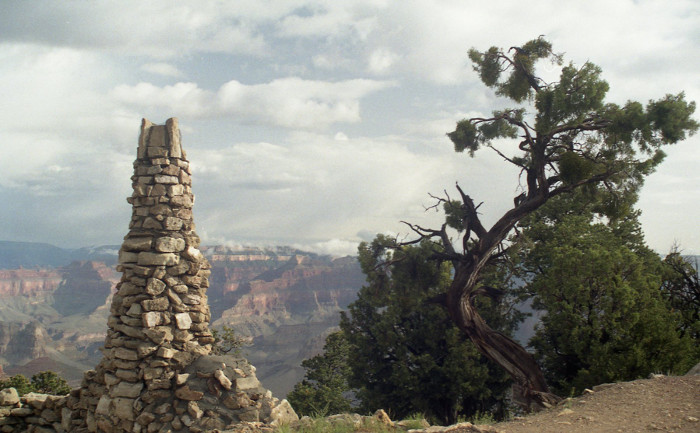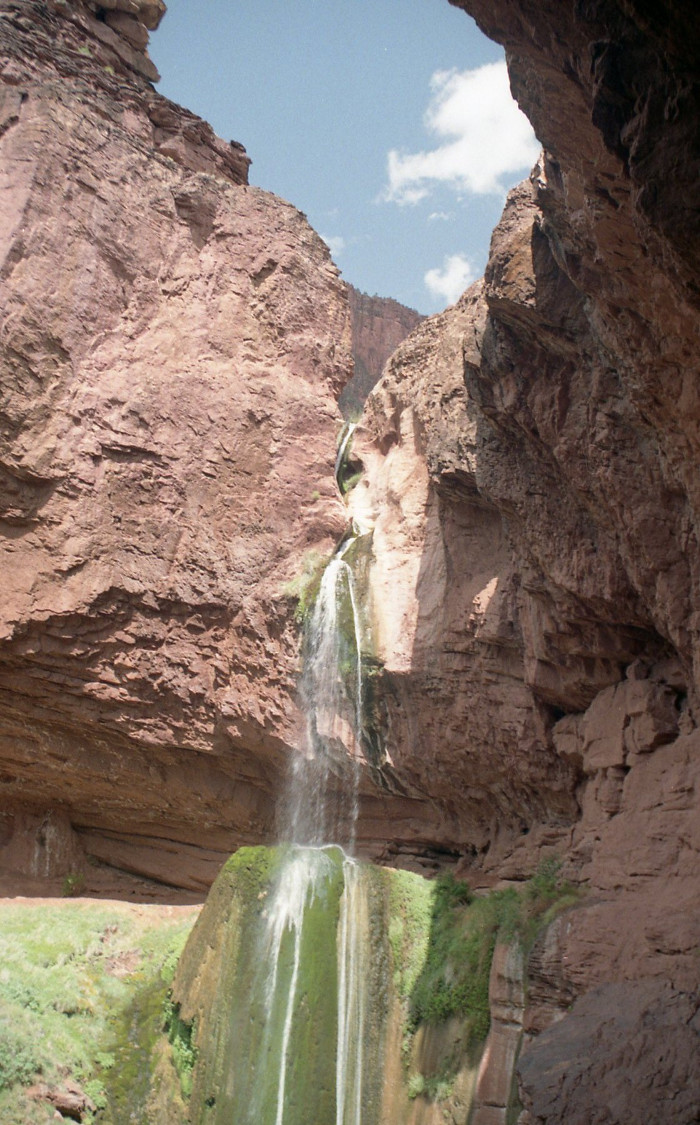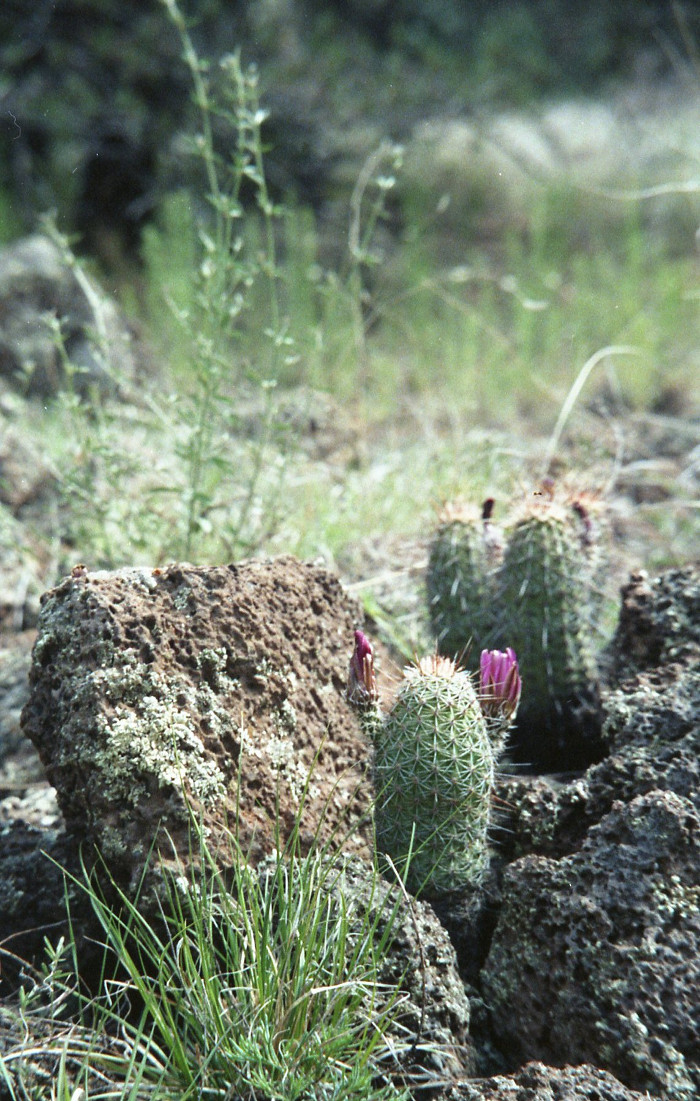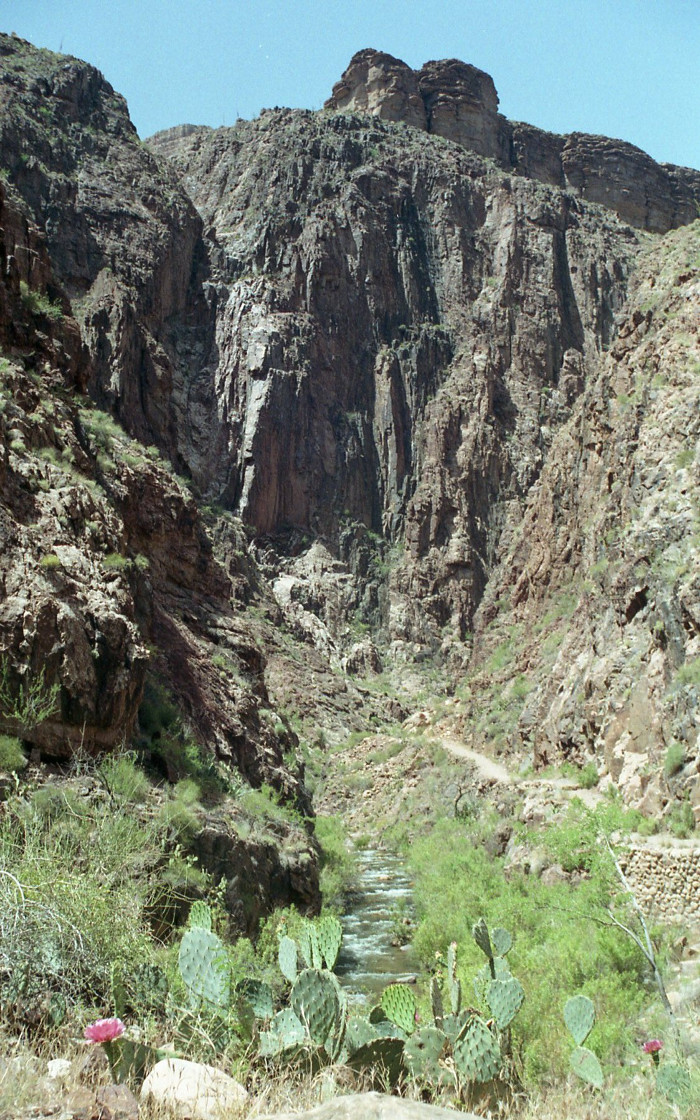 From the Grand Canyon, I headed along highway 160 into Colorado. One stop was at the four corners where the Utah, Colorado, New Mexico, and Arizona borders meet. There isn't much there beyond flat land, distant views, and more red dirt. My first night back in Colorado was in Mesa Verde National Park. After doing a bit of hiking on my own, I figured out that the best old cave dwellings are only seen with a tour so I took one.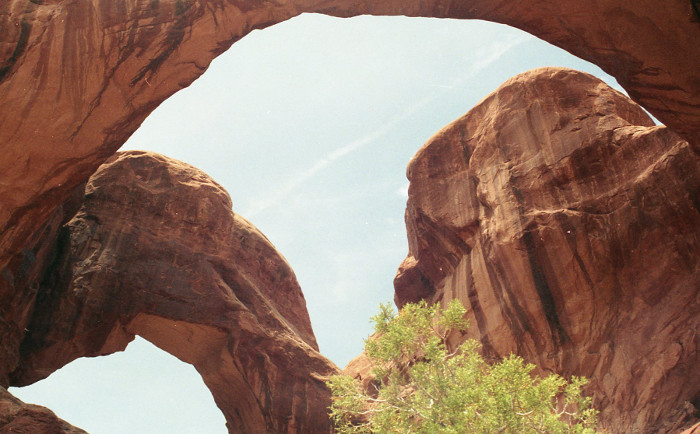 Next I rode north to Moab, Utah and into Arches National Park and picked up a back country permit to spend a night on a rock near the grand arch. A storm passed in the night with massive thunder, lightning and heavy rain. I thought I was going to be hit by lightning or washed off the rock with the downpour. I wasn't at the high point on this rock and there wasn't anywhere else better to go in this arid land so I just stayed in the tent. In the morning all was calm again. I never got hit by lightning and the tent I slept in never got washed away.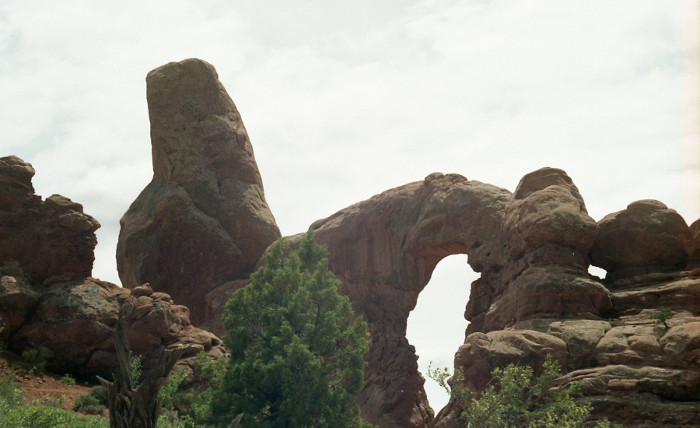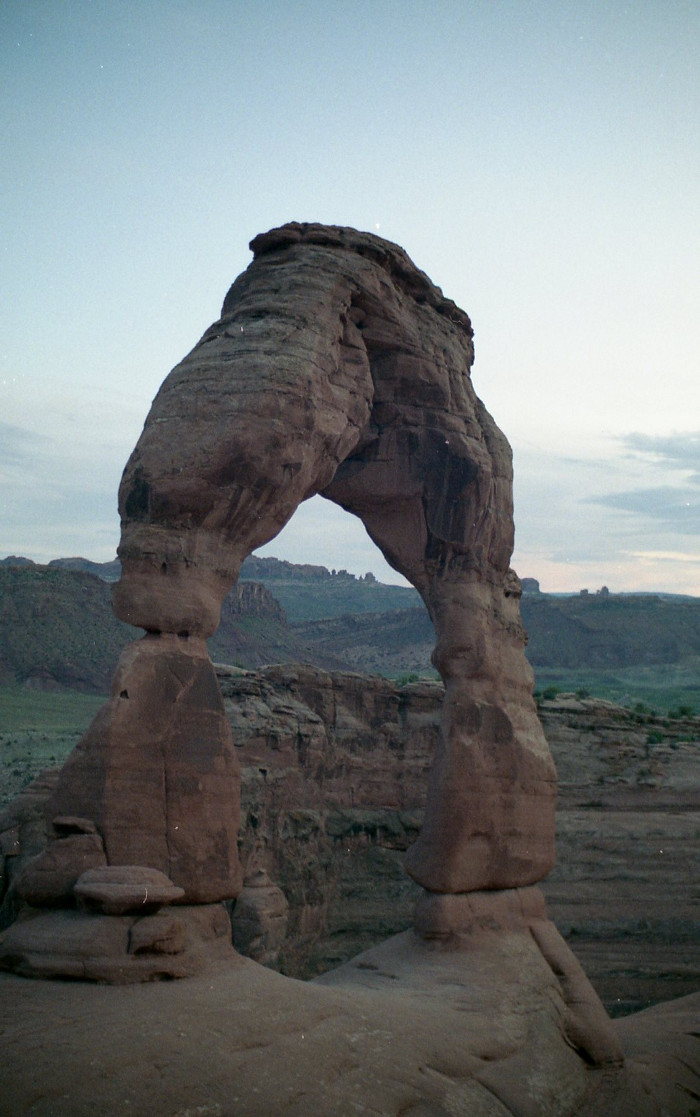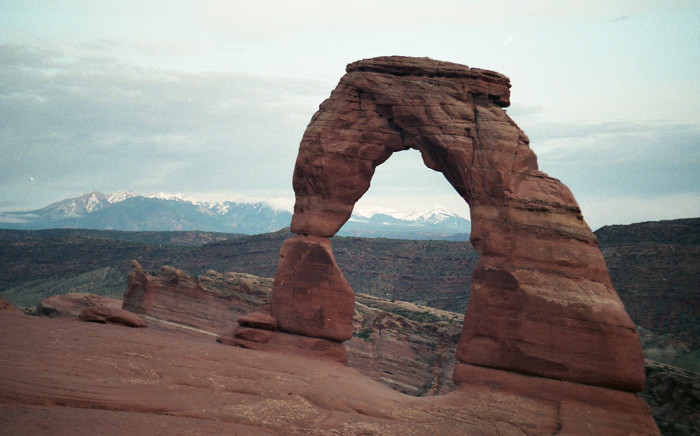 Later I rode over towards Crested Butte, Colorado and camped out on the river between Gunnison and Crested Butte. Next morning, I caught a trout for breakfast with a worm I found near the stream. From Crested Butte I rode up Kebbler pass to highway 133 on my way to Snowmass Village. Kebbler pass was a dirt road and a storm was coming. Soon it was snowing as I was going over the pass. Although the snow didn't stick to the ground, it was muddy. The bike was slipping and I had to stop to warm my hands. Once making it over the pass and onto paved road, I was quite happy. Heavy road bikes are not good on muddy mountain trails. In Snowmass Village I met with my Mom and helped her clean her condo for next winter's rentals. She was stressed with too much to do during the short time she was there. I could not clean the windows to her standards and didn't like the yelling so I gave up, packed my bag and took off. On the ride back down Brush Creek Road, I thought about her challenge and all the work she had to do in the short time before she had to return to Los Angeles. Also, I remembered the many summers she let me live there rent free while I worked and saved money. So, I turned the bike around and went back to help her as best I could. She was happy to see my return and less critical of my meager cleaning abilities. After spending a few days in Snowmass, I headed up highway 82 and over Independence Pass. I wanted to visit my friend Doug Rodman in Boulder, Colorado. From Interstate Highway 70, I headed north to on highway 119 and spent the night camping south of Nederland so that I could enter Boulder in the morning.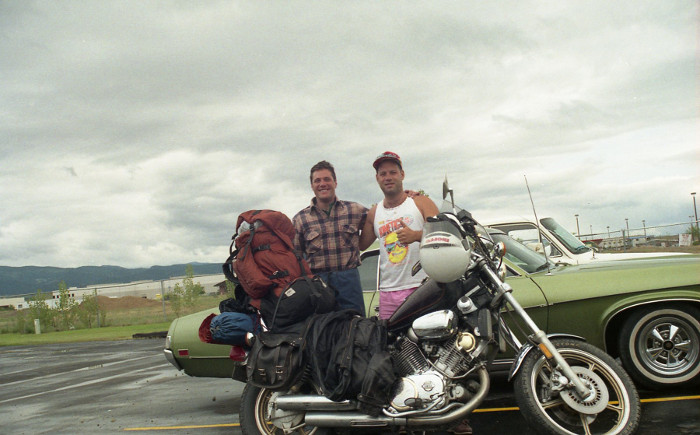 I visited Doug Rodman and spent the night at his apartment in Gunbarrel. The next day, I headed north through Lyons to Estes Park. My bike had been problematic this whole trip. At sporadic moments, while riding at high speed, the lights would dim and the engine would sputter like it was running out of fuel. When I reduced it to idle, the engine would run fine and the lights would return to full brightness. In an odd way of messing with the mind, the engine never died. I figured it must be some electrical problem that didn't happen all the time but was getting more frequent. On the ride up to Estes Park, it happened again. So, I stopped at a theater in Estes Park to watch a movie and prepare my mind for investigation. When the movie was through, I returned to the bike in the back of the parking lot and started to tackle the problem. To get full access and simplify the chore, I first removed the seat and fuel tank. My plan was to follow the wires from battery to spark plugs in search of anything that didn't look right. A big red wire coming from the battery positive through a connector caught my attention. I unhitched the connector to see green sludge and no clean metal contact. This was an obvious problem so I didn't go any further. I cleaned up the connection and put the bike back together. Never did I have the electrical problem again.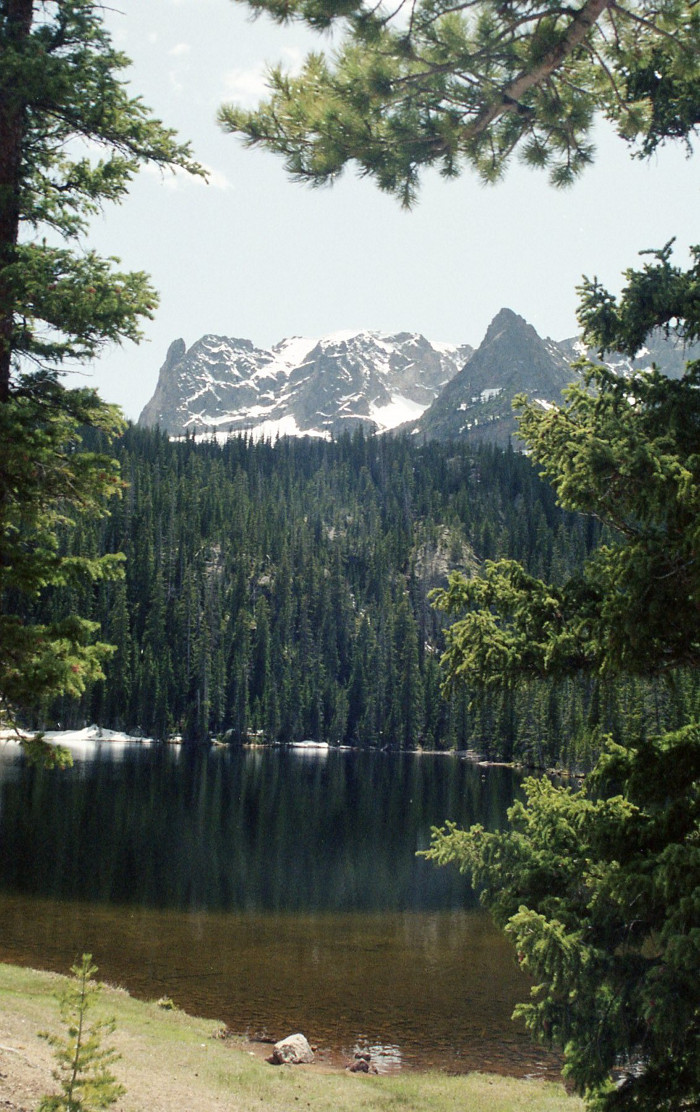 You never need a reservation and there is always room at hiker/biker sites in national parks. I stayed in a hiker/biker site at one of the camp sites in Rocky Mountain National Park. Next day I stopped at the top of Trail Ridge Road and hiked north to the top of a nearby peak. Then I headed down the west side towards Steamboat Springs and retraced my steps up to Yellowstone during a hitchhiking trip a few years earlier.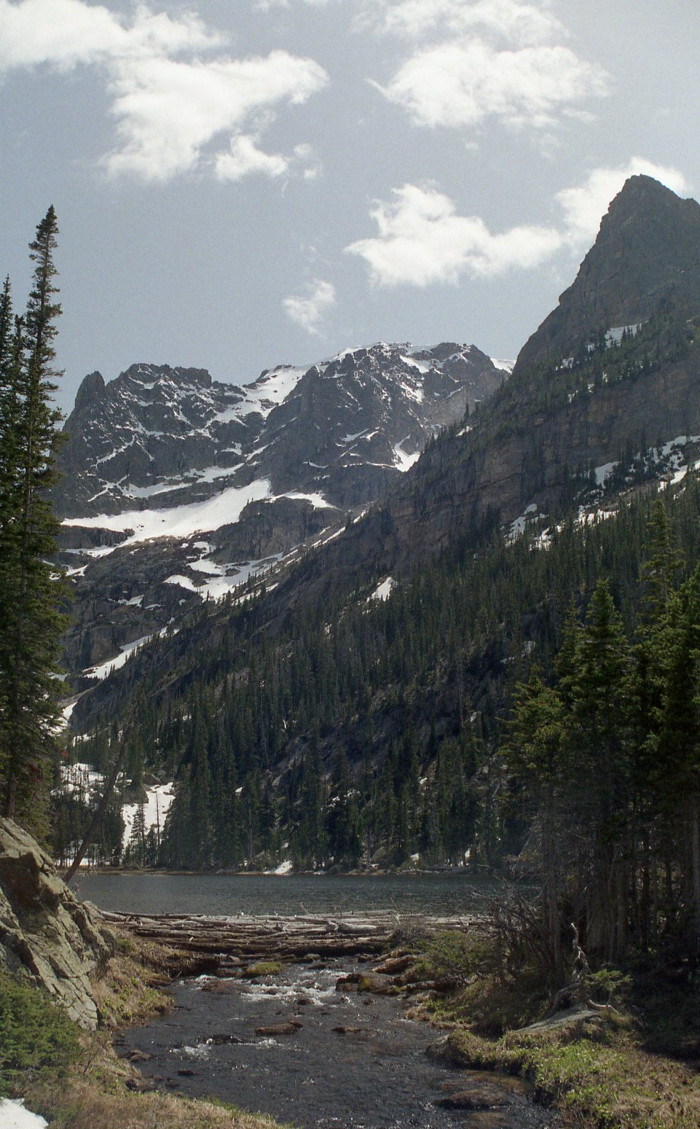 I took highway 40 west to Craig and turned north at highway 13/789. Then I took Interstate 80 west to Rock Springs, Wyoming where I turned north on highway 187/191 and continued through Boulder, Pinedale, and Jackson Hole.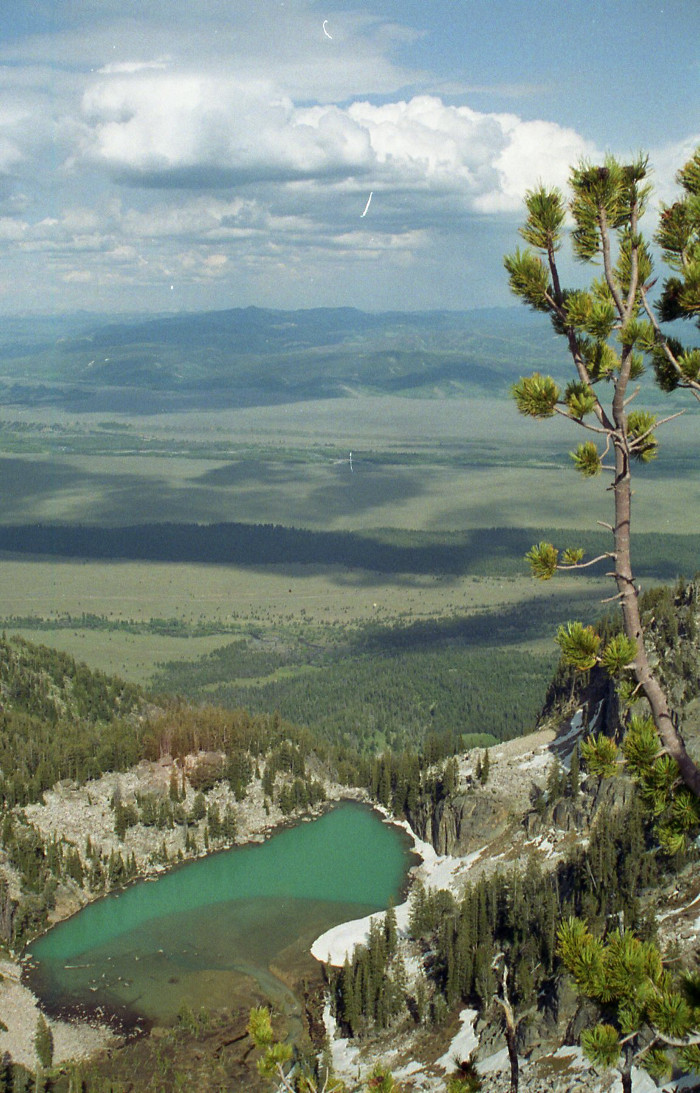 It would be fun to climb the Middle Teton in Grand Tetons National Park. With this in mind, I hiked up the trail to spend a night at Amphitheater Lake. From the parking lot I had to traverse the valley floor past Taggart Lake and Bradley Lake. The trail up from the valley floor is a catwalk that zigzags up the side of the mountain to the lake. When hiking in bear country, I typically walked with a harmonica for noise making. However, for one reason or another, I was not playing my harmonica while trudging up this steep trail. Instead, I silently powered up through the switchbacks making little noise. At one switchback I looked down at the spectacular view over the valley and noticed a huge grizzly bear about 40 meters directly below me doing the same. I quickly noticed he was upwind from me, just sitting there, enjoying the view. He was completely unaware of me and never noticed me. I just watched him from behind for a few moments and after considering the situation for a bit, quietly turned around and continued my march to Amphitheater Lake like before. Middle Teton is a fairly significant climb. Looking at it from the base, I decided not to climb it alone without protection. Instead of spending a day climbing the mountain, I hung out at the lake. Doug Rodman had given me some magic mushrooms. I ate them on this day. Running around the lake on the huge solid granite rocks and through the trees was quite fun. There was no one else around.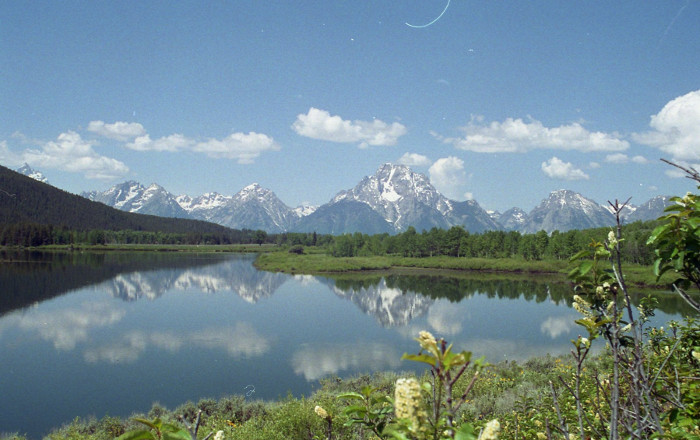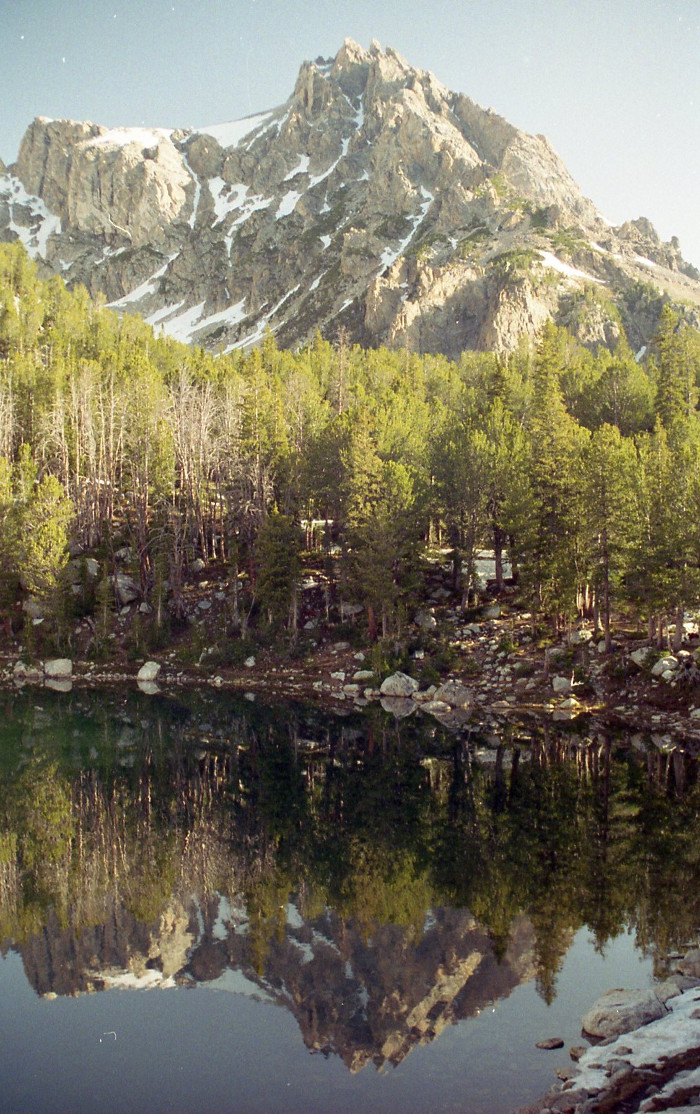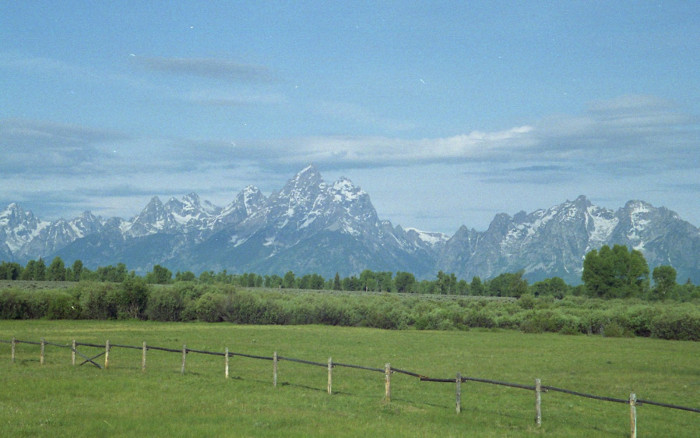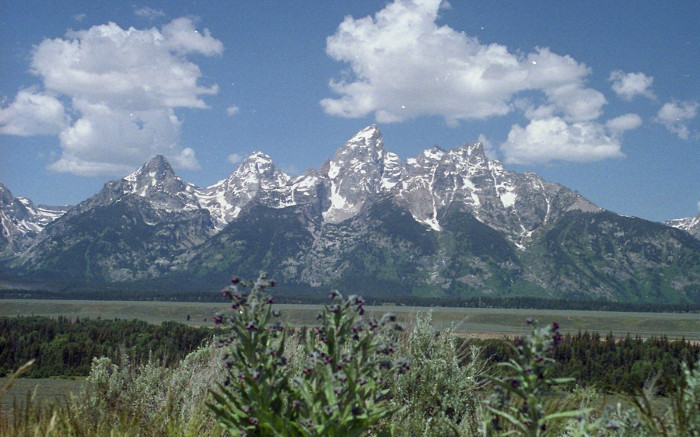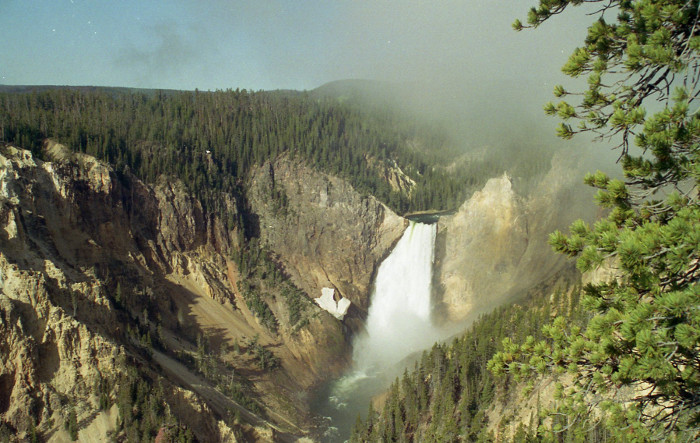 The next day I hiked back down to the bike and headed north into Yellowstone National Park. It took a few days to ride a figure eight around the two circular roads of Yellowstone. One of many hikes was up the Grand Canyon of the Yellowstone. Leaving Yellowstone to the north, I rode into Livingston, Montana. Here I decided it was time to replace the rear tire. I stopped at a bike shop near downtown, bought the new tire, and replaced it in the lot out front of the store. Finished, I headed to Flathead Lake and Flathead National Forest.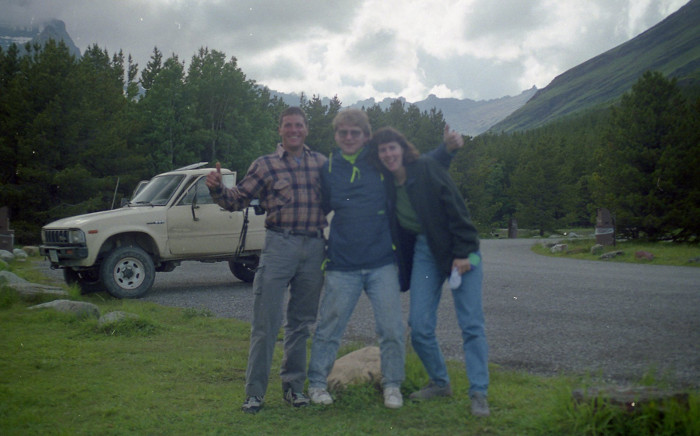 Doug Hanson was in the area as usual and he had a nice Toyota 4 Runner Truck. He was living with his wife Denae near East Glacier. We hiked up to some fishing hole under a waterfall in Glacier Park. On the hike back to his truck after fishing, he bragged about the indestructibility of his new Ugly Stick fishing pole. To show me, he grabbed the tip and bent it back over to the handle. Unfortunately, it broke. It's not worth trying that trick. One day I hiked up to Red Eagle Lake to fish and spend the night. I set up camp near the outlet on the north east side. In the morning, I walked around the lake and fished. On the west bank before crossing the inlet, I heard a large animal crashing through the bushes right behind me up the hill. The inlet was muddy so I took off my shoes and stepped through the mud to the other side. Both my feet sunk up to my calves in the soft mud. There were four very fresh grizzly prints going the opposite direction. His tracks sunk twice as deep as mine and his feet were double the size of mine. I suspect this means he must have been many times my weight. The park service makes available plenty of publications on how to identify bear in bear country. This includes differentiating black and grizzly tracks. With this information I knew the large animal that just crashed along behind me was a very big grizzly. I was thankful for not having caught any smelly fish. After crossing the stream, I packed my fishing gear, returned to camp, and hiked back down the valley to the road.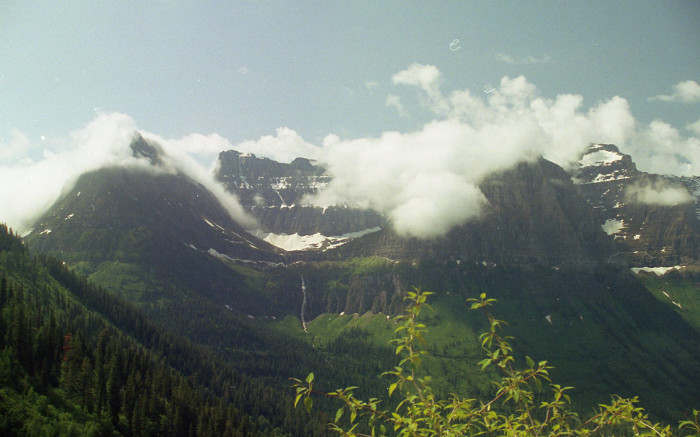 At west side of Flathead Lake I stopped in a rest area to clean up the engine. One of the cylinders was leaking oil. I removed the head, replaced the gasket, tightened everything down again and never had leaking from there again.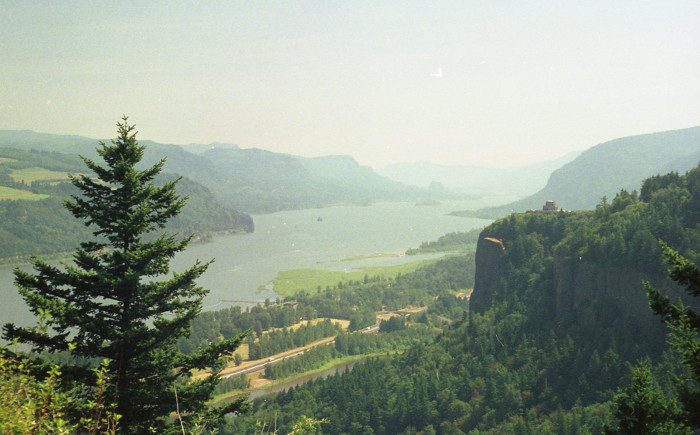 Hells Canyon between Oregon and Idaho is deeper than Arizona's Grand Canyon and I wanted to check it out. In an attempt to see Hells Canyon, I rode south west into Idaho towards the Oregon border. I took highway 12 south from Missoula and highway 95 and 71 Oxbow Reservoir. Copperfield is pretty much the closest you can drive to Hells Canyon. It's not much of a canyon at Copperfield and little road access elsewhere. So, I continued riding west to Portland staying just south of the Columbia River. From Portland, Oregon I rode south towards Crater Lake. Along the way I stopped to camp for the night along a river east of Eugene. A guy camping near me looked over my bike and commented on my front tire. He repeatedly told me "90% of the flats are on 10% of the tread". My front tire wasn't new but it must have looked worse than I thought. At the time I didn't understand just what he was telling me but, after thought, this guy's comment still sticks with me today. When your tire has warn down to only 10% of the tread it's 90% more likely to get a flat.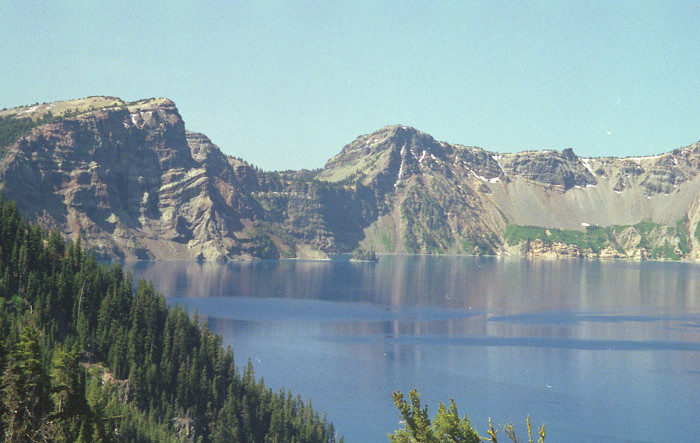 I reached Crater Lake, looked around, and hiked down the rim to the lake. I didn't see much more to do there so hopped back on the bike and continued riding south along highway 97 into California. Around Klamath Falls I started passing a lot of other bikers. Normally bikers wave at each other as they pass on the road. These bikers never waved back at me. I noticed they all had Harley Davidson motorcycles and came to learn that there was a Harley Davidson event in Reno that just ended. These guys must have been bikers returning home from this event. Later I learned that my Yamaha Virago was considered an imitation Harley made in Japan and Harley owners don't like imitation Harley owners. This is why they didn't wave back at me. I rode past Mt Lassen into Chico, California where I had graduated from college. I didn't know anyone there anymore. The Independent Grocery store I used to shop at was closed but the laundry mat next door was still open. There used to be a truck/trailer in a dirt lot at the south end of town; maybe Nord Ave. to Walnut St. Some Mexicans made great take away food there at an economical price. It always took an amazingly long time for them to serve orders but the food was always great and the prices low. That truck was no longer there. Instead, there was a new stucco building and a Mexican Restaurant. I ate there and determined it must have been the same owners because everything else was the same: great tasting food, very slow service and prices only a little more expensive.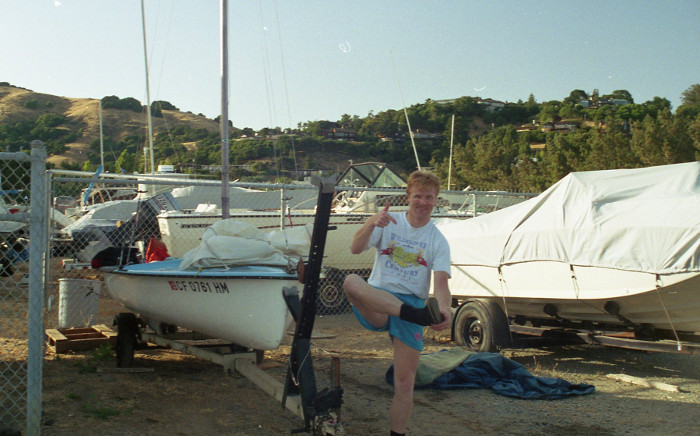 After thinking about the tire tread comment, I stopped at a bike shop in Chico to replace the front tire and the breaks. I simply bought the tire and breaks and did the work under a tree at the side of their parking lot. Front tires are much easier to replace than rear. I was again amazed how much more expensive bike breaks are than car breaks. The bike breaks look the same and much smaller so you'd think they'd be cheaper.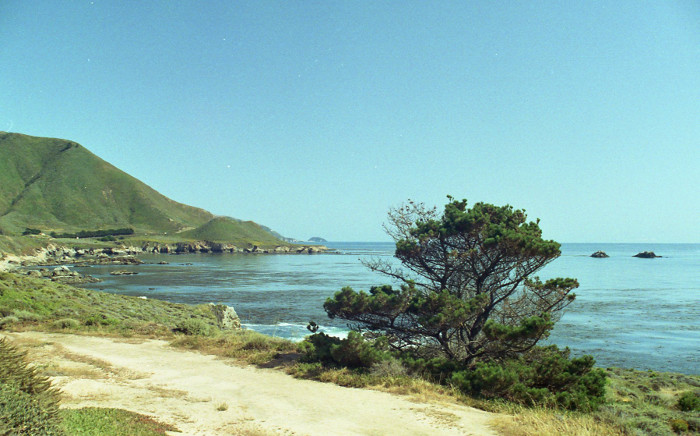 From Chico, I headed to San Francisco and south along highway 1 to Santa Barbara where my brother Cliff lived. He was in a house with his girlfriend. Their next door neighbor happen to be Mrs. Gardner, the woman who lived across the street from us when we growing up. How my brother and Mrs. Gardner ended up being neighbors again in a completely different city is one of those interesting coincidences of life. Cliff, his girlfriend, and I went to the beach one day and picked up garbage. They were so disgusted in the litter they always felt the need to clean it up. They talked about going on walks and not being able to do much more than pick up garbage.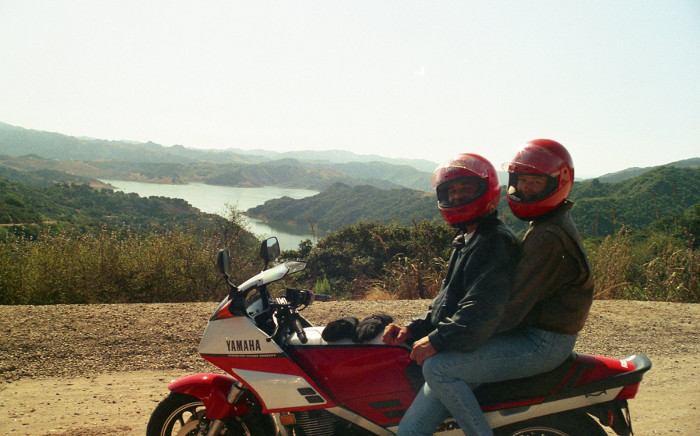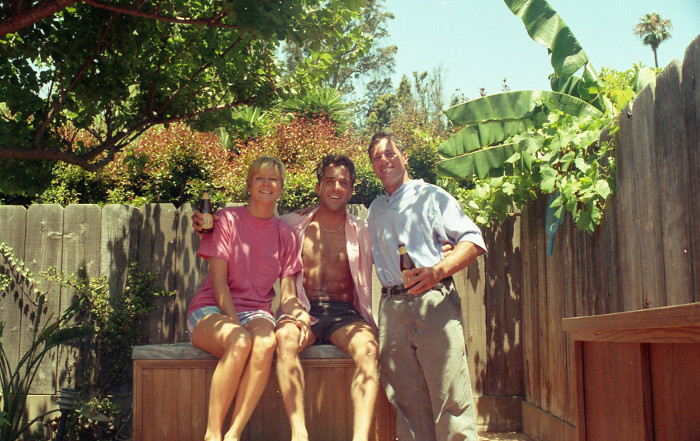 Cliff had a nice light 1200 Yamaha ninja/crotch rocket type bike. It was much lighter and faster than mine. One morning we rode up into the hills east of Santa Barbara for breakfast. Cliff was trying to sell this bike. Later, after my trip I tried to sell his bike in Los Angeles for him but was unsuccessful. He taught me how to a ride bike between the heavy traffic on Los Angeles highways. After visiting Cliff, I headed south to Los Angeles to visit my parents. I cleaned up the bike and placed an ad in Los Angeles Times to sell it. A guy offered me $1500 cash if I would bring it to his house in Simi Valley. He looked it over but never even rode it. While riding to his house I wondered why anyone would buy a bike without even riding it. My dad followed in his truck and gave me lift back.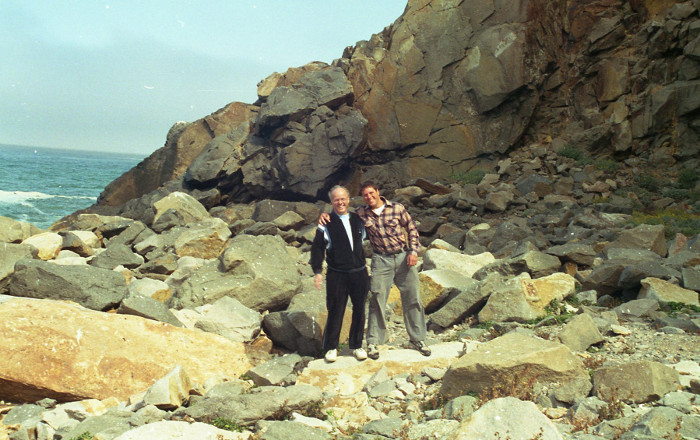 In reflection, I lucked out with a pretty inexpensive trip. I bought a nice motorbike in Michigan for $900 and immediately added $200 leather panniers. Along the way to Los Angeles, I invested a few hundred more for tires, breaks, and such. After crisscrossing the United States three times with it; north to south, north and then back and south again, I sold it all for what I put into it. Feeling good.