the feelgood organization
Home
up
Face your fears and feel good.
Hitch hiking the Rocky Mountains from Colorado to Canada

Winter of about 22 was spent living on the top of Sams Knob above Snowmass Village, CO. Bruce and Cece ran Sams Knob and let Lance Miller and I live there. In exchange for the room, I had to keep the restrooms clean every day and have breakfast ready when the lifts opened four days a week. Four on, three off; I skied every day.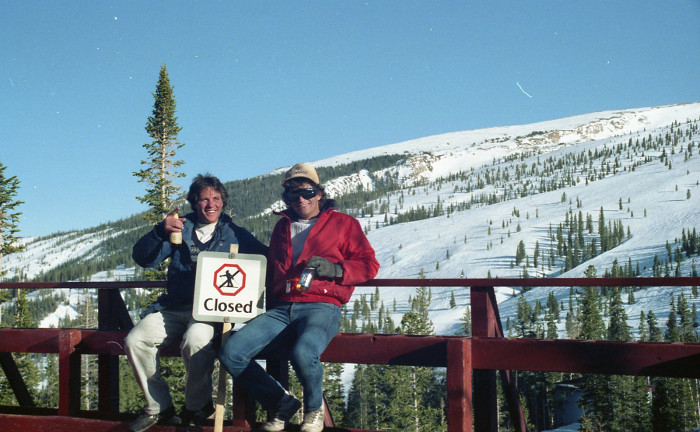 At the end of the season, I moved to Boulder in search of more profitable work. Most of the summer was spent doing odd jobs and playing around in Boulder. This is when I met Doug Rodman. We were both line cooks at Bennigans for about a month. Neither of us lasted very long there. Towards the end of summer, I landed the job I wanted but it was in Michigan. Training in Plano Texas started in a month then I had to drive up to Michigan where I'd start the job and get my first paycheck. I didn't want to keep working before this job started so called my sister, Lia and asked her if I could borrow some money for a couple of months. Lia lent me $250. $200 went into the bank so that I could buy food and gas for drive down to Plano, Texas and then up to Michigan before getting paid. The other $50 went in my pocket. I moved all of my belongings to my Datsun B210, parked it in a lot across from the Bust House at the north end of Boulder, and started hitch hiking north to Rocky Mountain National Park. In the park, I hiked up a trail to some lake, and fished for a couple of nights. Then I hitched through Steamboat Springs. I walked through Steamboat Springs to the west side and got a ride to Craig where I wanted to head north to Yellowstone. I don't remember how I got to Yellowstone.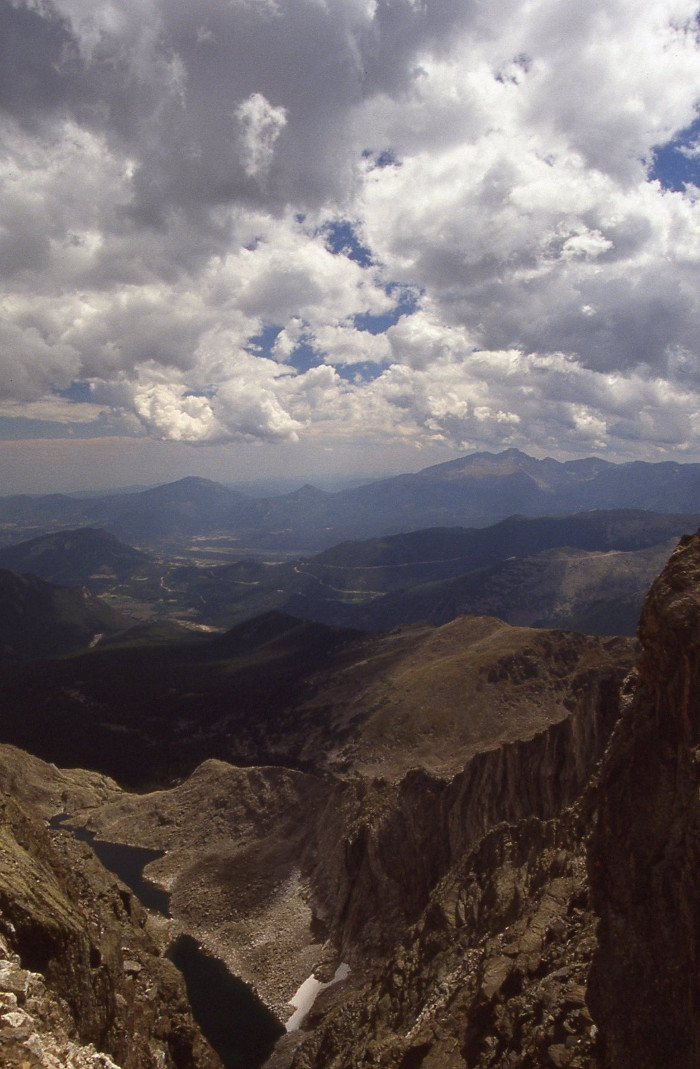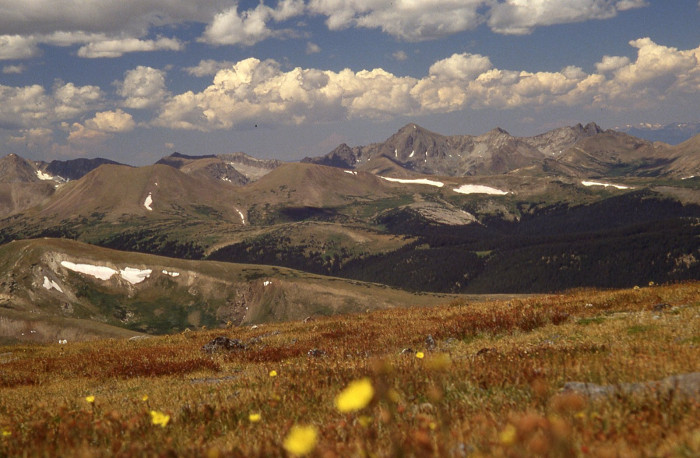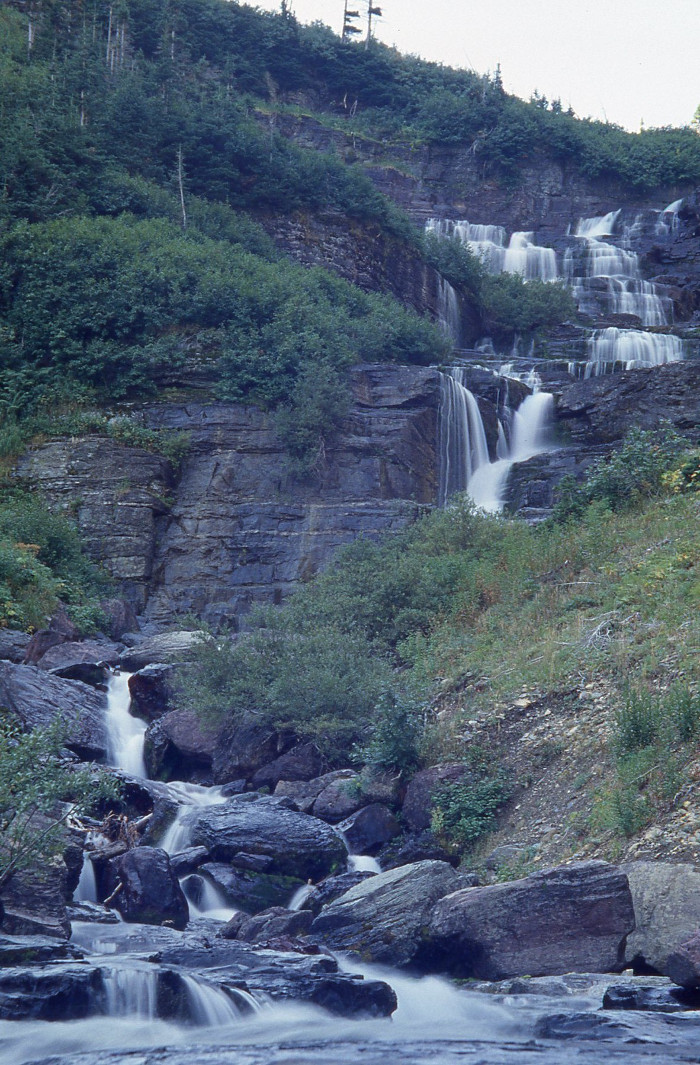 In Yellowstone, I camped in a hiker biker camp site near Yellowstone Falls. There were fires all over. Summer 1988 was a bad fire year in Yellowstone. The air was yellow. I got a back country permit for the next few nights in the north part of the park. The morning before my permit started I walked down to Yellowstone falls and went fishing for breakfast. My second cast into the falls pulled in a huge brown trout. I cooked it up right there on the trail. When I was finishing my meal the tourists started coming down for the morning. Next day, I went to start my hike into the Yellowstone back country. There was a ranger at the trail head. He told me my permit was canceled due to fire danger. They had closed all back country trails. I decided to head north to Glacier National Park.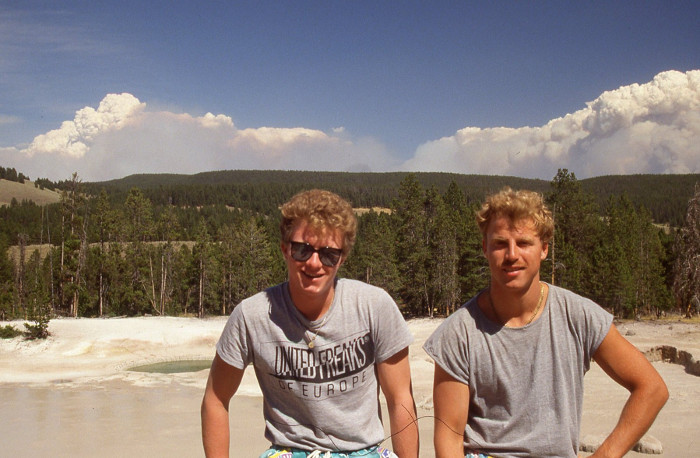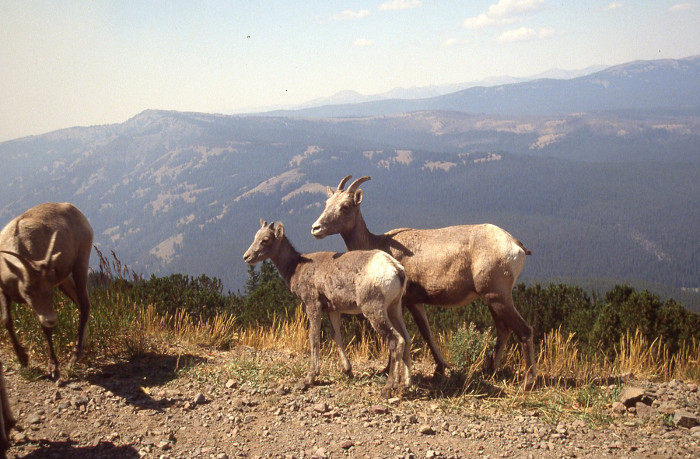 At the north end of Yellowstone I was hitching when a van passed with a family of children sitting in back. As usual, I smiled and waved knowing they weren't going to pick me up. Because of my wave, they turned around and picked me up. They were driving back to their home in Canada after a nice vacation. The father was a train engineer who said, like so many others have said to me, that he never picked up hitch hikers. They gave me a lift from north Yellowstone all the way to Shelby, Montana.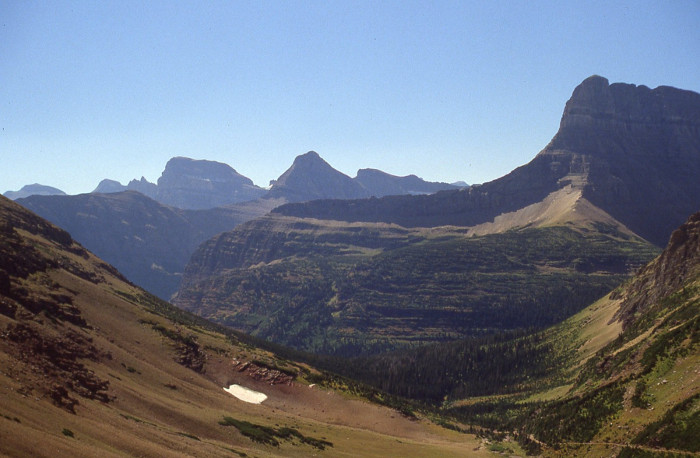 Shortly before sunset, I started hitching west to Glacier. Two guys picked me up. They were part of a band in East Glacier Park. In exchange for accomodation, they played music every night at an inn. We stopped at a bar for drinks on the reservation in Browning. They said the Native Americans would kill a white boy like me hitching through their land. We were all drunk by the time we got to East Glacier. I drank more beer and watched them play and slept in their place at the inn for the night.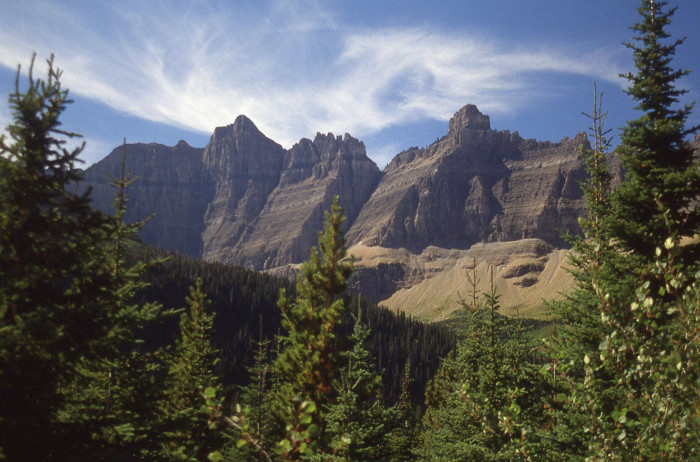 Then I hitched north to Waterton Lakes National Park in Canada. An older couple picked me up in a nice truck and trailer camper. They were ranchers with a bunch of land in South Dakota. They bought young cattle in the spring, raised them through summer, and sold them in the fall. They talked about how hard they worked. I couldn't understand what was hard about letting cattle fatten up of your land while they went camping. Another older couple in a pickup truck with camper shell picked me up. I drove through into Canada with them. When the Canadian border agent asked if we had any weapons aboard the man who was driving said "no" even though he couldn't know what I was carrying.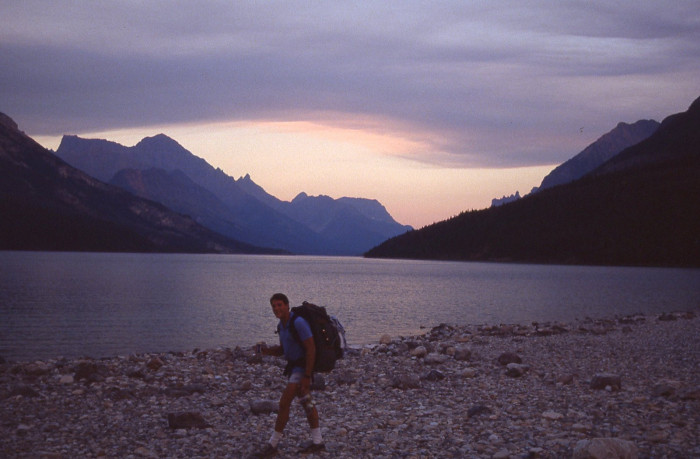 I camped for the night on the rocky beach at south end of Waterton Park (north end of lake). I splurged on a Fosters beer with dinner. Next morning, I took the ferry south back into the USA and a trail head leading south. There was a 30 foot clearing in the trees up both sides of the mountains bordering the lake where Canada turned into USA.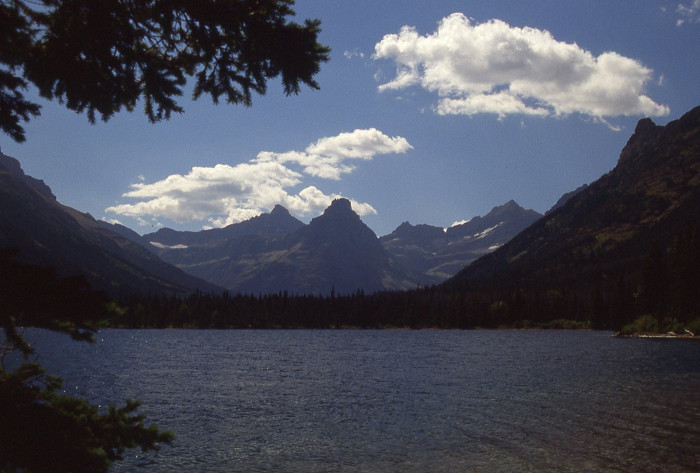 When they have problems with black bears, the park rangers catch the bear and move it to a different, remote location. If they have problems with grizzly bears, the park rangers close the trail and kill the bear. The trail I wanted to take leading back to the Going to the Sun Highway was closed due to grizzly bear problems so I had to take a different, longer trail.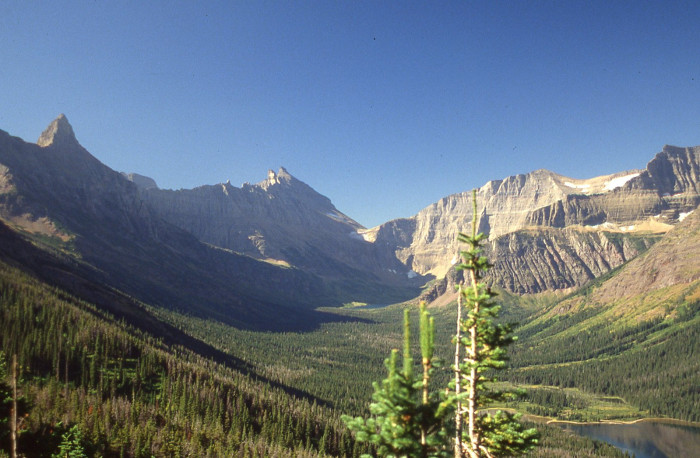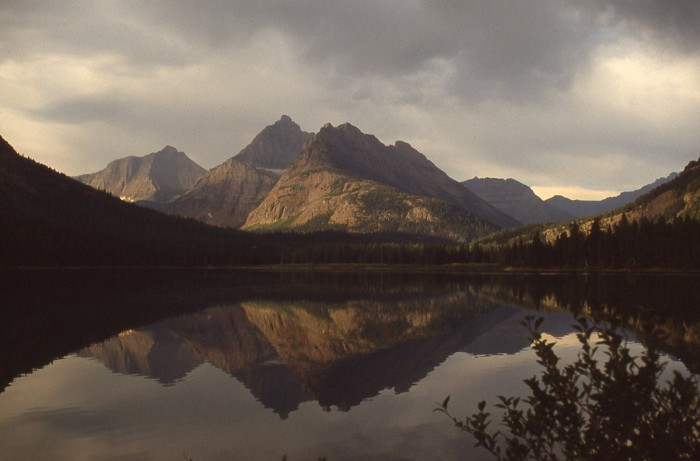 Since I hiked alone, I always kept a harmonica handy while in bear country and often played it to make noise. I never saw any bears over the course of the few days it took me to get to the road. At Going to the Sun Highway, I hitched west to Hungary Horse. A couple of older guys in a nice red convertible gave me a lift. They were drinking beer and handed me one as soon as I hopped in the back. My college friend, Doug Hanson, was working fire suppression out of Hungary Horse. We went fishing and he showed me his old stomping grounds in the area.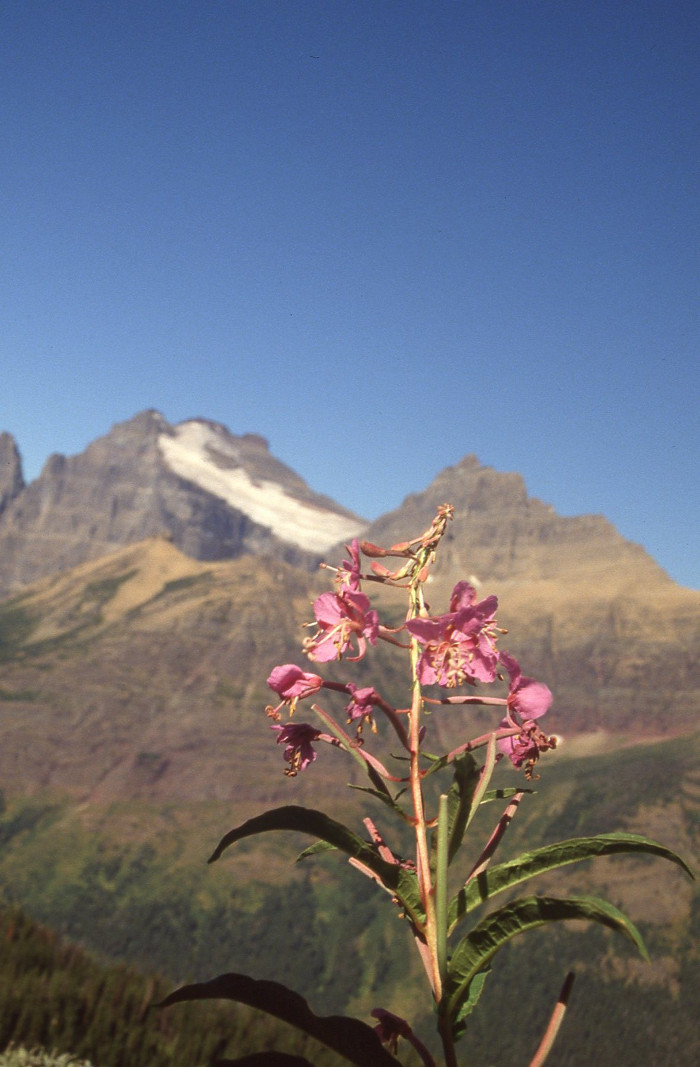 From Doug's parents house in Lakeside, I started heading back south to Colorado. I hitched south through Polson to Missoula. A welder picked me up who was driving back home from work. He drove 70 miles to get to work every day. A guy in a VW bug drove me to Highway 15 as he was going to Helena. As soon as I got out of the car I noticed signs on the road warning motorists that this was a prison area and not to pick up hitch hikers. Suspecting harsh luck, I walked to the truck stop and started asking truckers for a lift east. All I got was "No" or "I can't due to insurance purposes". So, I filled my water bottles and went back to the highway and started walking with my thumb up. Within an hour, a guy with a large new RV stopped and picked me up. He was by himself and must not have noticed the warning signs. He drove me a good safe distance east. Another guy in a pickup truck picked me up on Highway 90. We drove for a while. When he stopped for more fuel and dinner he bought me dinner too. I was dropped off on the west side of Billings when it was dark so planned on walking to the east side. I walked on the highway with my thumb out. A guy with a woman picked me up in a car. He was going to the east side. As soon as we started moving he pulled out a handgun, showed it to me clearly, and warned me not to do anything crazy or he'd shoot. I said "no problem, I'm not doing anything crazy". I never saw the gun again. He dropped me off east of Billings. I found a place to sleep just off the road.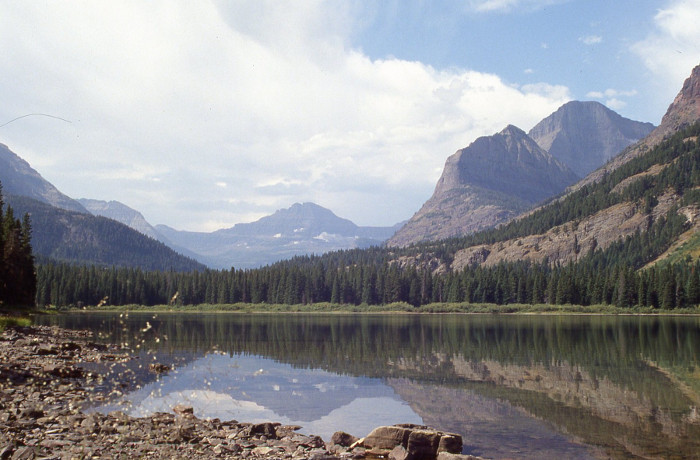 The next morning a girl driving south to Cheyenne for college picked me up. Her car was full of her belongings. She said she would drive me down to Cheyenne but must have tired of me. North of Casper, she abruptly stopped and told me that I must get out. Thankful, I had soup and water in this arid land; I got out and started walking with my thumb out. I walked the rest of the way to Casper and spent the night near the road. Just before sunrise, I went back to the road and resumed hitching. A Native American picked me up. Before I got in the car I told him I was heading to Boulder, CO and he told me he would give me a lift to Cheyenne. His woman was sleeping in the passenger seat. Right away, he opened a beer for himself and gave me one. He also lit up a joint. When his wife woke up I learned Cheyenne wasn't his original plan. He was supposed to head west from Casper back to their home. She was not happy that he missed the turn and even more angry that he picked up a white boy. He normally never even picked up hitchhiking Native Americans. It was no longer comfortable being in that car and I told him it was fine if he dropped me off here (in the middle of nowhere between Casper and Cheyenne) so that he could turn around. He refused. As he told his woman; he would stick to his word of giving me a ride to Cheyenne. She listened to him and quieted. He dropped me off at the first exit in Cheyenne, turned around, and drove back north.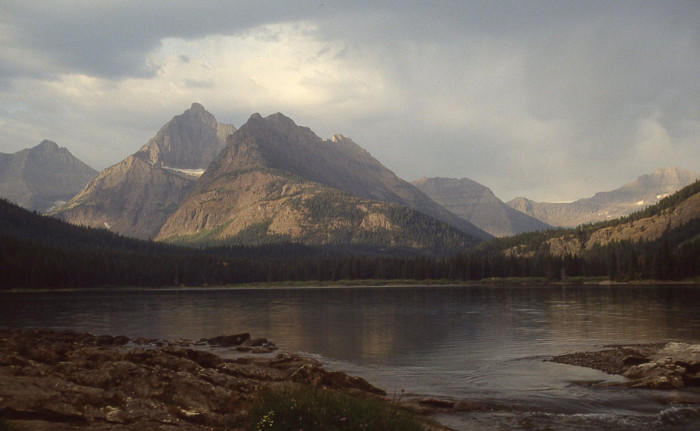 From Cheyenne, an off duty police officer picked me up in a big tan pickup truck. He was driving down to Denver airport to pick up his girlfriend. He gave me a ride to the Diagonal Hwy east of Longmont. Though he never sounded uncomfortable through our conversations, he could not have been at ease with me. The whole time I was sitting in his car, his right hand was holding a club on the seat between us. The whole time I was riding, my left arm was ready to protect myself (or get broken) should it move. Once back to north Boulder, I tossed my backpack in the Datsun and started driving to Plano, Texas for start my new job. The best trips don't have to be expensive. For less than $50 I got to spend a few weeks visiting, hiking, and fishing some of the countries most spectacular national parks and meeting some of its more colorful characters. Feeling good.