the feelgood organization
Home
up
Whatever happens, it's all good in the end.
Tasmania Cycle Circumnavigation

I'd say it started with a month off work and a bus ride from Canberra down to Melbourne somewhere around 28. The bicycle and gear was all stuffed into a used cardboard bike box re-enforced with duct tape. My sister Lia and I met at a backpackers in St Kilda for a few days of exploring around together.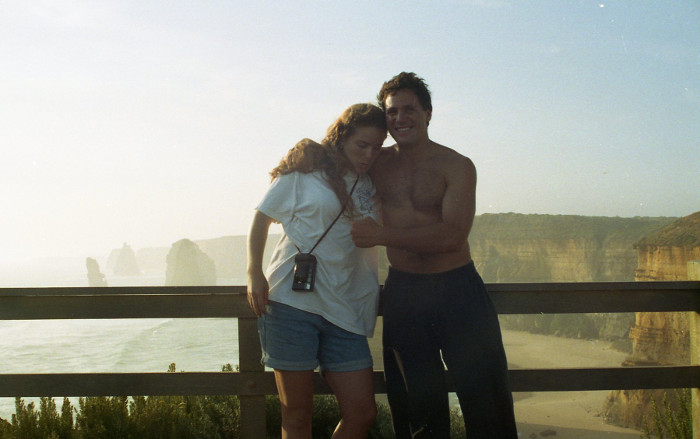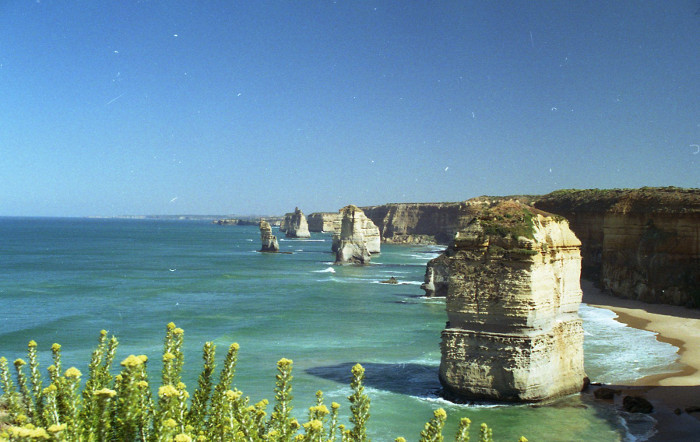 We hired an old car and drove out to Bells beach and the Twelve Apostles. We found ourselves on some desolate dirt road rutted out like a washboard. Suddenly the car started making a hideous noise. We had few provisions and no communication.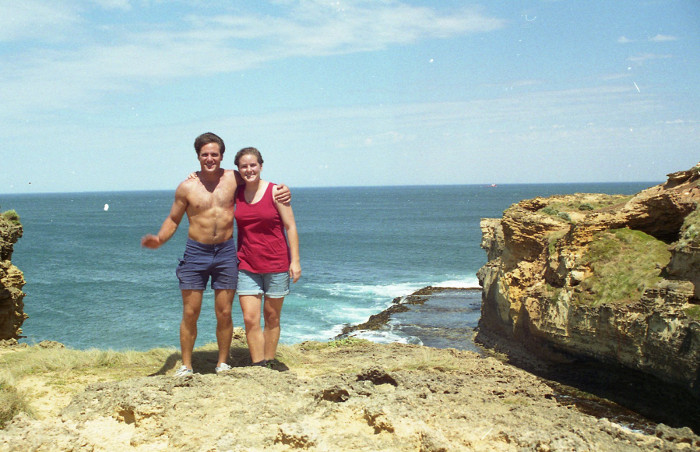 A break pad had fallen off one of the wheels and it was stuck between the rotor and the tire rim. I felt pretty proud for being able to quickly find the problem and easily fix it with only my bike tools. Little did I know that this was really just a precursor to real problems I was soon to have with washboarded dirt roads. Fast forward a few days. Lia headed north. I'm in George Town, Tasmania after just getting off the high speed ferry. With my mountain bike and gear, I had two nice big topographical maps that covered all of Tasmania. Being fairly mountainous and sparsely populated, it's not too easy to circumnavigate Tasmania along the coast. However, you can do a better job of it if you're willing to tackle dirt roads.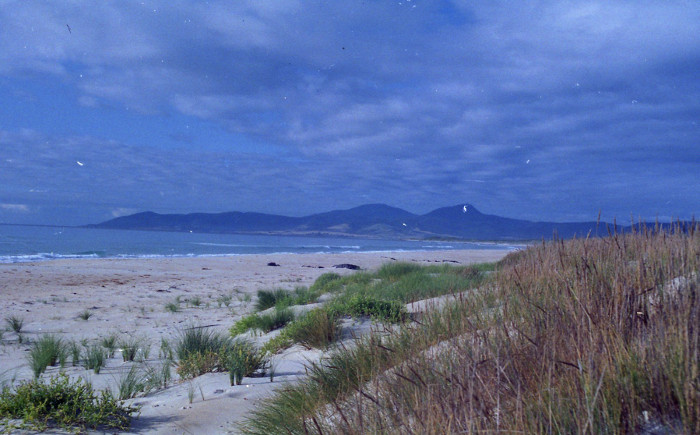 I took one more look at the maps and decided to ride a dirt road through Scottsdale to St. Helans. From St. Helans I'd pick up paved road and ride down to Hobart in short time. However, the going was slow on that washboarded out dirt road. It wasn't until the following day that I finally made it into St. Helans. My rear wheel rim had cracked under the pounding weight of my gear. A break pad started wearing a hole in the tire sidewall. There was no bike shop on St Helans. I learned that the closest bike shop was in Hobart; about 250km down the road.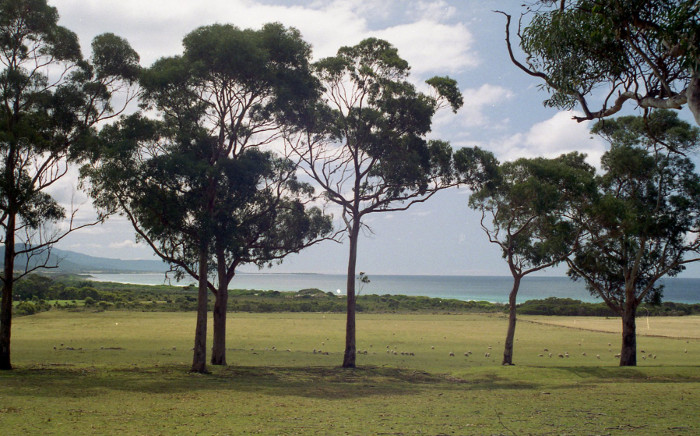 Normally, I think traveling 80km per day is a good long term planning average for unsupported cycle tours. Some days can be much more, other days can be none. In this case, I figured I'd just push it down to Hobart in a couple big riding days to pick up lost time, get a new tube, tire and rim, and then take my time for remainder of the tour. I made a temporary patch with a piece of shirt glued to the inside of tire, put more weight forward on the bike, and decided to stick to smooth roads.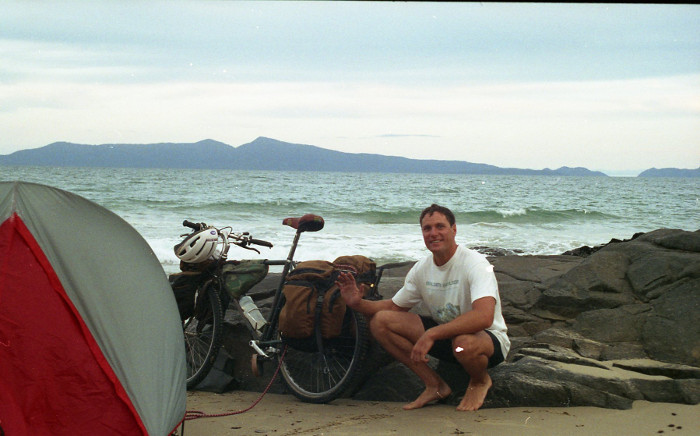 However, my best plans rarely seem to execute so easily. In this case, I learned that patching the sidewall of a tire is not so easy. First, air pressure pushes the inner tube out the side of the tire. Then the inner tube balloons out and rubs against the break pad. Eventually, a hole wears into the inner tube. Attempting to patch the inside of the tire with anything too stiff and it ends up chafing the tube from the inside. Minimize the air pressure in the tube and you risk pinching the tire and breaking the already fractured rim.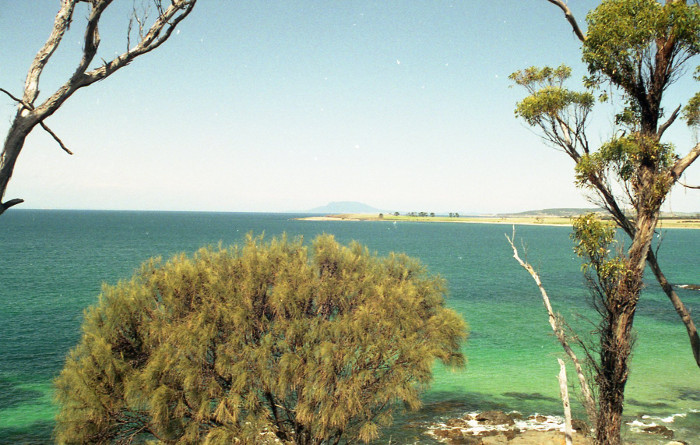 As a result, my planned two day bike ride down to Hobart involved spending many days waiting for glue to dry various patch materials. In the interim, I spent my time reading, fishing, watching the ocean, and talking to people in Lagoons, Bicheno, Swansea, Lisdillon, and Triabunna. Adding to the challenge, it rained every day. In the hills a little past Orford, I passed a woman with a small child. They were stopped in a car facing the other direction. We were in the middle of nowhere so I rode over and asked her if she wanted help. She described car troubles that pointed me straight to the engine's distributor cap and rotor. Again, my bike tools came in handy. After cleaning up the very corroded insides to the cap and rotor, her car started easily, the engine sounded smooth, and she drove away thankfully.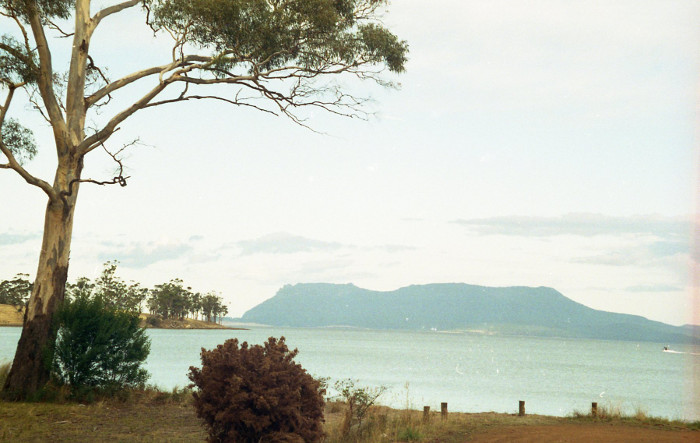 After this, I was feeling pretty good about myself again but it was now getting well into Friday. Monday was a public holiday so no bike shop in Hobart would be open for another 4 days. At this point, even though I was only about 50km from downtown Hobart, I would not make it before the shops closed. It was time to do something drastic. It was time to hitch a fast ride to a bike shop in Hobart. I stashed my bike with all my gear next to a bush under a tree about 30 meters from the road. The front wheel came back with me to the road and I started hitch hiking to Hobart with nothing else.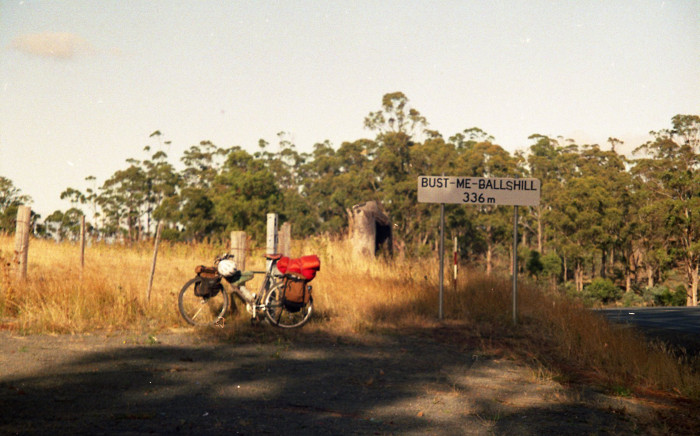 Only a few hours later, I was back at my bike with a fresh new tire and tube picked up from a downtown Hobart bike shop. Too fast / too easy. Why didn't I do this days ago? I had the bike fixed and made it back into Hobart before nightfall. Ever since St. Helans, people had been asking me if I was part of the bike tour. A Melbourne cycling club had organized a spectacularly supported multi day ride from Launceston to Hobart. I first heard about them in St. Helans. I followed their path but was never able to catch them. They were always a day ahead of me. Beyond stories of a 100+ cyclists inundating small towns, all I ever saw was packed grass in parks and locals happy to have their town back. The cycle club had a final rest day in Hobart before heading back home. The afternoon I rode into Hobart was that day. Here they took over a big park close to downtown. The park looked like tent city with big tractor trailers for toilets, showers, cooking, and gear. It looked like a very well organized ride. This was the group I had been trying to catch up with in my broken bike for many days. I finally caught them! I pitched my tent at the edge of their encampment and enjoyed a shower in one of their trailers. The next day, they all left and I moved to a campsite south of town.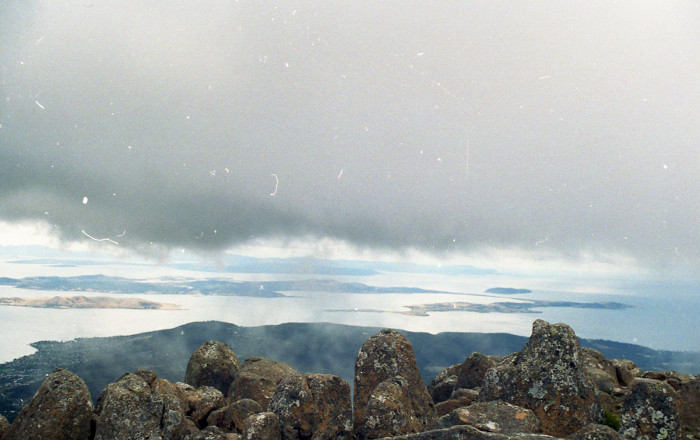 One of my colleagues in Canberra, Dave Ong, was originally from Hobart. He said I should call his sister, Paula, when I get there so I did. Paula was very cool and very hospitable, and she spent the next couple of days driving me all around Horbart. She showed me the best view spots, the coolest buildings, and neat places.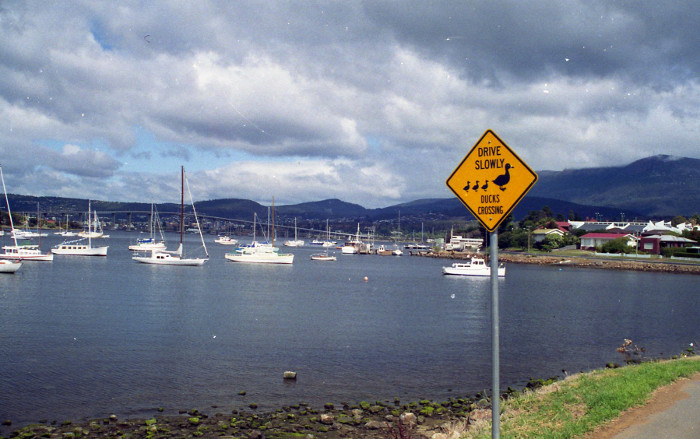 One place Paula showed me was an animal park. In the park was an open cage of Tasmanian Devils. One of the devils was fiercely guarding a pile of poo from the other devils. He was growling and scratching and throwing things, including the poo, at anyone who even just seemed like they might threaten his poo. After watching the behavior of this guy with his cell mates, I realized there's a reason they call these Tasmanian creatures devils. By this time, I was pretty well behind my normally comfortable 80km/day schedule so I decided to short circuit the circumnavigation with a bus trip from Hobart to Queenstown. At first I was disappointed; especially when the bus passed the big Cadbury Chocolate factory north of Hobart. I would have definitely toured the chocolate factory if I'd been on my bike.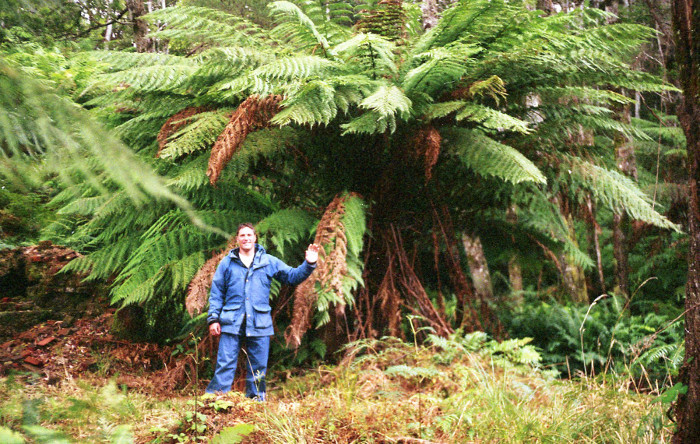 However, Queenstown came quickly and soon I was riding north again without the pressure of time. North of Rosebery there was a new road that headed east and then north towards Ulverstone. This road was not on my topographical map but people were telling me it was nice smooth fresh bitumen.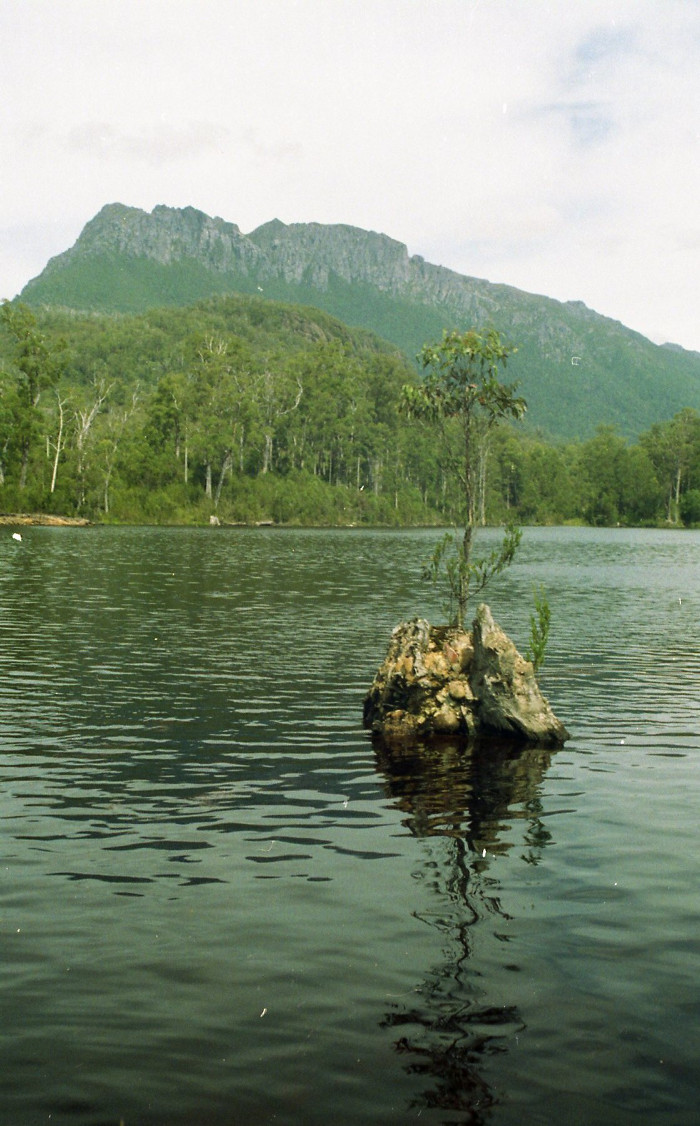 This new road also attracted me as I was still riding on my fractured rear wheel. I had penciled the new road onto my map and it passed through what looked like beautiful country and a nice mountain lake. Fortunately the new road was just where people said it would be. It was clean and smooth and open and no-one was using it but me. I camped out on the nice mountain lake, did some hiking and some fishing, and then continued into Ulverstone.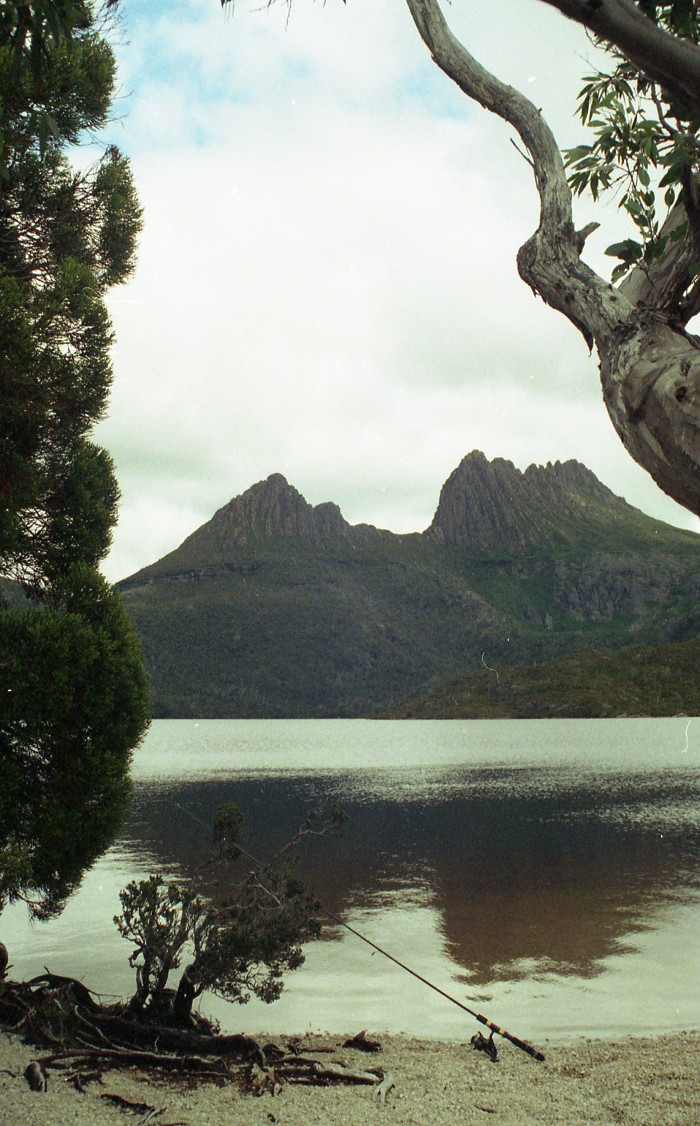 Some time back, while traveling in Waterton Glacier International Peace Park between Canada and USA, a mud slide blocked the Going to the Sun road. Waiting with me for the road to clear was a bus full of Australian tourists. One of the younger, wilder, blokes in the bunch was Bruce Maxwell from Ulverstone, Tasmania. We had exchanged phone numbers. When I rode into Ulverstone, I gave Bruce a call. Bruce was home and very nice and accommodating to me. He accepted me into his home, drove me up to show me his potato farm, and we picked up a few wallabys to cook up on the way back. Of course, we also went to the pub for a few beers. I spent the night at Bruce's house and rode to a bike shop in Devonport the next day. I was to fly out from Davenport back to Canberra where I was working. Since it was the weekend, I had called the bike shop asking if they would leave an old bike box out back for me. Fortunately, they had remembered and the box was in good condition. I packed my bike and gear in the box, called a cab, and enjoyed an easy ride to the airport and the rest of the way back home; thankfully, feeling good.