the feelgood organization
Home
up
Be quiet, listen, enjoy.
Canoeing NorthWest Canada and Alaska

On April fools day at about 37 that I didn't return to work. Instead, I was up at McRodLand preparing for an expedition up north. Graeme Hill, a friend from Bunburry, West Australia, was helping me pack the truck. Graeme was joining me for the first half of the journey.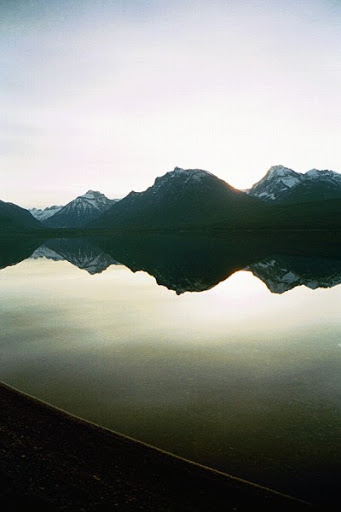 A few months earlier I had sold the Jeep CJ7 to a school teacher who wanted to get into four wheeling. In return, I bought a 1997 Ford Ranger king cab 4x4 pickup truck from a conservative doctor in Denver. The white truck was in good shape, had a topper and pretty much everything was manual except for the auto locking hubs and transfer case. Graeme and I were loading up camping gear and canoe. The trees had bulging buds but were still bare of leaves when we started north. First night out we stayed at the Schussbaumers ski club chalet in Breckenridge. As with every spring, there was bin full of unclaimed clothes and ski gear. Graeme and I each grabbed a pair of beaten snowboard pants and an old pair of gloves. It was still cold and we were heading north. Having this extra gear proved valuable. From Breckenridge, we drove north to Steamboat Springs. We went straight up an unimproved dirt trail north of town to Strawberry Hot Springs and spent the next couple of nights there hanging out in the pool. Strawberry Hot Springs is one of the best hot springs in Colorado. It is one big developed pool with black sandy bottom. Unlike most host springs in the Rocky Mountains, they are not associated with sulfur. They do not smell. They had primitive camp sites and we set up camp in the one closest to the springs, just down valley and up the hill. One day I went on a run down a single track trail through Aspen groves. There were many offshoots. This area is great trail running and mountain bike country. Being off season, we didn't see many other people there. No-one else was camping; occasionally a person or two would come up to soak for a few hours and then leave. From Steamboat and Strawberry Hot Springs, we drove west to Craig and then north to Pinedale, Wyoming. After eating out in Pinedale, we drove up a road NE of town to Half Moon Lake to camp for the night. It was cool but there was little remaining ice on the lake. I tried fishing but didn't catch anything. We left Half Moon Lake the next morning and drove north to Jackson, Wyoming. After walking around Jackson for a bit, we headed up through Grand Teton National Park to Yellowstone. We hung out in Yellowstone for a few days checking out Yellowstone Lake, Old Faithful guesser, Yellowstone Falls, the mud pools and other natural attractions. After exploring the figure eight of roads around Yellowstone National Park we exited at West Yellowstone. There I changed the oil in the truck (every 2500 miles during this dusty expedition), replaced the air filter with a slick long lasting oil based one, and performed other basic maintenance and checking of the engine. Then we drove north on 287 to Interstate 90 and on to Flathead Lake and Flathead National Forest in Montana. Cerry Cella and her new husband ?? Burres, had recently moved to Polson, Montana. Cerry is a nurse and ?? had gotten his RN certificate. They both got jobs working in the Polson Hospital. ?? had two pre teen boys and their mother lived nearby. Cerry and ?? had just berthed a new little boy together. We stayed with them for a couple of days and started north again. The way up Flathead Lake was on the east side along highway 35. While at Flathead Lake one day we took the canoe out just to paddle around and get comfortable. We didn't catch any fish. We found a nice place to camp in the trees east of the lake in Flathead National Forrest. We spent a couple of days in this camp site organizing gear, playing with fire, and sighting in the rifle. For this expedition I had my 30-06 rifle modified for effective bear protection. The action always jammed. After taking it to the gunsmith a few months earlier, I found out that the cartridge was sized for a 300 Win Mag. So, I had a new firing chamber fitted for 300 Win Mag; basically changing my 30-06 rifle into a 300 Win Mag. Loaded with these bigger bullets, the action never jammed again. At the same time, I had the gunsmith fit the barrel with open ended sights for quicker firing at close distance. I also installed removable sight mounts so that sights could be easily taken on and off without having to sight it in again. I had not had time to sight in the rifle since getting it back from the gunsmith. Sighting in two different sights (open and scope) on a 300 Win Mag takes multiple shooting sessions because it kicks pretty good. It has a short barrel which is great in thick bush but the extra gun powder doesn't have time to burn so flames always follow the bullet out of the barrel. With its green composite stock, I call it the green cannon. While camping east of Flathead Lake, Graeme and I spent a number of sessions shooting at white paper plates. We set the open sights at 50 yards and the scope at 100 yards. For the rest of the expedition, I left the scope off and had it loaded and easily accessible from the back of the truck in case any bears aggression. Occasionally I took it on hikes but mostly it stayed in the back of the truck. I had already applied for and received a permit from Canadian Government to bring this gun through Canada. The permit cost $50. Declaring it with paperwork, I had no problems with the green cannon through the multiple boarder checks between Canada and USA. There are a number of beautiful long glacier carved lakes on the west side of Glacier Watterton International Peace Park. I'd always wanted to paddle up these lakes in a canoe. When we got to Glacier Park; however, the road was only open to Lake McDonald. So, we settled for paddling up Lake McDonald. We parked at the SW end of the lake, loaded up the canoe with a few days worth of gear and supplies and paddled most of the way to the other end where there is a camp site on the north west bank. There were a few other backpackers there who were happy to use our cooking gear and drink our beer. These are luxuries you don't get backpacking but come standard with canoeing. From Glacier Park, we drove north along highway 93 through Eureka into Canada. It was still pretty cold. The trees were still had bulging buds but were bare of leaves. By now I was sure the trees in Colorado were sprouting leaves but here, where the growing season is shorter, the trees had yet to bud. While hanging out in Radium Hot Springs, we came to learn there are many beautiful natural hot springs in this part of British Columbia. With thoughts of warmer weather just around the corner and colder temperatures up north, we decided to explore some hot springs as an excuse to delay our trip north. So, for the next week we explored the area around Banff, Jasper, Kamloops, Revelstoke, and Golden. While camping and paddling around on Williams Lake we met a guy and his wife. He was the only other boat on the lake. Graham and I were in the canoe and this guy was in a nice speed boat. He told us about Wells Gray park. His grandfather had founded the park. He told us it was a must see park. Graham and I did not make it to Wells Gray together but I made a point to stop by there a few days on the journey back south. One evening I turned up an unimproved road in search of a place to make camp. We came across a perfect camp site with a fire pit and a cool table on beautiful little lake. To make the table, two big logs were laid parallel where two flat boards rested perpendicularly across them to make two seats. Between the two seats and on top of the big logs were placed two shorter logs. A few more short boards were placed across the shorter logs to make a table top between the two seats. It is a great solid, simple table design to use when you have big logs to work with. This table design is often seen in British Columbia.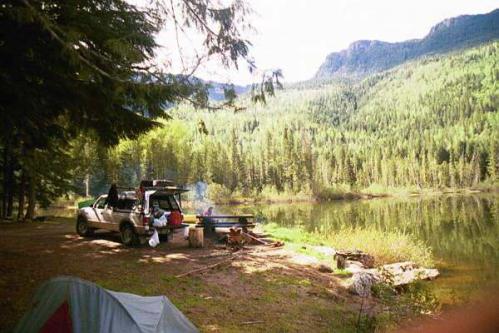 The next day we hung out, fished, and paddled the canoe around. Being heavier, Graham always took the rear position in the canoe. A group of 6 or so four wheelers came up the trail and stopped at our camp. We had not seen any other people for the past day. We paddled back to camp to see what was up and say hi. When we approached shore I made a classic mistake for the first and last time. The shoreline was steep. Being in front, I stepped out of the canoe and started hauling the boat up high onto the shore. With the front lifted and Graeme's weight in back, the boat tipped and Graham got dumped into the cold water. I don't think Graeme ever has or will forgive me for that. Sorry as I was, I honestly didn't know any better. Common sense isn't common until you think about it. This is also when we learned about the Government camp sights. The four wheelers told us they were all over BC and free. There were also good topo map books available indicating logging trails and location of these government camp sights. I ended up buying a handful of these books and benefiting from them for the rest of the journey north through BC and then again on the journey south through BC. At the top of the Icefields Parkway in Banff National Park is a glacier. Actually, I think there are three glaciers. One flows south west into the Columbia River and Pacific Ocean. Another flows north east into the Makenzee River and Beaufort Sea. The other, if I'm correct, flows south east towards Hudsun bay or the Atlantic Ocean. This is the headwaters for at least two of some of the planets largest river basins. The Makenzee is one of the top 5 largest rivers in the world. When they built the visitor center, it was at the foot of one of these glaciers. Now the visitor center is a good kilometer or two below the foot of this glacier. They have a number tomb stones with dates between the visitor center and the foot of the glacier indicating where the foot of the glacier ended at that time. By the time we were done soaking in the Jasper hot springs, it seemed the buds on the trees were bulging enough to head a bit further north. We camped on the river between Jasper and Hinton, Alberta. Then we drove to Rock Lake; north west of Hinton, and camped on the river about a mile downstream of the lake. The camp site was primitive but perfect. It was right on beautiful clear river in a heavily treed green valley. There were a number of old fire pits and room to fit many vehicles. Having not seen anyone since Hinton, we were surprised to see a truck camper with a horse trailer pull in near us later that afternoon. It was a guy from Hinton. This was his basecamp where he outfitted clients for doll sheep hunting every fall. He happen to come up now to do some horse riding and enjoy some piece and quiet. He seamed like a really nice relaxed guy, born and raised around here. He was proud to have a tri axle truck he used to haul timber in the summer. Since it was tri axle, he could get through mud where most other duel axle trucks could not. However, he was always having problems with alignment of the three axles. An interesting thing this guy also had that I'd never seen before was the setup for his horse. Instead of tying his horse up, he had a couple of metal leg clasps chained together. He clasped them to his horses front feet and the short chain kept the horse from running away too far. With this setup, his horse was basically left free to roam but limited on how fast he could go.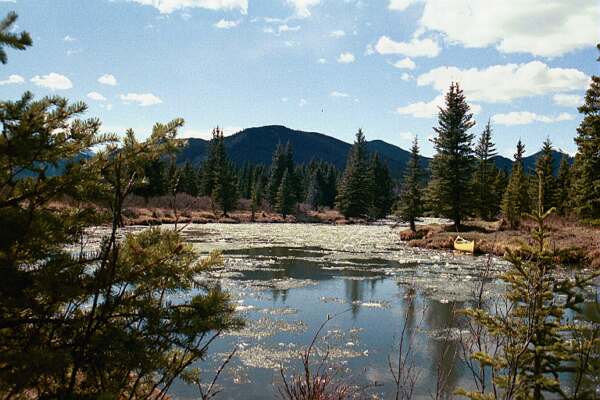 In the morning we took the canoe up to Rock Lake. The lake was frozen with ice. But only the lower half of the lake was iced over and the ice was soft. The lake is about 3km long and 2km wide. We parked the truck near the bridge on the river a few hundred yards downstream from the lake. We watched occasional bits of ice flow down the river and thought we might be able to paddle up stream into the lake and crash through the ice. So that's what we did. We paddled up stream into the lake and then crashed through about a km of ice until we got to open water on the other side. As it turns out, we must have done this during a day where nature was in delicate balance. Our crashing through the ice expedited the clearing of the ice. By the time we were through fishing and paddling around the upper end of the lake, the wind had picked up. It was blowing down valley and, in combination with the waves, the ice was quickly exiting the lake and flowing down the river at a much higher rate. By the time we made it back to the take out spot on the river, the lake was clear of ice. It was now all flowing down the river. This made the trip back downstream to the truck a challenge because on the way down we were travelling along with a lot of ice. This made steering a challenge. Graeme and I had cleared the ice from Rock Lake. We noticed smoke as we approached out camp site. The smoke was coming from the doll sheep hunter's camper. He walked out as we drove by. He looked in bad shape. His hair was burned off, his shirt was burned open in front, and burn spots covered his pants. He had tried to kill himself; just minutes before we returned to camp. First he opened his propane stove, then he took a bunch of pills, and then he lit a match. For some reason he didn't die in the blast. I'm sure all the cotton clothes he was wearing helped. If Graeme and I weren't there, he probably would have died. But then again, maybe if we weren't there he wouldn't have tried. For now, the burns weren't hurting bad yet. Having lived through major burns I knew it was a matter of time before the pain set in. I told him to jump in the river but he refused. He wanted to go to the hospital; a three hour drive back down the road to Hinton. Graeme and him hoped into his truck and started driving down to the Hinton hospital. I followed in my truck. Graeme is much faster driver than I so I quickly lost sight of them. Graeme got the guy to the Hinton hospital. The burn pains were in full swing by the time they got there even through Graeme got there in half the time I did. Turns out this was not the first time this guy had attempted suicide. Again, he lived through this attempt. He had a nice woman and a comfortable looking home in a beautiful country. After we returned to camp, Graeme and I spent some time looking for his horse. The hobbled horse was now walking around through wild country. This is not a safe situation for a defenceless horse. There's a lot of hungry carnivores around here in the spring time. Unfortunately, we could not find him. We looked until dark. It's likely, no-one ever saw his horse again. We drove north the next day. We drove along Highway 40 to Grande Prarie and stayed at a camp site in town. Dawson Creek is the beginning of Highway 97 and the start of the great Alaska Highway. They built this highway through Canada and Alaska during WWII in short order. It took only a year or two to build this road through very rough and desolate country. This was a time when America was hungry for freedom and a supply road to Alaska was necessary to keep the Japanese from taking over North America. It was getting into June. The cold from frozen Rock Lake seemed to be getting warmer at incredible speed. We drove through Fort Nelson and stopped at the Liard River Hot Springs. These are primitive hot springs developed by Alaska Highway builders. There's a camp site across the road from the hot springs. Great hot springs! The next day after our camp and hot springs soak, we drove to Watson Lake. There's a Sign Post Forest in downtown Watson Lake. It's basically a huge lot full of signs from all over the world. Graeme and I were stationed in front of this park drying out our tent and bags and cooking up some food when a couple of local women came by to say hi. They were teachers and it was Friday afternoon and they were going to "choir practice". They asked if we'd like to join them. Seemed odd. Apparently, "choir practice" was the code word they used at the school that actually meant "going to drink at the pub". Alcohol consumption is very popular is these remote towns far up north. It is a real problem. It was ironic listening to the teachers rant about the wide range of problems alcohol caused in the families of this community. They drank me under the table. Then we drove to their house and drank some more. I ended up passing out in the back yard in my sleeping bag on the grass under the stars getting eaten by mosquitoes. Graeme slept with one of the teachers inside. It was interesting to think that three days earlier we were breaking ice on Rock Lake and the deciduous trees had yet to break open their leaves. Now, in Watson Lake, it was hot outside. Everything was green. The teachers said that two weeks ago their back yard was covered in a meter of snow and everything was white. Their transition from winter to summer took two weeks. Now it was summer. The further you get from the equator, the shorter spring and autumn. We drove up highway 1 past Telsin Lake and Johnsons Crossing to Whitehorse. Whitehorse is a nice little city on the Yukon River. We spent a couple of days there at a Youth Hostel on the south side of town. I reinforced two of the canoe paddles with epoxy. One day we drove to a lake east of town where an outfitter was demoing little kayaks and other boats. I took a kayak out and another little trimaran type sailboat. Another day Graeme dropped me and the canoe up the river at the Alaskan Hwy crossing. I canoed back down the river into Whitehorse where the dam blocks Schwatka Lake. It was on this canoe trip that I caught my first Arctic Grayling. An unfortunate event happen while we were in Whitehorse. Some European canoeists were crossing Lake Lagerge just north of Whitehorse when the wind picked up. They were exposed and not wearing life jackets. The waves capsized their canoes and they all died. Two canoes and four people. Water is cold up here. From Whitehorse, we drove North up Klondike Hwy 2.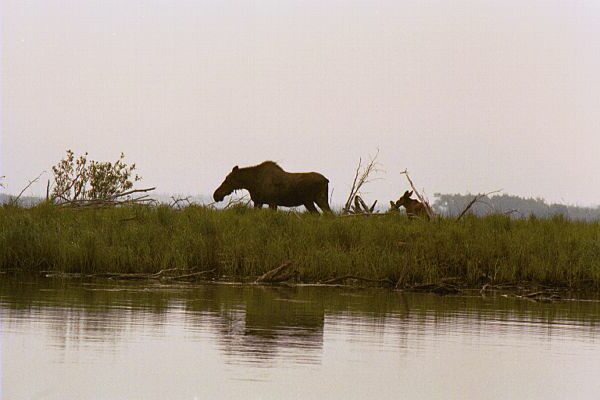 I loved trail running but was afraid of running into a bear. I've run into a wild bears a number of times in the past and never felt comfortable during the encounter. In fact, whenever we were cooking in remote areas, I had the green cannon loaded and ready, always conscious of the wind direction. Instead of exploring trails running, I walked with the green cannon. This significantly limited my range and I was not as comfortable but I figured that was life in bear country. I think it was at a town called Mayo on the Stewart River that I met a gal who owned a running store. I had to go into the store to find out why there was a running store in this remote little mining town way up north. I found out that the owner loved to trail run. She ran most every day. Last year one of her good friends got mauled by a bear while trail running but that didn't stop her because she loved trail running even more. This woman amazed me. From this point on, I decided not to be afraid of trail running. If she could do it, so could I. She enabled me to explore many trails through Northern Canada and Alaska. While running, I simply held a water bottle in one hand and a can of bear pepper spray in the other. Fortunately, I never ran into a bear. After visiting the small town of Mayo for a bit, Graeme and I drove up some trail to the top of a mountain. We hiked to the summit and looked around. The tree line is pretty low around here. There is a lot of red in the rocks; a lot of mining going on in the area. All this mining and moving around of dirt could be why the Stewart River is so murky. It looks like a muddy river; quite different from the clarity of the Liard and Yukon rivers. The confluence of the Stewart and Yukon rivers is interesting. Both are near equal in size. The Yukon is crystal clear and the Stewart looks like flowing brown mud. Where they join, the two bodies of water run together, side by side, for about a kilometer before they gradually merge to form one murky river. We did not spend long on top of the mountain and then drove back down valley to Stewart Crossing and up north along the Klondike Highway 2. We didn't drive into Dawson. The Dempster Hwy 5 is south east of town. There's a petrol station on that corner. We filled up the gas tanks, checked the tires and fluids and completed final preparations to head north along the Dempster Hwy. Our final destination north was Inuvik, about 800 kilometers north along this dirt road. We were not planning on being able to get petrol until Inuvik but there is a small town called Eagle Plains on the top of a hill with a petrol station a couple hundred miles north. We stopped there and filled up because we could. Then we drove past the arctic circle. It was after midnight when we stopped to camp for the night. The sun was still up. It never went away until we drove back south to Dawson. Instead, it ran circles in the sky.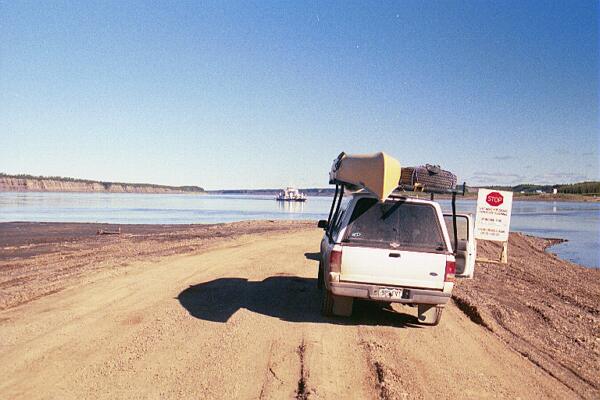 In the summer time, you must take two Mckenzie River ferry crossings. The southern one is near Fort McPherson and the northern one is at Tsiigehtchic. Tsiigehtchic isn't too far from Inuvik where the road ends. I very much wanted to paddle canoe down McKenzie to Inuvik but was not comfortable in the exposure. Graeme did not want any part of it. This is one of the world's largest delta regions. The river becomes highly braided with thick brush on the banks. Any mistake in navigating to Inuvik would likely mean death. So, instead of doing any canoeing around Inuvik, Graeme and I just hung out in Inuvik for a few days. There is a campsite near the river just a couple blocks SW of downtown. We stayed at this campsite. One day we took a tour plane from Inuvik to Tuktoyaktuk; otherwise known as Tuk. Tuk is on the Beaufort Sea north east of the McKenzie river dumps in. Snowmobiles are popular there. We were in Tuk around Jun 18 or 19. Looking out to sea, you could see ice. It was probably not yet clear enough to paddle a boat through. There was no ice on land. Our guide said the ice would be clear enough to go whale hunting.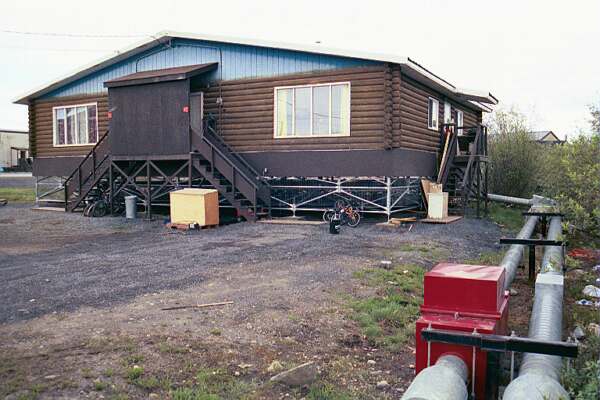 The diets of these people are mostly whale. They catch enough in the summer to last the rest of the year. They store their meat in rooms they dig underground through the permafrost. Snowmobiles are popular in Tuk too. Two guys were riding over land to a thawed lake; maybe 75 yards across. They would hit the lake with enough speed to get across to the other side. Our guide said the kids did this and that eventually they would mess up and sink the snowmobile in the lake. As in Inuvik. All the buildings were built above ground on top of scaffolding. This was to keep from thawing the permafrost. The land was flat except for the pogoes(?). Pogoes are symmetrically round hills up to a half a kilometre wide and 100 meters tall. They pop up from nowhere. Sometimes they even come out of the water making an island. Our guide said these were made when the underlying land thaws and expands up from the surrounding permafrost. I tasted the Beaufort Sea. The water was only a little salty; almost fresh but not quite. It was like you could almost drink it. This lack of salt was likely due to close proximity to McKenzie river and all the melting ice. Also, fresh water floats since it's not as heavy as salt water. There were a lot of nice new cars and snowmobiles up in Tuk and Inuvik. Other Canadians said the government gave these to the natives for mining rights. Muskox and caribou are popular up there. The natives are permitted to eat but not sell. Our guide in Tuk said that if they ever see a polar bear, they organize a hunting party and kill it. If they don't the bear will hunt them down and eat their children. After spending a week in Inuvik, we drove back south to Dawson. About a 150 kilometres north of the Klondike Hwy Intersection, a nice new black pickup truck came flying by. He was probably racing to get the last ferry for the day. I slowed down and drove to the side but this wasn't enough to escape the rock that flew up and broke the windshield. I didn't expect the windshield to make it along this road. But it almost did.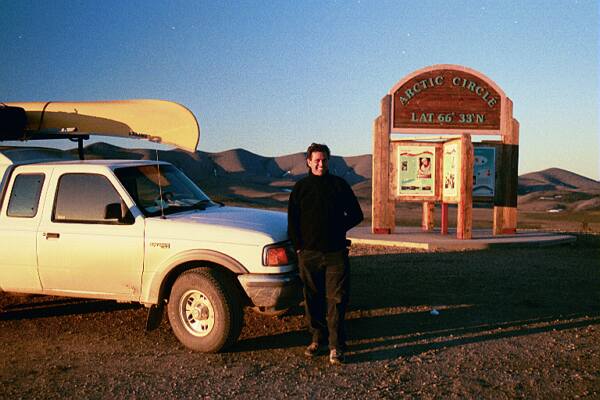 The trip from Dawson to Inuvik and back was about 1500 kilometres along desolate dirt roads. Even though the sun never set for most of it, the temperature would change quickly. When the sun was shining, it was warm enough not to need a shirt. However, when the sun was shaded by a cloud, it quickly cooled enough to need a sweater and jacket. This was likely due to the perpetually frozen ground, or permafrost. We stopped in Dawson to do laundry. Dawson was a big gold rush town. Today it's mainly a tourist town. While we were doing laundry, Graeme called the teacher he met in Watson Lake. School was now finished and the two teachers were driving around touring for their vacation. Graeme decided to tour with the teachers south to Skagway and then take the ferry down to Seattle before returning home. This was just before solstice. There is a camp site across the river from Dawson City and just downstream from the ferry terminal. I spent the night there and, early the next morning, headed NW up the Top of the World Hwy 9. Passing into Alaska the road changed to State Hwy 5 and then, after Chicken Airport, Taylor Hwy. Before connecting again with the Alaska Hwy, I stopped to climb a mountain. It looked like one of the taller mountains in the area. Like the other mountains I climbed near the Stewart River, the tree line was low and this mountain looked old and well worn. After climbing the mountain, I drove through Delta Junction to Fairbanks. There was a party going on in Pioneer Park. I walked around, listened to the music and looked at the winding Chena river flowing through town. That night I slept in the back of the truck parked on the road just south of Pioneer park. Around solstice time, Fairbanks has a 10km fun run called the Midnight Sun Run. It starts at 10pm at the University of Alaska campus. After hanging out in Fairbanks for the day, I participated in this 10km run. Throughout the course, you could see evidence of where permafrost had thawed; a sidewalk or street would be buckled up. The next day I pulled into Fiarbanks Princess Riverside park and put the canoe into Chena River. I paddled up stream through downtown, turned around, and paddled back with the river.
I drove north on Highway 2 to Minto. I loaded up the canoe with a few days worth of supplies and paddled up river. The river is not flowing very fast here and there are little islands and waterways everywhere. It's hard to determine exactly where the river is because it's more like a big slow moving lake. There is a lot of moose around here. I often saw pairs of mother and child. The waters are full of pike fish and the air is full of mosquitoes. The mosquitoes aren't out on the water but as soon as you hit land they're stronger around Minto Lakes than anywhere else I've been in my life. DEET and a mosquito net are necessary. One time, while peeing, I shaked so hard to keep from getting that little extension of my body from getting bitten that I accidentally peed on myself. One day, while out on Minto Lakes, I actually saw flames from a huge fire far to the north east. After spending a few days paddling around on the lakes fishing and reading, I headed back to Minto and did laundry in the community center. A native American told me about how he noticed mosquitoes swarm around white men but not native Americans. After cleaning my clothes, I drove back to Fairbanks. While in Fairbanks I decided to try an experiment in fending off mosquitoes. I picked up a bunch of fresh garlic cloves and started eating them raw. Fresh garlic burns when you eat it. To get the most from the experiment, a couple times a day I would peal a few big cloves and crush/chew a few times before swallowing the rest with water. Dealing with the mosquitoes at Minto Lakes was a challenge and I wanted to see if eating lots of fresh garlic would help. I started eating lots of fresh garlic daily. There is a place near Fairbanks where a 10-15 miles hiking loop takes you to the top of a bluff and through some interesting pinnacle like rock structures. People come here to camp and to boulder. Instead of hiking and camping this loop, I ran the course one day. I don't remember exact name or location of this place. It was about this time that I also stopped at an internet café to post my first pictures to fgood.org. Then I headed south down the Anchorage-Fairbanks Hwy 3. There is a huge bluff south of Fairbanks and north of Nenana that the road passes through. Looking south from this bluff on a clear day you can see Mount McKinley. Fortunately, it was clear on my first drive south because I enjoyed a beautiful view of Denali from a couple hundred miles away. I stopped in Nenana for a bit to check out a museum and then went to a boat launch downstream of town. My thought was to paddle upstream as far as possible and then float back down to the truck. The river flow was strong and I had a hard time fighting the current. I only made it about a km upstream before giving up and turning around. After all that work, it only took moments to float back to the boat launch. On the Anchorage-Fairbanks Hwy north of Denali Park and before the road crosses back east over the river, there is a turnoff. I pulled off and climbed a mountain in an attempt to get a clear view of Denali. It was a newer mountain than the one I'd climbed further north. The rock was not as worn. Unfortunately, Denali could not be seen from this mountain. There is no driving down Park Road into Denali National Park. The only way to get in there is to take a bus tour. The bus will take you as far as you want to go up to about 130 km and drop you off. It will pick you up when you're ready to return. You can camp out and take bus back days later. The thought of sitting in a bus for 8 hours on a washboard like dirt road in order to get to the end did not appeal to me. So, I decided not to go deeper into Denali National Park. On the road south of the main park entrance, there is a rest area with incredible views of Denali and the West Buttress Glacier. I hung out in Talkeetna for a couple of days. Talkeetna is the launching point for Denali climbing expeditions. Since there's no feasible access from land, climbers take a plane from Talkeetna airport to their first base camp on the glacier. Talkeetna is a fun little climbers town. People set up camp on the peninsula just north of downtown. It appeared that some people set up camp there for many days, weeks, even the whole summer. Bonfire parties were common. One day I camped by Christiansen Lake south east of town. I paddled the canoe around this lake and fished. Like up in Minto Lakes area, I saw a number of moose with their kids. Moose like flat wet bushy areas and the must give birth in spring. There were many small planes on this lake. Most of them had big tundra tires or water skis and they were sheathed in canvas instead of aluminium. They looked very light. One guy took off while I was out paddling around fishing. He had loaded his plane up with wood; 2x6s and 2x4s. He was likely building a place without road access. He barely had the power to take off. He needed the full length of the lake and missed the trees by inches. This is common around this area. Only way to get to many places is by snowmobile in winter and plane in summer. I had come to learn that most of the trails on my topo map were actually snowmobile trails, not hiking trails. In the summer, the land is thick bush or marshland. One day I left the canoe in Talkeetna and drove south to where the highway crosses the Susitna for the last time before dumping into Cooks inlet. I left the car on the west side of the river and hitched back to Talkeetna with a paddle. I always hitched with a canoe paddle. One guy told stories about how a friend of his died and another told me about how he almost died in a canoe. He said he would have died if his friend had not saved him and that he would never consider canoeing down a river alone. I didn't say much because I didn't have a partner and I didn't want to sit and watch TV. The canoe ride down this fast moving Sasitna river of glacial water was wild. It flows fast at about 17 km+ and is a turquoise white mud color. The glacial silt sounded like someone was constantly throwing sand on the bottom. There are snags of fallen trees and bushes everywhere. The river braids through sand bars with flowers and driftwood. Midway downstream to the takeout, the wind picked up. I could not keep the canoe straight. After going a short distance backwards I pulled into a sandbar to wait out the wind. I did not have the gear or clothes to spend the night and was in a very exposed situation. While waiting for the wind to subside, I gathered firewood in preparation for spending the night. Fortunately, the wind subsided and I was able to head back downstream to the takeout point. I got back to the truck later that night and camped by the river. Next morning, I started heading further south to Anchorage but I didn't make it all the way to Anchorage. Instead I stopped at some lake north of Wasilla to fish and camp. The lake I happen to find was full of rainbow trout. Then I drove into Anchorage. I watched people fishing on the river for king salmon. Salmon licenses were expensive for out of state people and I didn't have big enough gear for them so I never fished for salmon. However, I did see salmon running up smaller clear rivers between Anchorage and Fairbanks. They seemed to hang in big schools in certain areas resting before heading further up river. With a strong net, it would be easy to catch salmon by the dozen. Cooks inlet has one of the largest tidal ranges in the world and I was interested in seeing it. The tidal range is close to 20 feet. So, I picked up a tide chart and went out to Earthquake Park to hang out through a cycle. Earthquake Park is on the NW side of Anchorage and overlooks Knik Arm. You can look west across the harbor towards the Susitna River delta region. At low tide the water is completely out of Knik Arm, except for the rivers, and the mud is very soft; too soft to walk on. While waiting for my laundry one day in Anchorage, I walked into a gun shop close by. There was a marine grade stainless steel shot gun. It was a 12 gauge pump action with a short barrel and no choke. The proprietor said that the model was typically purchased by fishermen. Though I was not in the market for a gun, I thought this gun would be ideal for a sailing expedition I wanted to do in the future. I bought it. I suspect it was from the pictures I posted on the internet while up in Fairbanks that my brother Warren wanted to visit Alaska. He booked a flight to Fairbanks for a week. So, I had to get back up to Fairbanks to pick him up and never made it further south along the Kenai Peninsula. On my way out of the Anchorage area, I stopped at Eagle River and went for a run up the Chugach State Park Greenbelt. Then just before Fairbanks, I stopped in Tanana Valley State Forest to test my new 12 gauge. I had purchased some shot and slug cartridges. The gun shot great and I learned that 12 gauge slugs pack pretty strong kick. I had a bit of time in Fairbanks before picking up Warren in the evening so I hunted down a welder. A few of the welds on top of the rack on the back of the truck had broken. I'd attempted to fix with wire but that wasn't doing the job. Combination of rough roads and heavy weight was too much for that rack. On top of it I carried a 30 kg canoe, two spare truck wheels with tires, and a shovel. After the welder fixed the rack, I headed to the airport to pick up Warren. We decided to head back south towards Anchorage. Warren pretty quickly told me that I smelled pretty bad. I had been living out of the truck by myself for many weeks now. Of course, my eating massive amounts of garlic came up. During our conversation I realized that I hadn't been bothered by mosquitoes for some time now. I stopped eating garlic and eventually Warren said I didn't stink anymore. I also didn't get bothered by mosquitoes anymore. Conclusion: garlic likely doesn't help with mosquitoes; time and attitude might be of more help than we think. That night we stopped to camp at the same place in Tanana Valley State Forest that I'd first fired the 12 gauge. We shot the gun again next morning. I liked practising with alternating slug and shot in the cartridge. Warren didn't like the kick back from the slugs. There's a hike in Denali State Park to the east of the Anchorage-Fairbanks Hwy 3. You can start at one point on the Hwy, climb up and traverse a mountain range, and then hike back down to a different point on the Hwy. We decided to do this hike over three days and parked at the south parking lot. I was planning on hitch hiking back to the truck from the north parking lot entrance where we were to finish our hike. About a mile or so into the start of our climb into the mountain range, we passed a single guy from Jackson Hole, Wyoming. He was finishing the same hike we were just starting; only he was travelling north to south instead of south to north. Like me, he came up to Alaska for the summer just to check it out. However, he was now planning on staying and not returning to the lower 48. After talking for a few minutes I believed he was trust worthy. I told him where the keys to my truck were and that he was welcome to drive it up to the north parking lot where his truck was instead of hitch hiking. This would make life simpler for all of us. Warren and I hiked up to the top of the range and made camp above tree line with full views of Denali National Park and Mount McKinley to the west. When we got back to the truck everything was fine and there was a thank you note on the steering wheel from the guy who drove it up. While we were re-packing the truck, Warren decided to test the bear pepper spray. He was at the back of the truck. He sprayed a short burst away from his head but the wind blew it into his eyes. I was up front when I heard him say something like "Help, I need some water to flush my burning eyes". After flushing his eyes with water, they still burned for a while. Then we drove down to Talkeetna and set up camp on the point north west of downtown. We met a gal in the pub who was living there for the summer. Her dad homesteaded nearby many years ago and built a house down the road. When the band went on break, we went down to her house. Framing, walls and roof were finished but that was it. There was no insulation and she was basically camping in a good shelter without electricity or water. She obviously did not spend the winter there. Her dad had left an old VW van near the house. The van was surrounded by a lot of growth. Her dad stopped working on this house and must have left the van many years ago. The van was full of military ready to eat packages, MREs. She wanted to give us a bunch of these MREs. Warren and I accepted only three each. They must have been sitting in this van through many seasons but still tasted fine. Warren wanted to take a sight seeing plane flight over Mt McKinley so I joined him. The plane ride took us up over a southern glacier where a number of late season climbing parties were attempting the mountain. It was a perfect clear day with excellent visibility. We could see one party approaching the summit. Other parties was at the bottom of the glacier where a plane was dropping them off or taking them back to Talkeetna. There were other parties mid way up the glacier working their way up the mountain.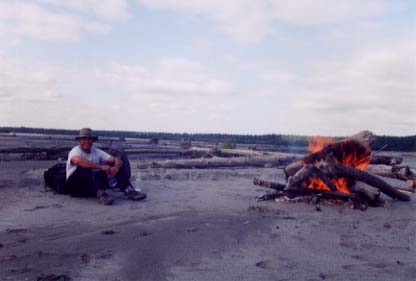 On the next day we set up to canoe a larger section of the Susitna River. Like before I left canoe on tributary north of Talkeetna. We had a couple days worth of supplies with plans on a night on the river. I drove south to Willow Creek State Recreation Area while Warren stayed by canoe. This was the last road access point to the Susitna river before it hits Cooks Inlet. The Susitna is highly braided by the time it gets to the Willow Creek tributary and it does not cross any more roads after this point. So after dropping the truck off, I found a good take out spot, set a waypoint on the GPS and hung out there for a while looking around. I wanted to get a good feel for this spot. If we went down the wrong braid or missed this takeout we would have to paddle all the way to Anchorage. That would mean about 2 more days on the river and then paddling 30 miles of open water with wind and waves. We took the green cannon with us. After leaving the truck I grabbed my paddle and water and walked up to the Anchorage-Fairbanks Hwy and hitch hiked back to Talkeetna. The paddle downriver was exciting as usual. Towards evening, we stopped on a sandbar to set up camp. There was a lot of driftwood on the sandbar. Warren made a bonfire. Next days paddle to the takeout was mostly a matter of making sure we were staying on the far left braid. The GPS waypoint also helped us target the right spot. I recognized the Willow Creek tributary, and we made it to takeout without problem. There were a lot of salmon hanging out in the clear waters of Willow Creek just before it dumped into the murky Susitna. These salmon were not there when I dropped off the truck. The salmon must come in waves. It was now time for Warren to get back to Fairbanks for his flight back down south so we drove up to Fairbanks. We hung out in a park on the Chena River while waiting for the plane. There was a guy there. We talked about the Yukon and Stewart rivers and how the Stewart River dirtied the Yukon. He wanted to buy a gun but couldn't because of a recent conviction. He asked if we would help him buy one but we didn't think that was a good idea. When I dropped Warren off at the airport I hoped he might be able to help me get the 12 gauge back to the lower 48. Unfortunately, airlines require gun to be in a gun case; a plastic bag wasn't good enough. I didn't have one so this didn't work. I ended up walking into and out of the airport carrying a 12 gauge out in the open. Warren thought that this was crazy, especially given proximity to "9/11", but I didn't have any problems with police. I ended up sleeping in back of truck on an off street in Fairbanks that night. Now I was searching for a method of getting 12 gauge back down to Colorado. I couldn't take it with me back through Canada because shot guns are illegal in Canada. It was also illegal for me to ship the gun down to Colorado through the Post Office. I ended up purchasing a hard gun case. Then I went to a gun dealer in North Pole and asked him to ship it to another gun dealer in Helena, Montana. I'd pick the gun up in Helena on my way back to Colorado. From North Pole, I drove south east to Delta Junction and turned south on Hwy 4. There was a mountain to the west of the road that looked taller than the rest. I pulled over and climbed this mountain and camped for the night. This was an area of old, worn, mountains. Next morning I continued down Richardson Hwy 4 to Cooperville on the Cooper River and on towards Veldez. I camped next to the pipeline just before Thompson Pass outside of Valdez. There is a lot of powerful natural energy at Port Valdez and I was not comfortable taking my river canoe out in the open water there where wind could pick up at any moment and swamp canoe in cold water. There is a north to south flowing watershed to the north of Valdez. I spent the day running up a trail that goes up this valley. It was nice out and back run. Then I organized a deep sea fishing trip.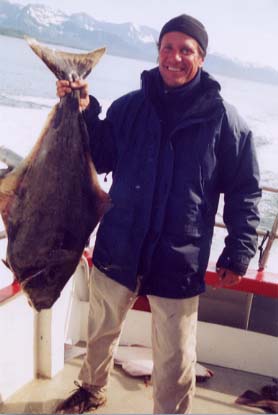 The next day I went out through Prince Williams Sound with about 7 other charterers. We were going Halibut fishing. We were moving at pretty good speed for a couple of hours before we started to fish but it was a beautiful ride through incredible scenery. We went out between Montague Island and Hinchinbrook Island into the Gulf of Alaska. We set anchor to the west of Cooper River drainage and a mile or so offshore. Then we all started jigging fresh bait off the sea floor. I think we all caught fish and piled them up in the back of the boat. Some of us caught more than one. Most of us couldn't identify exactly which fish was ours in the pile. The halibut we caught ranged from about 10 to 40 kgs. During the trip back to Valdez, the outfitters filleted the catch. We passed a giant gray whale on our way back into Prince Williams Sound. It was repeatedly jumping out of the water in a very methodical manner. It was as though it would swim down a couple hundred feet and then shoot straight up to get as far out of the water as possible. While in the air it would twist around so that it's back would slam the water as hard as possible. Then it must have gone deep to repeat in the same spot. Like clockwork, the whale did this repeatedly from the time we first saw it until we passed it and got too much distance to see anymore. This could have been an hour or more. Back in Valdez, I thought about what to do with the halibut. I took a few pounds for myself and had the rest vacuum packed and frozen. Then I called my friend Jefe Smith who worked for FedEx to see if he would ship half the fish to my friend Brigitte in return for shipping the other half of the fish to himself. He was happy to oblige. The next day I headed out of Valdez and north on Richardson Hwy 4. At Gulkana, I headed NE on Glenn Highway - Tok Cutoff Hwy 1. Then at Tok I turned east on Alaska Hwy 2 and drove back into Canada. I stopped near Snag Junction at Enger Lakes. I paddled around on the lake and fished before camping. The water was clear and I only caught Pike. Big pike. I also took pictures of bald eagle. I continued driving south east on Alaskan Hwy 1 but turned south onto Stewart-Cassiar Hwy 37 just before Watson Lake. This road quickly turns to dirt and I camped in the bush just south of this intersection. After resuming my drive south in the morning I passed a guy walking south down this road. I had not passed any other cars or seen anyone for a while. There was no development for many miles to the north and no development for many miles to the south. There is very little vehicle traffic on this road and this was not a place to be walking anywhere fast. To where was this guy walking? I stopped automatically and asked him if he would like a ride. Then I noticed a big axe in his hand. He said yes, he would appreciate a ride to his home about 80 km south. Before he got into the truck I asked him about the axe. He said it was for bear protection but would not need it any longer. As he said this he casually tossed it across the road into the bushes and hopped into the car. He'd been up here scouting around for a while and was worried about a friend of his who was supposed to have picked him up a couple days ago. I drove him down to his home in what could have been Jade City. He invited me into his house and opened his freezer for me. He had a couple freezers full of moose meat and wanted to give me a bunch. I took a little roast. He had never eaten halibut before so I gave him the last of my halibut. The Stewart Cassiar Hwy 37 is incredibly beautiful and wild. The terrain is relatively flat to the north and enters a valley with steep mountains on both sides to the south. I drove down to Kinaskan Lake where there is a campsite on the south end of the lake. While checking in, the camp host noticed the canoe and asked if I felt comfortable with rapids because there was a nice run down the river to another lake a few km south. He also said the fishing was good in that lake to the south.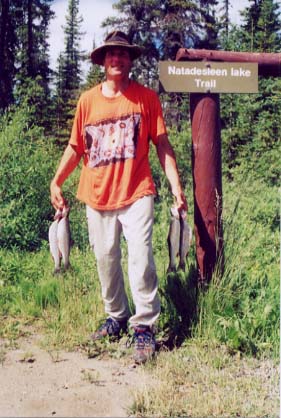 On the next morning, I left canoe and fishing gear at the campsite on Kinaskan Lake and drove down to the Natadesleen trailhead. The trail head parking area was about a 2 km up a trail from the take out point on the lake. I went down there to view the spot. Along the way I noticed many piles of bear scat. After viewing the take out spot and returning to the parking lot, I started walking back up the road to the canoe. Since the traffic was so slim on this remote dirt road, I didn't expect to get any help hitch hiking. It was only 10 km by road so I planned on walking. While walking north, I noticed many more piles of bear scat along this road. In all my travels through northern Canada and Alaska, I'd never seen more condensed evidence of bear and all I had with me was a canoe paddle. Fortunately, after a mile or so of walking, the camp host came driving north in his truck. He stopped and I hopped in the back for an easy ride back to the canoe. During this ride, I continued to notice all the bear scat along the road. Since it wasn't a long canoe trip, I took my time and fished along the way. Shortly after passing the pond just downstream of Kinaskan Lake the river narrowed and sped up. Light rapids were starting so I focused on the river. I was moving at a pretty good speed through class 2 rapids when I noticed a huge brown bear on the bank to the left. As I approached he stood up and looked at me. I floated down the river and we crossed about 3 meters from each other. I was not paddling when we passed. He must have stood over 2 meters tall. I resisted the odd urge to splash him with my paddle for fun. As soon as I passed him, he got back down on all fours and started walking up stream. My heart resumed beating. I paddled around an island in Natadesleen Lake and caught a bunch of rainbow trout. I was not looking forward to hiking up that mile long winding trail to the truck with a 30 kg canoe and a bunch of smelly fish. When I pulled the canoe to the take out spot, I emptied the canoe and ran to the truck with the fish, paddles, and everything else. Then I returned to portage the canoe. Fortunately, I never crossed paths with any more bears. South of Kinaskan Lake Provincial Park the dirt road turns to pavement. Fishing and helicopter skiing outfitters started to pop up. Here, the Stewart-Cassiar Hwy 37 becomes populated and civilization begins. I continued down Hwy 37 to the Trans-Canada Hwy. Instead of going to Prince Rupert, I headed the opposite direction to Prince George. I had become accustom to living slowly but the approach to Prince George told me that this was no longer possible. I felt the wilderness of North American ended with civilized south at Prince George. In Prince George, I went for a little hike along the river and stopped at some beach park on a lake. The beach was crowded. Today it was the place to be. I went for a swim and started driving south along Cariboo Hwy 97. I took a shortcut along logging roads towards Wells Gray Provincial Park. This shortcut took a couple of days. I stayed at a government camp site on a lake one night. It was along this trip through logging roads that I learned that you should have a VHF radio when travelling on these remote logging roads. This is because the logging trucks move quickly and the road isn't very wide. At designated frequencies, they broadcast their movement so that you can get out of the way before it's too late. I didn't have a CB or VHF radio. I was lucky to have never run into any logging trucks in my travels on logging roads in British Columbia. Once I got to Clearwater south of Wells Gray, I never travelled on logging roads again. My trip was ending and I didn't want to buy a VHF radio. Hemlikan Falls greets you on your way into Wells Gray Provincial Park. It's a beautiful huge waterfall in a spectacular setting. But that's just the start. This park is full of waterfalls and crystal clear waters. Like National Parks in the USA, you have to stay in designated camping area. I outfitted the canoe and paddled up Clearwater Lake and camped out, fished, and hiked. When I returned to the truck, I went on a run around a big loop trail that bottoms at the end of the road / boat launch. Then I drove south to Kamloops. In Kamloops I stopped at the same mountaineering store that Greame had purchased his stove and I bought a new tent. It was a nice three man North Face. From Kamloops I headed south on Hwy 97 through Kelowna. This valley is Canada's wine country. Close to the border I headed east along Hwy 3 through Salmo and went through border into USA at Nelway. The border patrol at Nelway searched through my entire truck. Fortunately, everything was in order and, for the most part, they put things back the way they found it. They were likely leary of me because I was by myself and this is a remote border crossing. Oddly, the lead border patrol guy used to work for the US Forest Service in Park County, Colorado. He was familiar with the area around Pike National Forest in Colorado and the Terryall Reservior area around McRodLand. This is another relatively remote location that I am familiar with. He knew more history that I and told me about the big burn on the mountain east of Terryall Reservior and north of Schoolmarm mountain. He worked there when that burn happen and said it started from a fire at an old wood pulp mill. I spent a day in Metaline Falls trying to find the closest Outward Bound school because I heard that my friend Jeff Mezenko was teaching in the area. Unfortunately, I could not find this school and no-one I spoke with had heard of it. Finally, I gave up and headed to Sandpoint. It was mid day when I passed through Sandpoint. I stopped at a park on the lake and cooked the last of my fish for lunch. I had been eating mostly fish for the past few months but did not fish any more after this point. From Sandpoint, I headed to Kalispel and bought a chain saw. Now I was thinking about McRodLand. I wanted to collect wood for the place and fix up the insides of the Kiva. With no sales tax in Montana and lots of logging, Kalispel was place to buy a quality saw. I then drove to Helena to pick up my 12 gauge. From Helena I took Hwy 15 south to 30. Next I went through Kemmerer, Wyoming where my friend Mark Gresock had mined for a few years, and turned onto Hwy 530 at Green River, Wyoming and drove through Ashley National Forest. I entered north west Colorado through Dinosaur. The window was down after passing through Rangely, Colorado on my way to Hwy 70, when I heard the faint twang of metal breaking. I knew exactly what it was and immediately stopped. The upper corners of the rack were breaking again. The welding job I had up in Fairbanks was coming undone. Three of the four corners were now re-enforced with rope. The final corner just broke. With all four corners of the rack now basically just tied together with rope and duck tape, it wasn't a very solid unit anymore. So, I took the spare wheels off and left only the canoe up there. From this point I drove very slowly and conservatively to McRodLand. Feeling good.