the feelgood organization
Home
up
Attachment and fear limit joy.
North Atlantic Sailing Tour - Europe and Africa
Spain A Coruña, Spain was our first landfall in Europe. It took about 8 days to sail there from the Azores and since we came in from the northwest with solid favorable winds and current, setting up a morning arrival time was easy. A Coruña marks the northern part of the Galicia region which follows the coast down to Portugal. The lighthouse pictured here is the oldest working lighthouse built in Roman times. It marks the west entrance to Ria da Coruña. Once again, the favoured anchorage inside the jetty had been turned into a marina. After exploring around the harbour a bit, we pulled into that new marina and checked in.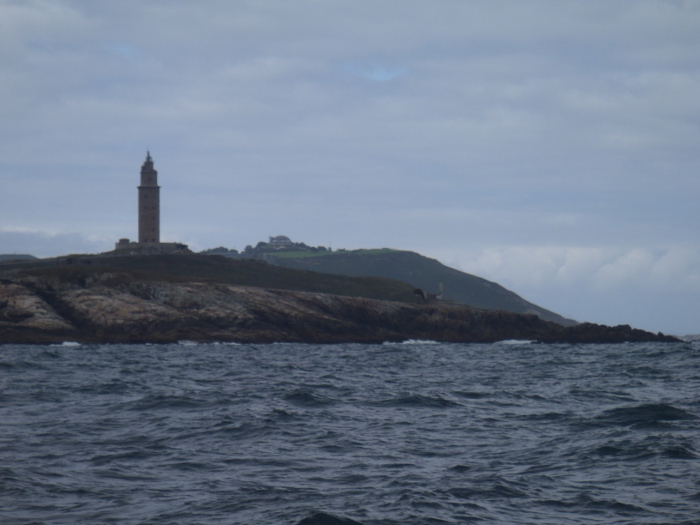 The Saugeen Witch was outfitted with PowerFilm flexible solar panels. Compared to rigid panels, they take up double the surface area for a given output and cost twice as much but they're completely water proof and easy to store. These panels are made primarily for USA military solders to roll up and tie to their backpacks for remote power of communication and computer equipment. During our north Atlantic crossing we learned that those PowerFilm flexible solar panels are not built to last. They are built for a military with big budgets to buy disposable equipment. One company video shows a guy test a panel with a voltage meter, pump a few gunshot holes in it, and then retest with the voltage meter showing little degradation. That's all good and fine but I suspect the constant flexing they underwent tied up on the Saugeen Witch lifelines degraded them to the point that they couldn't supply us with our budget of 50 amps a day at 12 volts. In order to power our navigation lights, radio, and stove during our sail from the Azores, we had to run the motor for an hour every couple of days. We shared this power generation problem in our first email to family when we arrived in Spain. My dad immediately offered to find replacement panels. Having spent his career building satellites and designing satellite navigation systems, we couldn't have asked for better help. All I did was share with him where they were going to mount and maximum dimensions. The next day we had his recommendation, found a distributor of those panels in Seville, Spain and placed an order for two of them.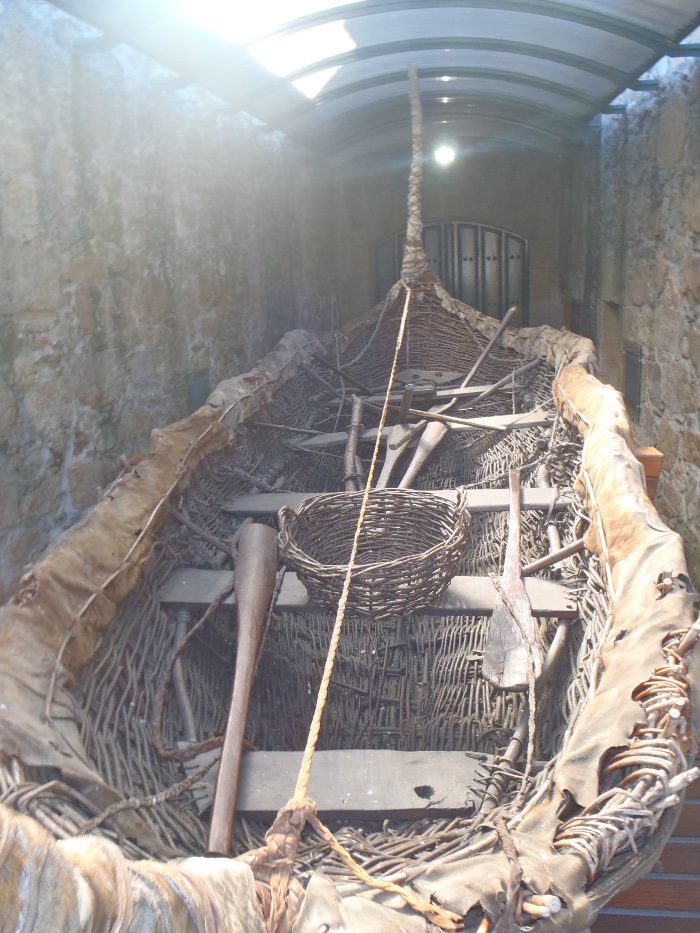 Then we hung out in for a couple of weeks, walking around and enjoying the festivities while waiting on our new solar panels. A Coruña is a cool tourist town with interesting museums and beautiful beaches. It is big enough to attract huge summer festivals too.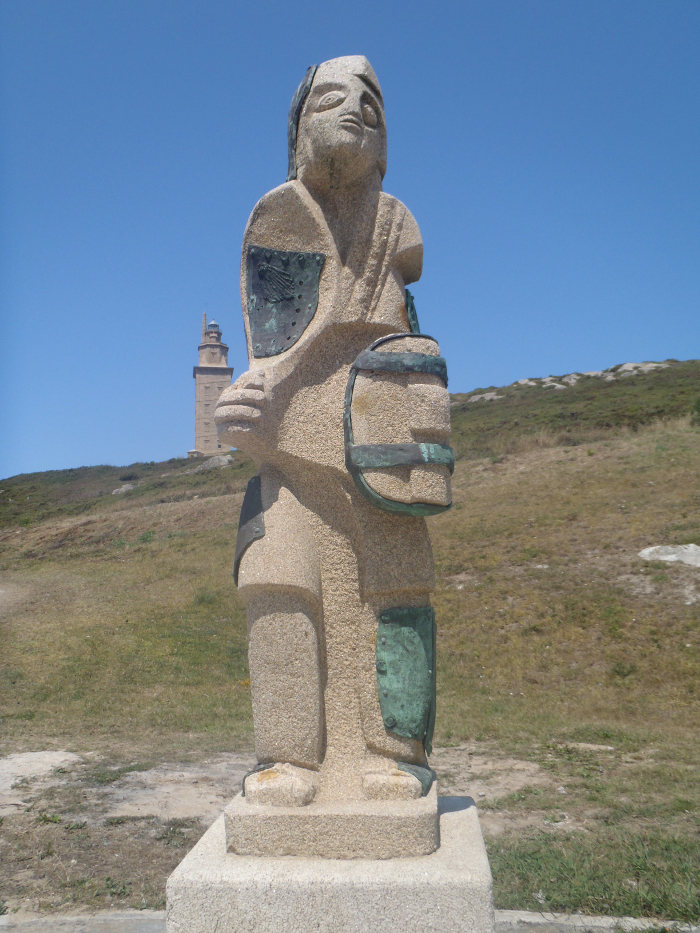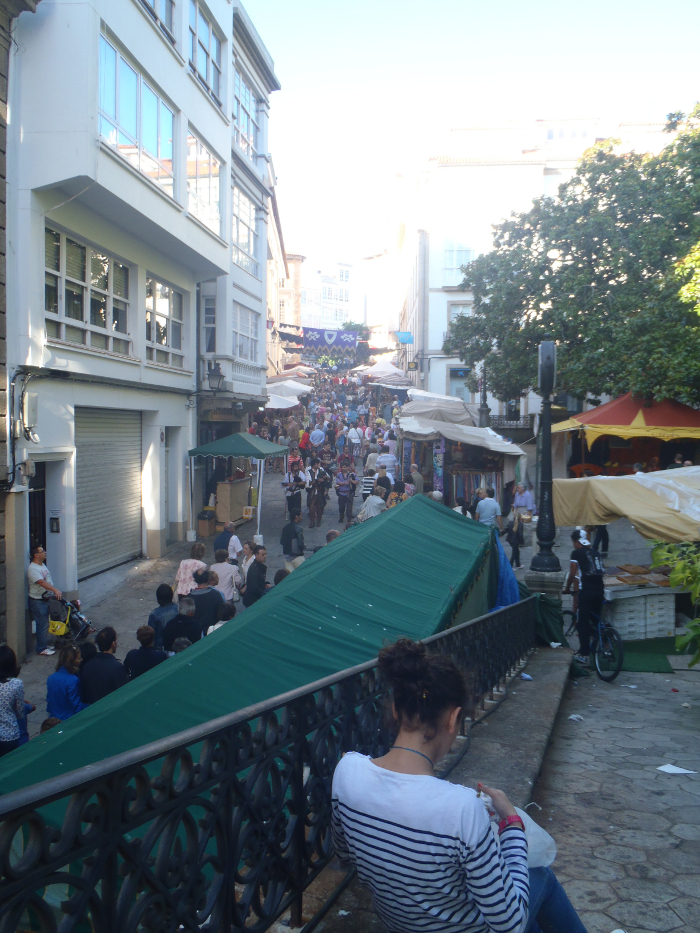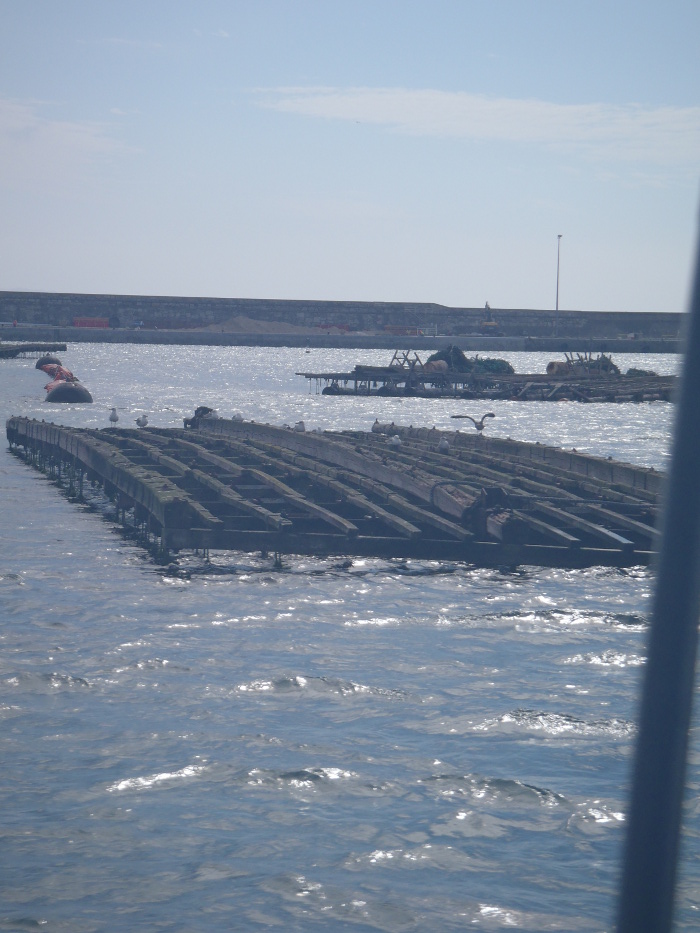 It felt like Christmas came for us the day our new solar panels arrived. In short order they were mounted, hooked up and they worked perfectly. We mostly leave them hanging vertical on the lifelines. When water reflection and the sun is hitting one, they actually output more electricity than rated. Next day we woke up early and sailed south west to O Porto de Corme. Small, uncrowded and clean, Corme was a nice change from A Coruña. One day we walked along a spectacular trail to a rock lighthouse at the edge of clear blue waters. Since the trail was full of ripe raspberries, we took frequent breaks along the way to munch. Here we also ran into our first farm. Most all the estuaries in the entire Galicia region have these floating mussel farms. Growing below these square rigs are lots of mussels. After a few days of exploring around Corme on foot and dinghy, we hopped down the coast to Camariñas. Camariñas is a little bigger than Corme with beautiful architecture but not as attractive to us so after a couple days we sailed south. The coastline from Camariñas to Fara de Fisterra is probably the most spectacular of all Spain's Galicia region. There are natural rock jetties, granite spears, cliffs, and castle looking stone buildings. Since the dominant winds and currents are coming from the north, sailing along this coast from the north is a pure treat.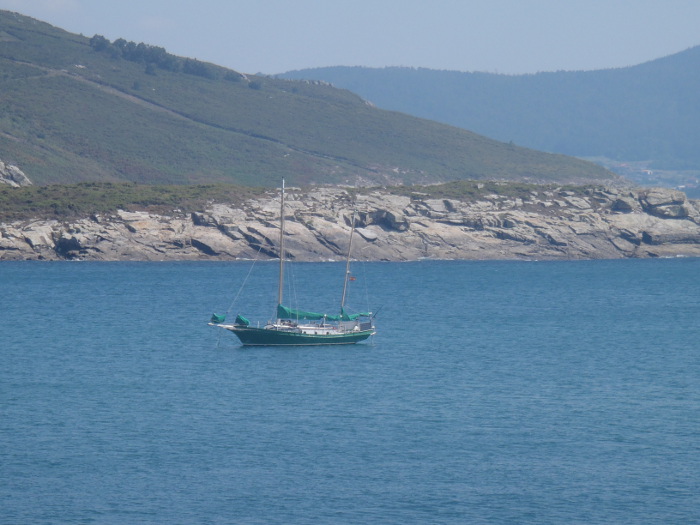 Study of satellite images months before indicated a beach on the Atlantic side of Fisterra. It looked like there could be nice surf off this beach and it had good walking access from a comfortable anchorage off town on the bay side. Fisterra itself looked like a beautiful small town on a peninsula surrounded by green parklands. This looked like a great place to hang out for a few weeks or more; enjoy some surfing, meet people and practice the Spanish. Upon actually sailing there and walking over to the beach, high expectations were mostly met. Great place to hang out for a while.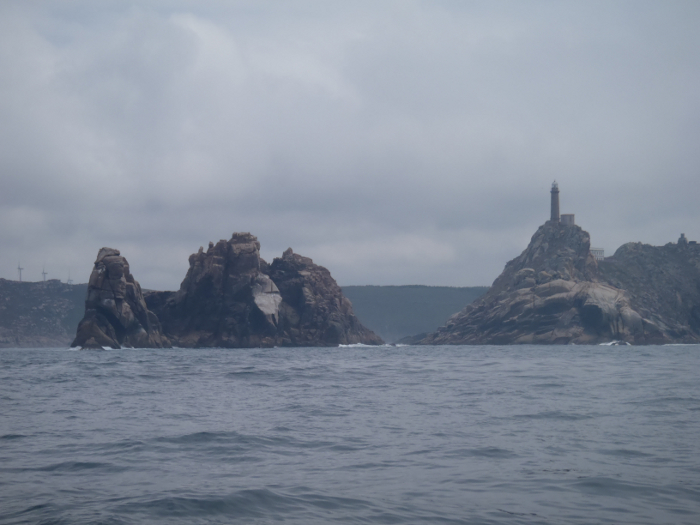 The surf now was small and closed out. The satellite images I saw were probably taken during a winter swell. Worst of all, however, I had allowed the fundamental sin of travel to creep into our lives; a schedule. My brother Cliff was living in Málaga on the Mediterranean coast of Spain and Barbie's sister had organized to meet us in the Canary Islands. These opportunities to see our family must take precedence. We were on a schedule and there are too many interesting places between here and there. So, we accepted that for this section of our journey we would have to settle for less of Fisterra than more. Without a schedule, you are free to see a lot of a little or a little of a lot and let circumstances decide. At least we got to see Fisterra for a little. After a few fun days walking around Faro de Fisterra, we headed south to Muros. The wind was light that day so we motored over calm clear water. Tons of crabs kept us company along the way. Maybe it was for some feed we couldn't see on the surface. Maybe it was for a kiss from the sun. Who's to know? Fish hover but animals like crabs really need to fight to get off the bottom. The crabs we saw swam over 30 meters up to the surface for their own reasons. We'd watch one flutter at the surface for a while before it would fall back down and another would take its place a short distance away. We were entertained and captivated for hours watching the spectacle.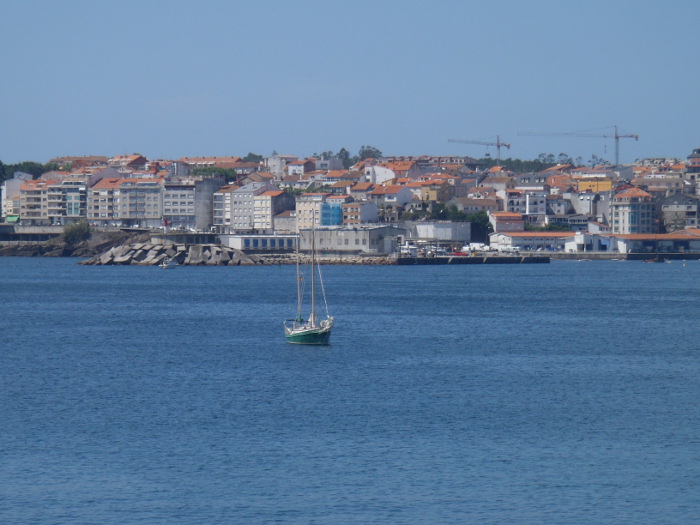 Slow motoring didn't get us to Muros before dark so we anchored off San Francisco beach south of town and finished our journey the next morning. Though still small, Muros is more developed tourist town than the other towns we'd stopped at recently. Looking for water one day, a Frenchman on another boat showed us the local washing area where people come one day a week to wash their clothes. The large courtyard was lined with solid rock wash basins fed by clean spring water. Clearly, wash days in Muros is a fun social affair. The next stop in Sanxenxo made it clear to us that the Galicia region gets more populous and sophisticated as you go south. We anchored off a popular beach next to a marina full of million dollar yachts. After a day or so of walking around in crowds and watching parasailers drive circles around us we headed south to Illas Cies.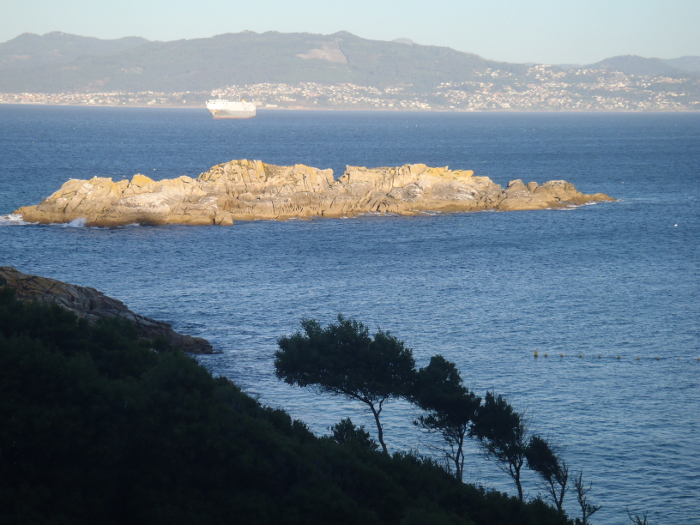 Illas Cies is an national park island at the south end of Spain's Atlantic coast. The only way there is by boat. There is spectacular hiking on the island with pristine beaches and awesome views. People take ferries from Vigo with camping gear. Everyone stays at the center of the island.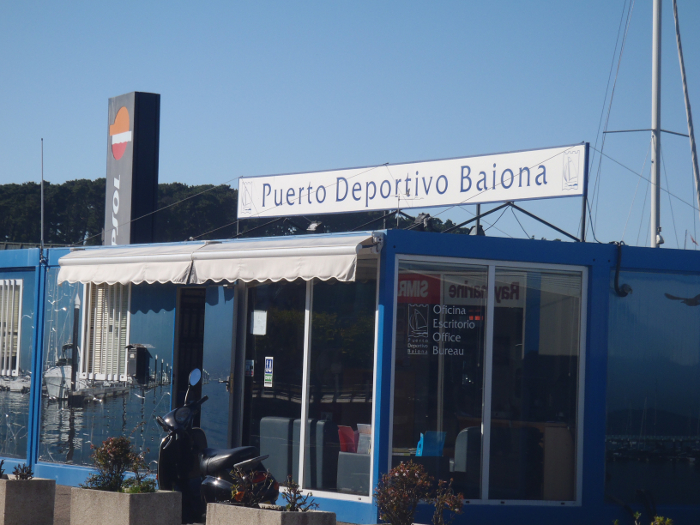 Baiona was our final port in Spain. Here was secured the boat at a marina and took the train through Madrid to Málaga to visit my brother Cliff. Like the rest of Spain in the summer, Málaga was also having a grand festival while we were there.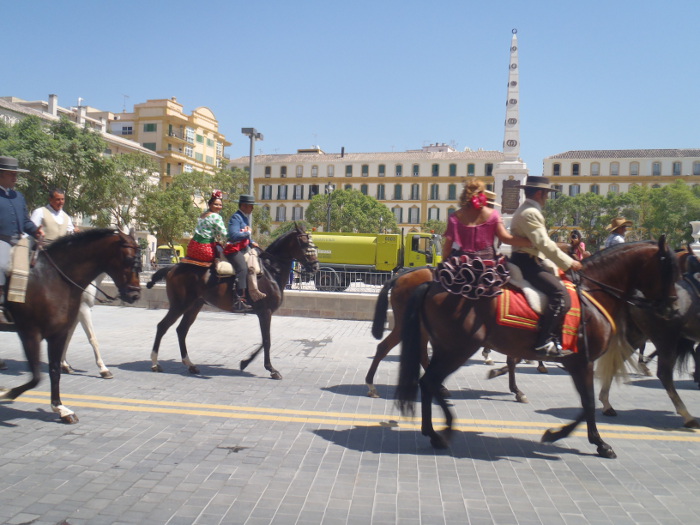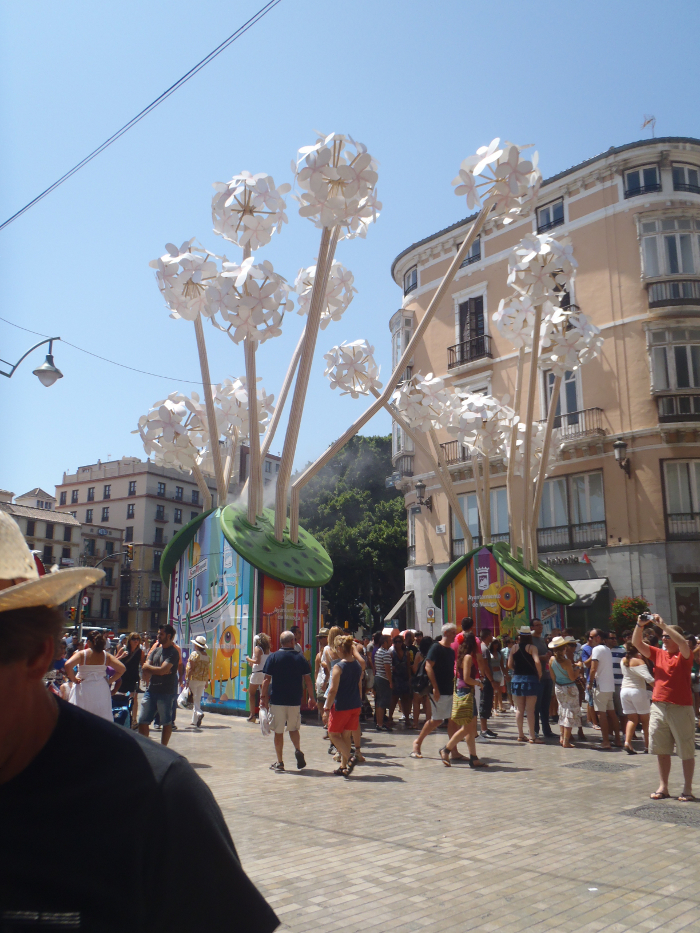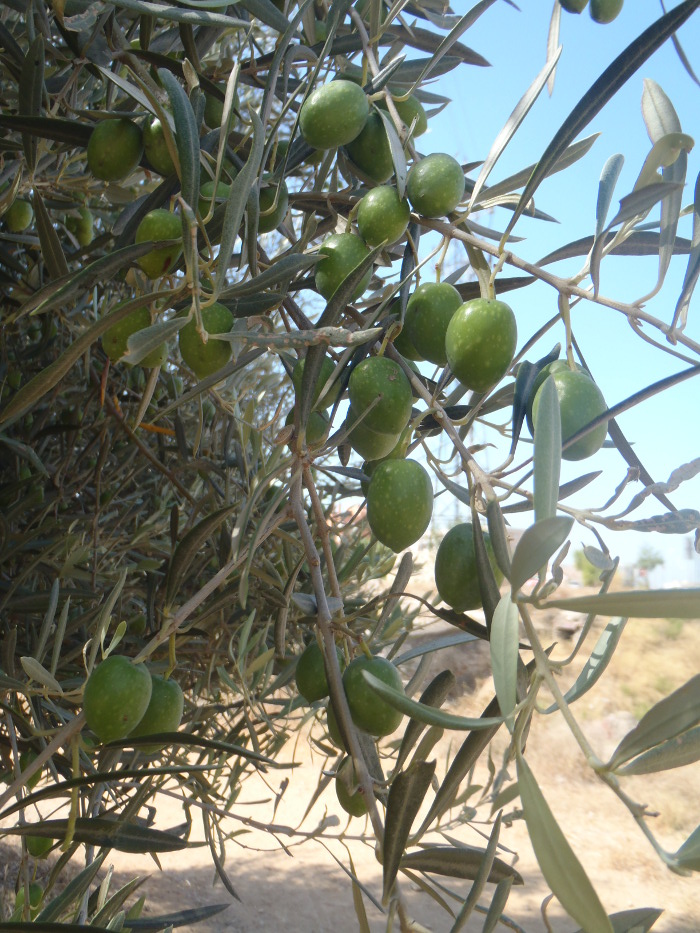 There are a lot of olive trees in Spain.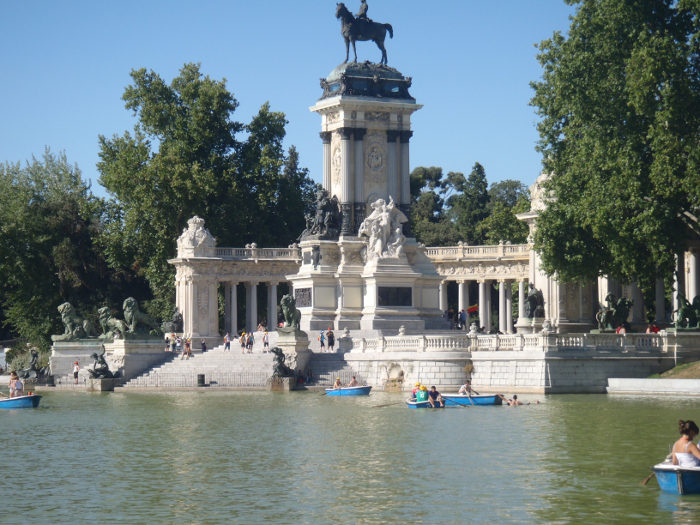 We stopped in Madrid for a few hours on the way back to the boat and had time to walk around Parque del Retiro.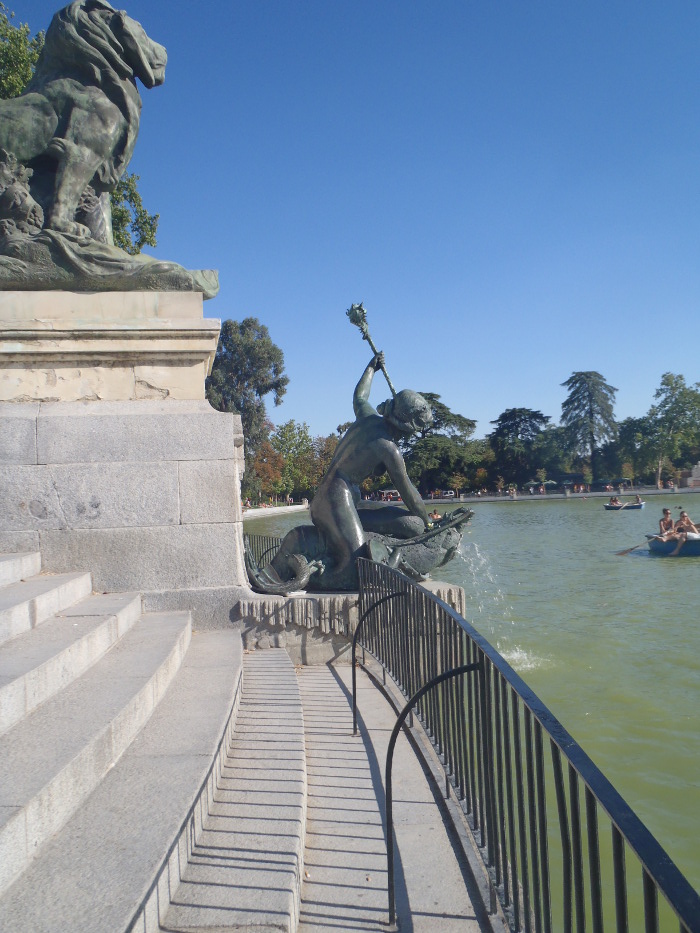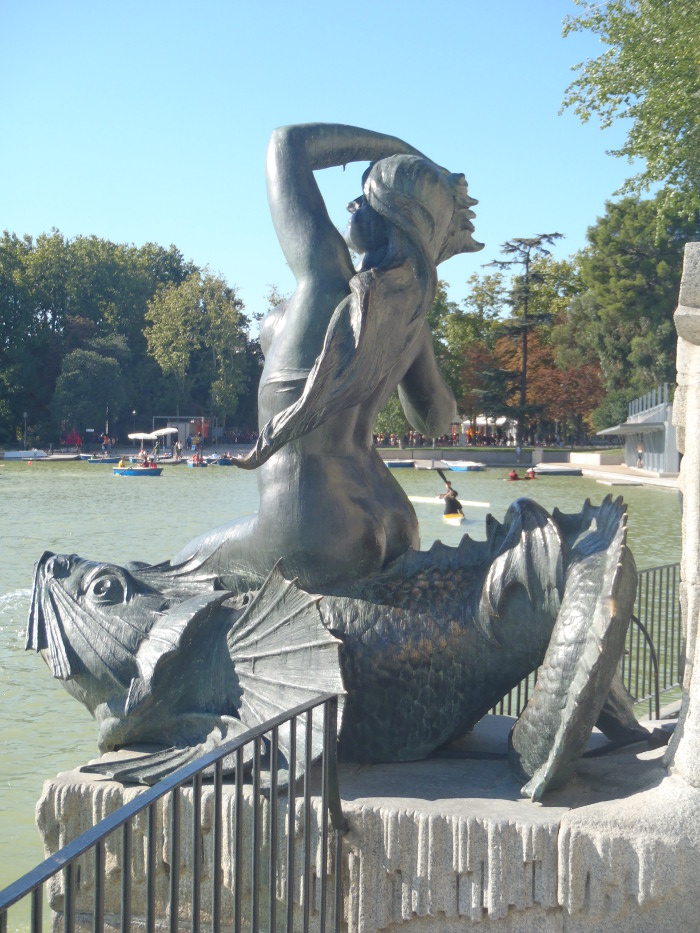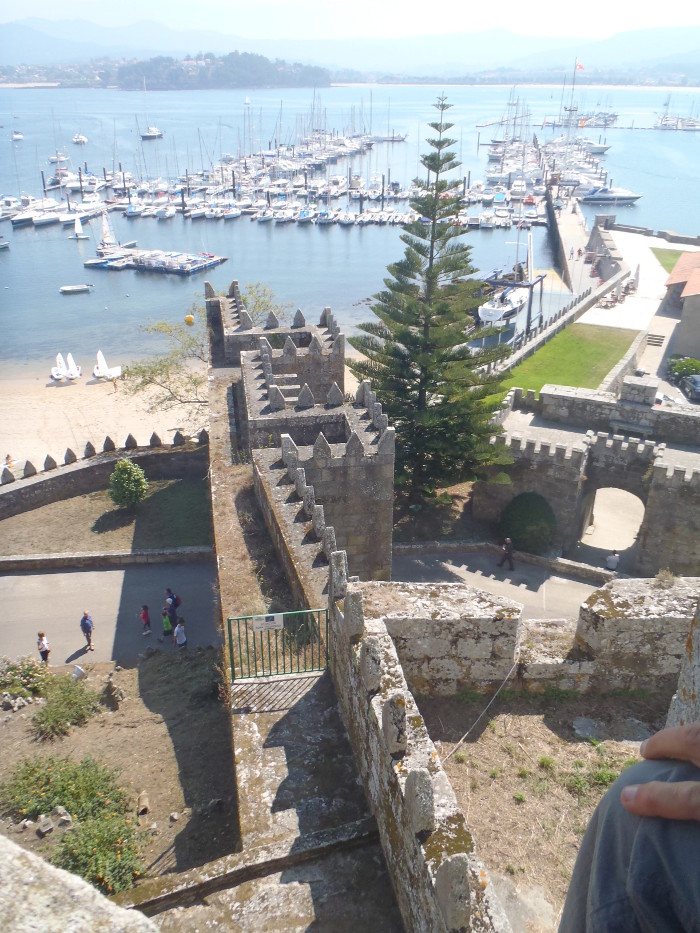 Baiona is the town where Christopher Columbus first made landfall back in Europe upon return from his "discovery" of the "New World". There is a really cool huge old fort on the waterfront. They let you run in and around it.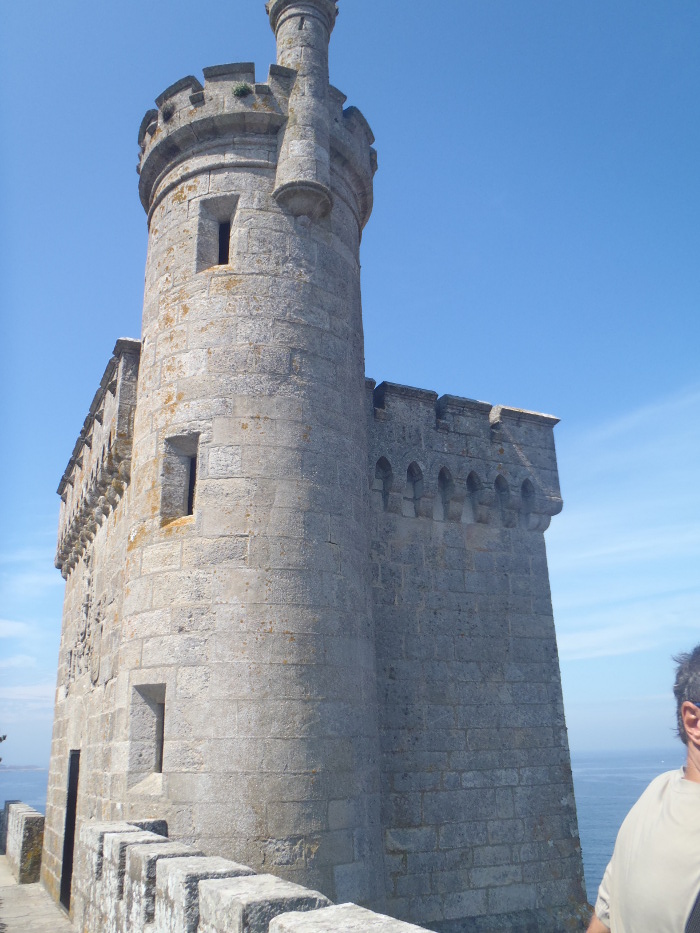 Portugal Somewhere about 20 miles off the coast of Portugal north of Lisbon, the most lively pod of dolphin I've ever seen came to visit us. There were about two dozen of them.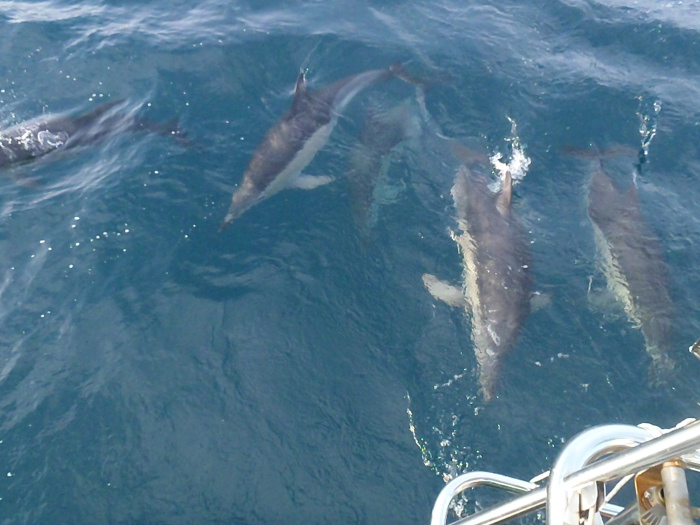 They jumped, dove and frolicked around us for 30 minutes or so before moving on.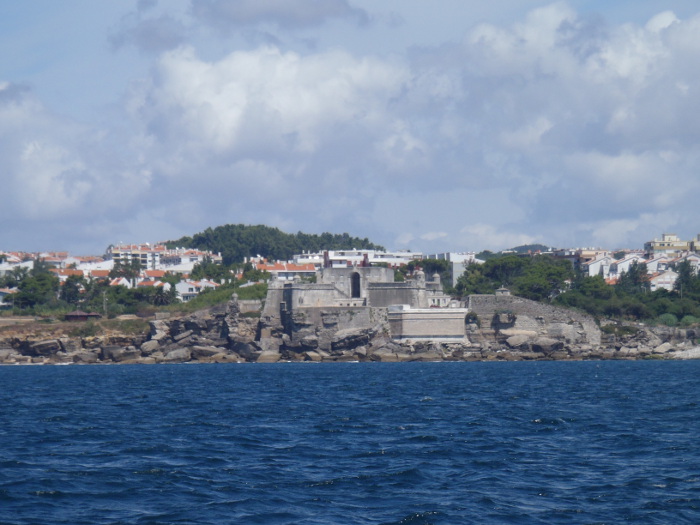 After pulling into the marina at Cascais to check in with the officials, we sailed up the Tagus River to the small town of Seixal south of Lisbon. Lisbon has the monument of Jesus looking over it. It seams like all Portuguese towns, big or small, have some biblical figure looking over it.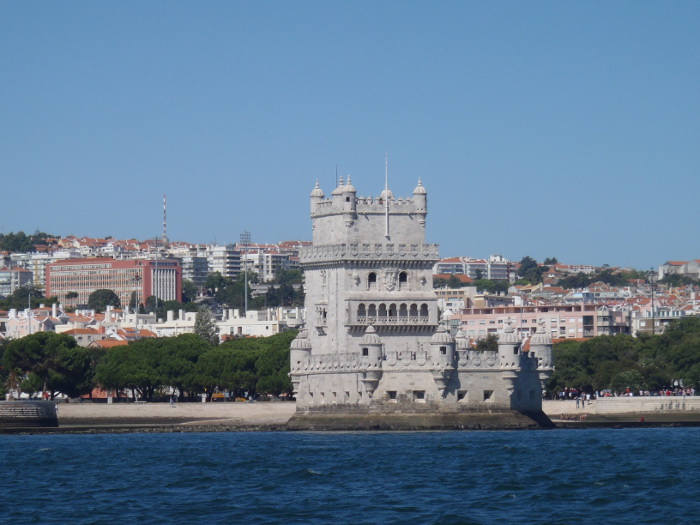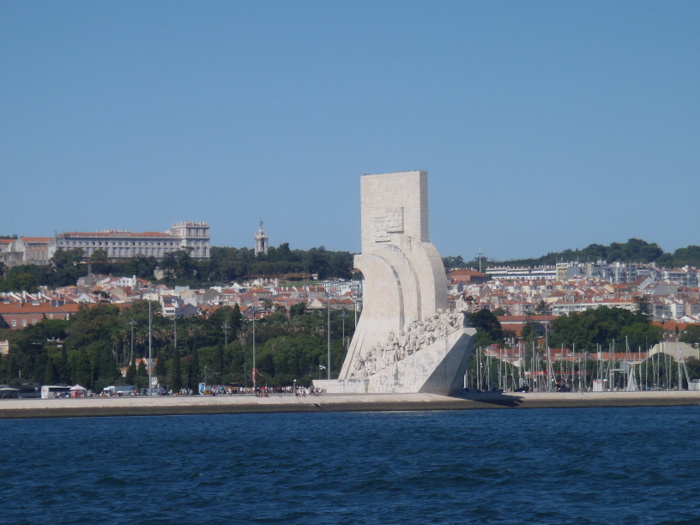 We spent the next week or so exploring all around Lisbon visiting attractions. One day we spent a good bit of time looking for a post office. We walked right past it multiple times; getting a little closer each time as we walked like a yoyo up and down the street asking directions. Finally, a lady told us we were standing right at the front door. Obviously, we did not recognize the Portugal's word or symbol for post office. It is Correios, sometimes with red other times with yellow.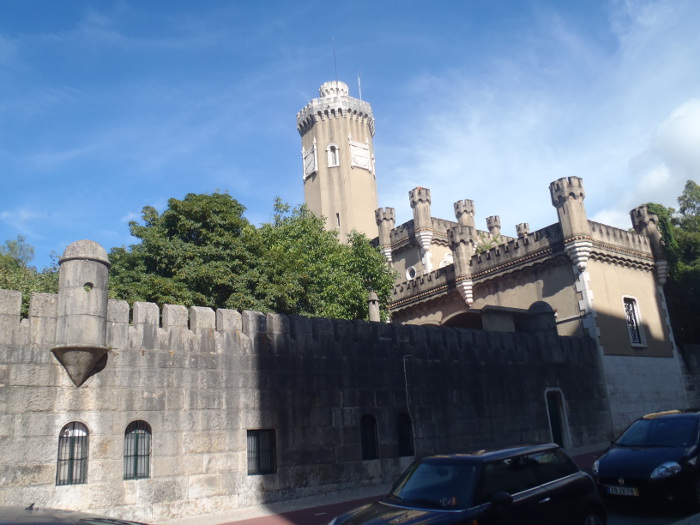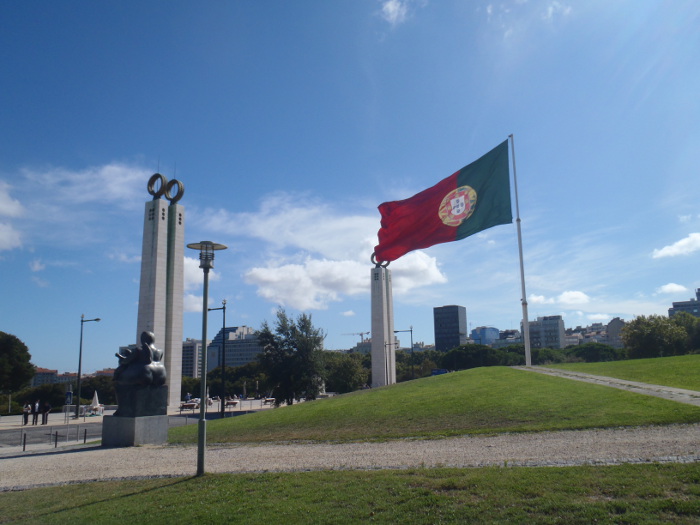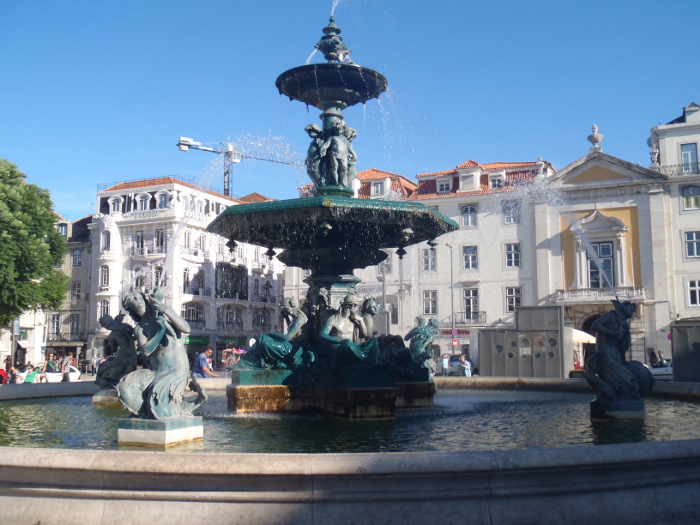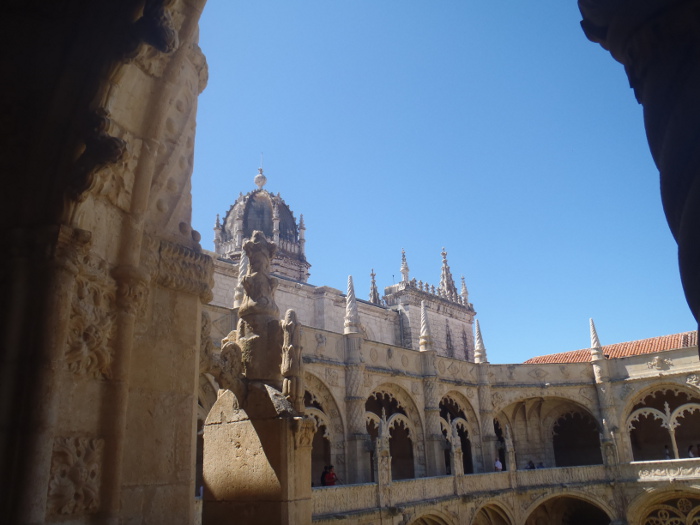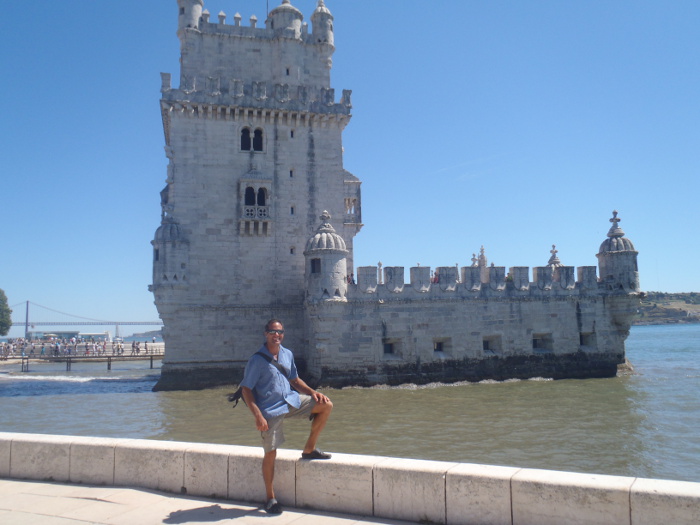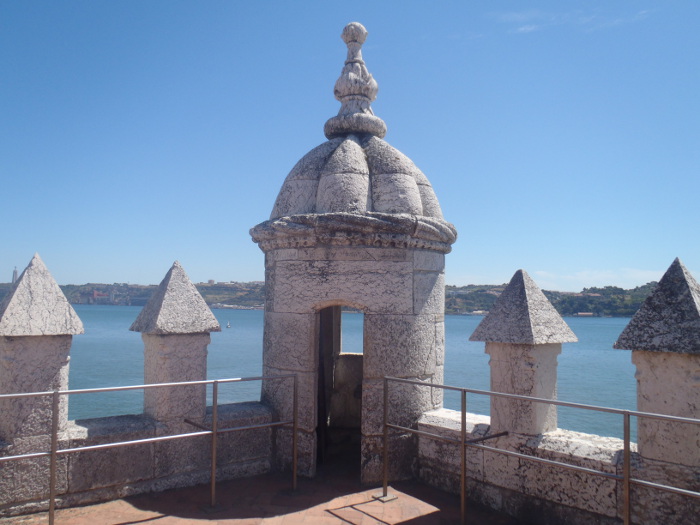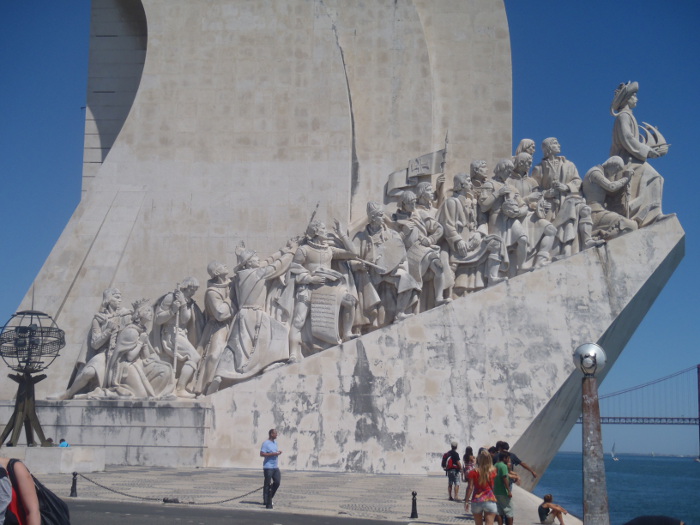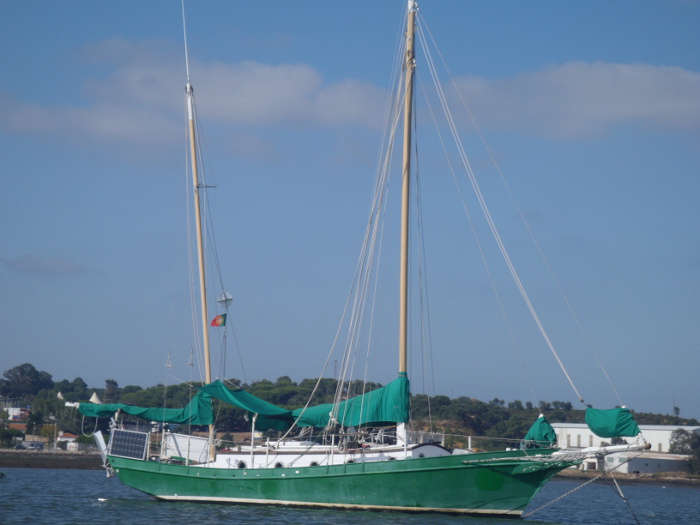 The people of Seixal go out into the water to dredge for clams. They do this during every low tide; day and night.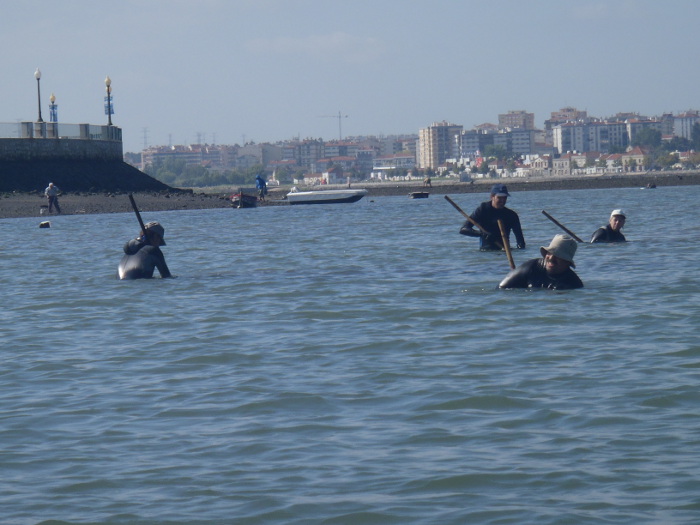 Eventually, it was time to fill the water tanks and head south closer to the Canary Islands. At high tide one morning, we pulled anchor and allowed ourselves to get flushed back out into the sea. Along the way we observed the same waterfront we had passed on the way in but with the addition of clear memories of people, smells, and sights from the other side within the walls. There were many small fishing boats towards the mouth of the river. Each boat was anchored in the river and had one huge spool of netting running off the back. These nets were catching whatever the Tagus River was flushing into them. I was curiously watching these fishermen and their gear until we passed the last one and saw the first huge standing wave. Immediately, I closed the forward hatch and yelled down to Barbie to close any open windows without a moment to spare before the Saugeen Witch slammed straight into the first of 5 or six waves. The first wave one broke right over the bow. It was like the Saugeen Witch became a submarine. The others likely did the same. The Saugeen Witch bucked up and down like a bronco fortunately staying on a straight course perpendicular to the waves. Soon as it started, all was quite and nothing was broken, the sun was shining, the water was calm. What's a few missed heart beats worth? Once again, we learned another valuable lesson without having to pay for it. Watch for standing waves at the river mouth during strong outgoing tide. Next time we'll anchor with the fisherman and wait until the current slackens. Land always messes up the wind. Now out at sea without aid from current, we mostly bobbed around trying to sail east. The next couple of days were spent going nowhere alone and nights surrounded by fisherman. There is a major North/South shipping channel off the west coast of Europe. By afternoon of the third day out we were closing in on it. When passing through the same shipping channel on our way into Spain, we must have been lucky because I didn't remember more than a few ships. This time it looked like a traffic jam. At any given moment at least three ships were visible. All going full steam ahead. We've never bother calling ships as is done so often by others. Technically, sailboats have right of way over motor boats. When your motor is running you could fake it by leaving your sails up but, on the high seas, what does it matter? Fact of life is
"might makes right"
. A freighter has a lot more might than a little sailboat so how can it ever be wrong? Once I heard a sailor tell of a freighter they saw on the Red Sea with another broken up sailboat hung up in its bow anchor. By the time the freighter crew discovered the situation, what did it matter to the people on that sailboat? Being more nimble and more aware than any commercial ship, the Saugeen Witch policy is to stay out of their way and not waste energy pestering them. We maintain course with clear intentions knowing we have right of way. Regardless of any laws, they've got the might, might makes right, and we have the agility to avert collision. After passing the northbound shipping lane and well into the southbound lane, we were on a collision course with a cargo ship. As usual, we maintained course understanding we'd likely want to head north as we got closer so as to pull in behind them. There is a certain awe and power you feel sailing so close to a huge ship. My Charleston sailing days were often marked with opportunities to "kiss" the stern of cargo ships and they never seemed to mind. I thought this would be another opportunity but when this ship was about a mile away, it made a clear turn away from its collision course with us. We missed our opportunity to "kiss" a ship's stern on the high seas but did witness one more of many clear instances where a cargo ship deliberately altered course to avoid collision with us without contact. This fact can only be appreciated. A radar reflector half way up a side stay probably doesn't hurt either. Once through the shipping lane we turned off the engine, the wind picked up, and we headed south. There was what looked like a large light blue fishing vessel anchored just east of the shipping lane. There were no people visible on deck and it didn't look loaded with things. Before the sun set we sailed right by its stern. Why this large vessel was anchored so far from anywhere is another mystery but at least we did get our opportunity to "kiss" the stern of another big ship before the sun set and we headed south to Africa.
Morocco The wind stilled and a patchy fog settled as we closed in on Agadir, Morocco so we had to motor the final 10-15 miles. Maybe it was because we had squelch up too high on the radio but we never heard the calls of another sailor in distress off the peninsula north of Agadir. We only heard about it when the only other sailing vessel we saw on this leg motored up to us and asked if we were the ones in distress. Hopefully, the sailors in distress are ok and their boat is not lost. Later, in Agadir, we heard someone headed up to help them but did not learn any more. For now, we had to watch out for crab pots. Crab pots with their associated line and buoy, present a danger to the Saugeen Witch when her motor is running. Spotting them in the fog is a challenge, especially when the buoys are clear plastic Coke bottles. If you're lucky you'll see one with a piece of material on a stick as a flagg. When you do, take comfort there are other non-flagged clear plastic Coke bottles close by with lines to crab pots. All present an extra real hazard in a place with little infrastructure to help.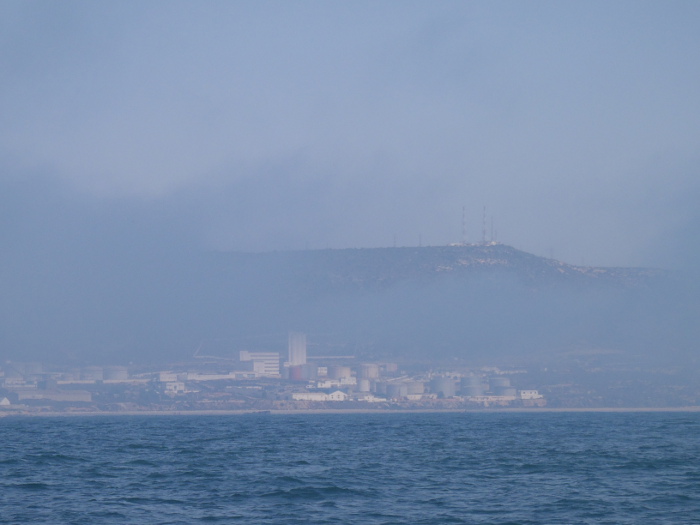 Fortunately, we were able to make it through the clear plastic bottle "mines". In search of the marina we took a tour of Agadir's commercial harbour. Seeing sailboat masts to the east, we motored back out of the commercial harbour and pulled into Marina Agadir while the sun was still shining. Police, Immigration, and Customs share space next to the marina office. After handing over our passports, we were told to stay in the marina while the police left somewhere to get them stamped and returned them to us. This didn't seem so comforting but what could we do? Barbie went to take a shower and I started cooking spaghetti. Cooking when you're hungry and you've just pulled into port after a long sail is dangerous. It's just too easy to cook way too much. In this case I cooked up a huge batch of tomato sauce with onions, vegetables, herbs, and soy isolate (textured vegetable protein). Then I cooked up way too much spaghetti. There was no way we could eat it all so offered a bowl to the security guard, Mafus. Being a vegetarian, he accepted it because it didn't have any meat. He liked it and came back for more to give to the policeman.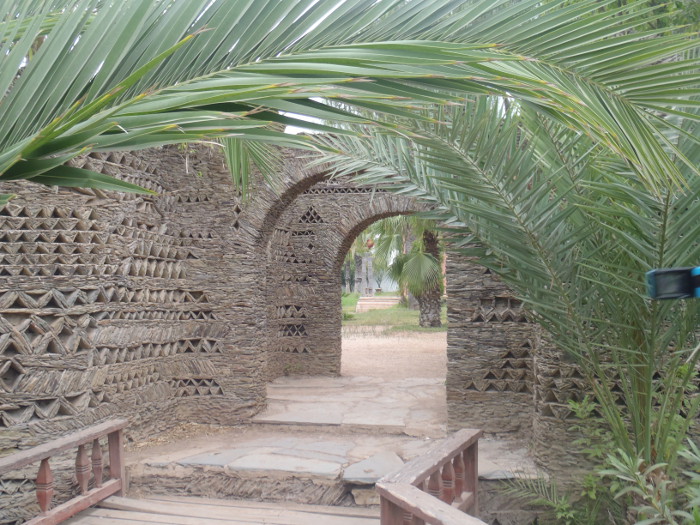 By the time our bellies were full, the boat was checked out by the officials, our passports were stamped, and we were free to explore Morocco. We spent the next few days here visiting museums, a zoo, and the beach. Much of our time was also spend exploring around the Souk. The Souk is Morocco's version of super market split up into small independent business owners. For the most part, owners of similar businesses stick together. So, if you're looking for shoes for example, go to the shoe section and you'll find a variety of shoes sold by many different shoe salesman. Agadir's Souk covers many city blocks. Spending time at the Souk is more than a good fun negotiation and bargaining experience, it's a social affair.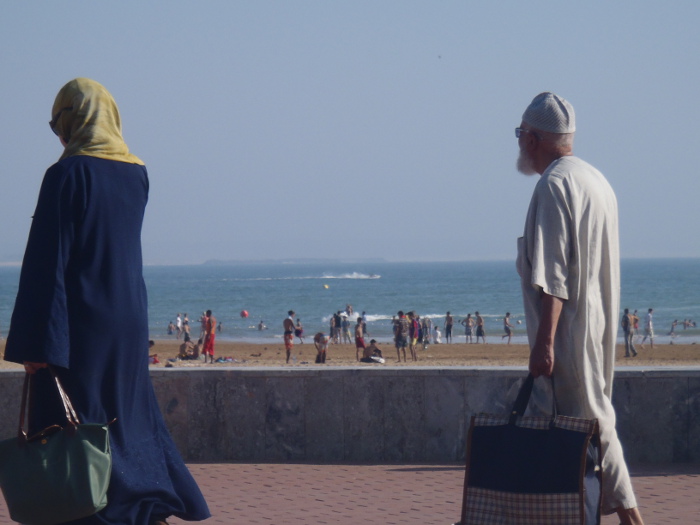 When it was time to leave, checkout was remarkably simple for us compared to many of the wearisome stories we'd heard. The officials want to know a specific departure time. An explanation of how we go with the wind and only Allah knows the wind was met by unassured laughs so I said
"tonight at 8pm"
. Then the policeman took our passports and said they would be returned at 8pm. At 8pm, the sun was closing in on the horizon, the lines were loosened and we were ready cast off but the policeman was no-where to be found so I closed my eyes and rested. An hour later I went out again looking for the policeman. As seemed to be the case here, the best communication and results went through Mafus, the security guard. We had become friends and he respected us because, like him, we did not eat meat and did not drink alcohol. A short time later we noticed a different policeman and Mafus walking down the docks towards us. By the time they got to the boat, we had started up the motor and untied all but the last line. We left in what seemed like one combined complex but easy movement. The policeman jumped on board and handed us our passports and paperwork. We put the boat in reverse and handed Mafus a box of cookies from the Souk as he handed us our final line. The surprised policeman mentioned something like
"that's for him not me?"
. By the time I responded
"maybe Mafus will share with you"
the boat was clearly going backwards. The policeman jumped off. We waved goodbye and headed west. In many societies, officials with power are paid poorly with expectations of earning their keep through other means made available by their position. I find our exit from Morocco interesting in that we evaded this other tax. We did this unconsciously and without trying through an unpredictable series of events starting from the extra large dinner we cooked up the moment we arrived. In the end, the most helpful friend with the least power got a small gift he could share. After pigging out on way too many excellent special cookies the previous few days, we got to unload unnecessary sugar treats.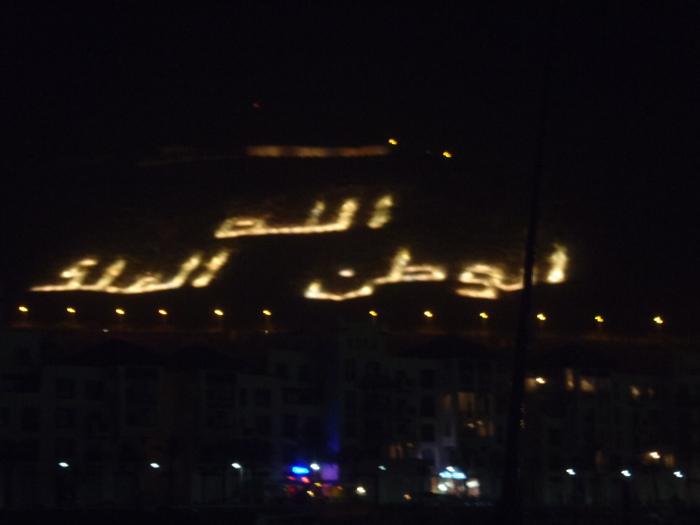 Agadir is Morocco's old capital. Written on the hillside below the King's castle are the words "God Country King". We took this picture shortly after leaving Agadir Marina heading west.