the feelgood organization
Home
up
Face your fears and feel good. New Zealand Sailing Tour
After a few weeks of bouncing around between Russel, Paihia, and various islands in the Bay of Islands, we checked the Saugeen Witch into the marina and hired a car for a drive down to Auckland. Of course, along the way we had to stop to check out some glow worms living in a cave. A soak in some natural hot springs was a good idea too. We drove the scenic road along the west coast that winds up and down and around through national forests and spectacular scenery with little to no traffic. It was perfect driving conditions considering we had not moved faster than a 6 or 7 knots for many months.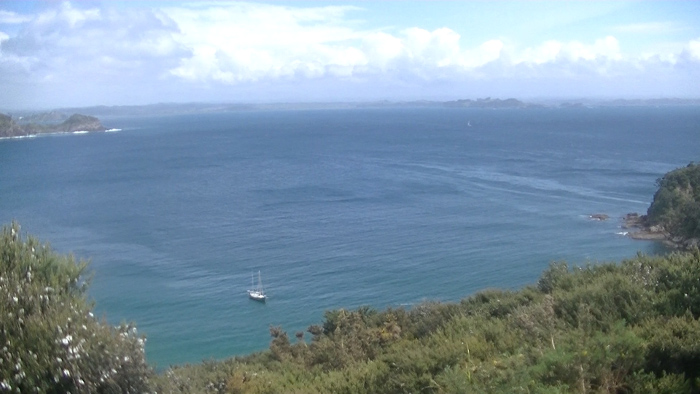 From Auckland, Tracy flew back to her Florida home. I went back to boat and eventually sailed on to the Cavalli Islands and Whangoroa Harbour. There are a lot of caves and arches of various shapes and sizes in this area. Just cruising around this landscape is endlessly interesting in sight and sound. (
rambling north island video
). Just watch out for the birds. This was spring time and maybe also nesting time. Some of these birds make it clear they don't want you around. This is especially true for a black bird with long orange beak. You see them all around north and south islands close to shore in pairs where they walk around quietly pecking here and there. There are many flightless birds around here and I thought this species might be one of them until I must have passed too close to their nest. All of a sudden, instead of being ignored as usual, this bird started squawking loud and dive bombing me to where best I could do is cover my eyes and get away as quickly as possible. Eventually I gave up on waiting for perfect wind sailing down to the south island. When there's not a high pressure system stagnating to the west of New Zealand, there's one or more fast moving low pressure systems. So, if you want to sail counter clockwise around the north island to Tasman Bay on the south island, you can choose a slow moving high or set of fast and wild lows. This time I chose the slow high. From Whangaroa, Golden Bay was 9 days of slow sailing in a calm and clear Tasman Sea far from land. However, the slow high pressure system we were riding was finally starting to move on to be replaced by one of the wild low pressure systems. The wind on that 9th day picked up nicely to our favor and we could see the mountains of the south island. Flying as much sail as possible, we were just making time to land at Tarakohe around sunset. With building wind and waves in our favor making our success increasingly likely, it was perfect sailing into a spectacular place. What dreams are made of. Then some very clear voice came on the VHF radio mentioning some sail boat at exactly our position. I thought: "Wow, you talking to me?" The voice was from the lead boat of a fishing fleet. I looked up and could see 3 ships a couple miles to the north. They were heading west. We were heading south east. The fisherman was making a courtesy call to let me know that they were dragging 5 miles of netting and about to turn onto a course that put us in conflict. It's still hard for me to imagine 5 miles of netting. That's like over 8 kilometers of line dragging behind a boat. Regardless, commercial vessels engaged in fishing have right of way over everyone. So, after time slowing down and changing direction and finally them changing their mind with course alterations so that it really didn't matter anyway, it wasn't until the days final twilight when we entered Golden Bay. Golden Bay is actually pretty big and exposed. It's about 10 nautical miles north to south. The only real shelter is inside some man made jetties at Tarakohe. Given this, it's more reasonable to say we rounded Farewell Spit on the north end of an exposed bay with shallow sand bars. It would be dark for the next 10 hours and conditions were deteriorating. Now we needed to wait until morning light before entering Tarakohe. Fortunately, our delay strategy worked great and the surprise we were dealt was met with welcome luck. After rounding Farewell Spit, we dropped the main and genoa and raised a reefed mizzen and inner stay sail. Then we slowly sailed up into the wind along the leeward side of the sand bar with waves getting noticeably more settled and comfortable. I started experimenting with various hove-to positions. Eventually, about 4 hours before sunrise, the Saugeen Witch was positioned hove-to drifting less than 1 knot directly towards Tarakohe; our target. Perfect. With nothing in sight but distant lights on shore and the Farewell Spit light long out of danger, I set the alarm to 60 minutes and went to sleep. After a couple of hourly deck checks, it appeared we were drifting towards a light. My charts didn't indicate any such light and I could not think of any reason why someone would put a light in the middle of this huge bay. Maybe it was someone else in a small boat drifting even slower than us? What's there to do beyond simply not hitting the light? By morning twilight we were just a few miles upwind our target still drifting nicely towards it. We were also now within a few hundred meters of that light. Now I could see that this light was not on a boat but marking the top of a buoy at the edge of a huge set of fishing nets. We were drifting into a massive fish farm. By pure luck, that light was on the windward side of this farm and morning twilight came just in time for us to see and get around it. Luckily, navigating around it was easy. However, even with the morning light coming on, I was not comfortable sailing into Tarakohe without first talking to someone there. Things I'd read about it gave unsure welcome. It looked small and unnatural on the charts. At the same time, satellite view indicates this to be nice shelter and the only one in all of Golden Bay. It was also true that the current state of solid 25+ knot winds and waves made this the dead end of a dangerous place not so easy to back out of. So, we waited until the morning progressed enough to call and talk to the harbor master. He said Tarakohe is a working fishing boat shelter. We could stop for a couple days at a mooring but anchoring was not an option. It took time to contemplate the long night positioning ourselves to get there, it's close proximity to an interesting community of people and national parks. In the end, I decided Tarakohe was not worth the risk. The motor on the Saugeen Witch can not maneuver effectively enough in winds over 15 knots to guarantee picking up a mooring in a tight area. It seams like making a decision is the hardest part. Once made, acting is easy. This made, changing course to Abel Tasman National Park was a breeze. There are many spectacular anchorages around Abel Tasman and most are perfect shelter in both the strong north west and south west winds. Abel Tasman National Park is also loaded with many excellent hiking trails and tourists. This all makes for easy fun place to explore by boat which we did for many days. From Abel Tasman we sailed down to Nelson where a lot of work was done fixing up the boat. All of the stainless steel standing rigging was replaced by dyneema/spectra synthetic line (
video
). The boat was also hauled and sandblasted below the waterline to bare metal with thick new coats of epoxy barrier sprayed on. Sandblasting an old metal boat is always a risky business because it brings out all imperfections. Shortly before doing it, I listened to a story of another aluminium boat getting hauled out and sandblasted to find such a poor state of the metal that it never made it back into the water again. Fortunately, the old Saugeen Witch took it fine. The only hole the sand blasted open was directly under a full tank of fresh water. It let out a steady stream of water like a faucet. Some thick epoxy plugged it without trouble. Nelson is a really neat town to hang out and work on a boat. It is a small tourist town that services a large commercial fishing and shipping industry. There are hiking and cycling trails all around. If you like craft beer then you must be careful of so many options. A large selection of well stocked provisioning stores are within easy walking or cycling access. There are good boating professionals and craftsman with a healthy supporting infrastructure to help you do whatever you need to get done. I think this combination made for the best and most convenient place I've ever stopped to work on the boat and hang out. The only drawback is that the marinas are full and anchoring in the harbour is a challenge battling strong winds and 3+ meter tidal currents. So, soon after rolling new bottom paint on the Saugeen Witch, we headed out to explore the Marlborough Sounds. Maybe it was a little too soon. Nelson also sits at the bottom of Tasman Bay where, at least during the summer, pretty much every morning is light offshore winds and every afternoon is strong onshore winds. With this in mind, we cast off from Nelson harbour about 30 minutes before sunrise to "escape" from the bottom of this large bay before the strong onshore winds picked up. When we were about to round the final outer channel marker, I noticed that no water was coming out of the engine exhaust. The salt water cooled diesel motor was hot and getting hotter. So, I turned the boat so that momentum was towards a sandbar and shut down the motor. My plan was to toss out the anchor and stop while I went down below to figure out the problem. However, as we were coasting towards the sandbar, I looked out at the Tasman Bay in it's morning calm state with the light offshore breeze. Soon the wind would shift and this bay would look and feel quite different. Accepting this, I changed my mind to raising all sail, getting the boat to sail itself away from land as quickly and efficiently as possible. This done, I went down below to figure out the problem. It was just an issue of getting all the air out of the lines, but of course, I had to take the water pump out and rebuild it before figuring this out. By afternoon we were anchored near French Pass which we transited the following morning. This narrow channel has taken many boats and many lives. We went through it in the early morning with favorable current and little wind. Timing your transit to within short window of no current best. By the time I saw the churning waters, we were getting sucked into the pass. It was too late to back out so I positioned the boat like running a swift river down the middle of a deep pool entering a shallow section with a large V standing wave in the middle and swirling eddies all around. Of course, running a river in a flat bottom kayak or canoe is much different than running one in a deep full keel 7 ton sailboat. All I could do is position the boat best I could while remembering stories of other boats getting spun around, flipped over and sunk, or slung onto the rocks. Fortunately, we were able to stay pointed down stream in the middle of the havoc without trouble. French Pass is just one of many very interesting and challenging parts of New Zealand's Marlborough Sounds. Anchorages are quite deep and strong winds can come from any direction making anchoring with stern tied to shore unreliable. This is why there are a lot of private moorings in the area. I learned anchoring off points is sometimes better than in bays because of wind accelerating down through valleys. Williwaws slam down onto the water blowing churning mist and water in all directions. Even experienced locals have trouble predicting. The New Zealand government has an excellent VHF and short wave weather service. I think the best advice I learned was to be as aware as possible always ready to act and react smartly. Needless to say, it was a very interesting time exploring and meeting unique locals mostly in the remote Pelorus Sounds area. Eventually, we stopped in Waikawa near Picton. Picton is at the north east end of the south island. (
rambling Marlborough Sounds video
). After spending one summer season in New Zealand, I must give a lot of credit to the Kiwis. They live in a challenging environment. It can be harsh. Two ex-cyclones visited the islands while I was there with pounding wind and rain. Shortly after I left Nelson, a storm took out boats and a waterfront building. Recent earthquakes had devastated one city and a marina at Lyttelton. Strong winds later decimated the rebuilt marina along with the boats in it. Rain took out a number of roads and a major rail link along the south island. One of the roads taken out was the only land access to large communities of people around Golden Bay. Powerful winds come from all directions to the point where many times I was unable to get off the boat to land. I had to be very aware of tides, winds, and conditions in order to make it back to the boat. High hills surrounding deep waterways made a working phone signal feel like a luxury. It is interesting for me to observe that for years I dreamed of stopping in New Zealand to hang out, work, and explore for a while. Every Kiwi I've met was friendly person wanting to go home. However, finding sustainable situation did not happen. There are a lot of boats in these islands. Safe space to secure a boat protected from the environment is quite limited. Being responsible for a boat spans many factors and keeping it open water ready is an endless task. It is also true that we always want more and never have enough until at the end of our day we accept that simply nothing is fine. Considering this came realization I am not hungry enough to stay here employed for another. After tasks completed in Nelson, the Saugeen Witch is in the best shape I've known. Good resting time in Picton with new friends was rejuvenating. Result is that boat ready for extended exploration and I am energized to go with it. This means sailing a little east and then northwest for the winter; thankful we can appreciating all the wind from the sky and every kiss from the sun.