the feelgood organization
Home
up
Give without expectations.
back to North Atlantic Westbound Florida to Panama Sailing Tour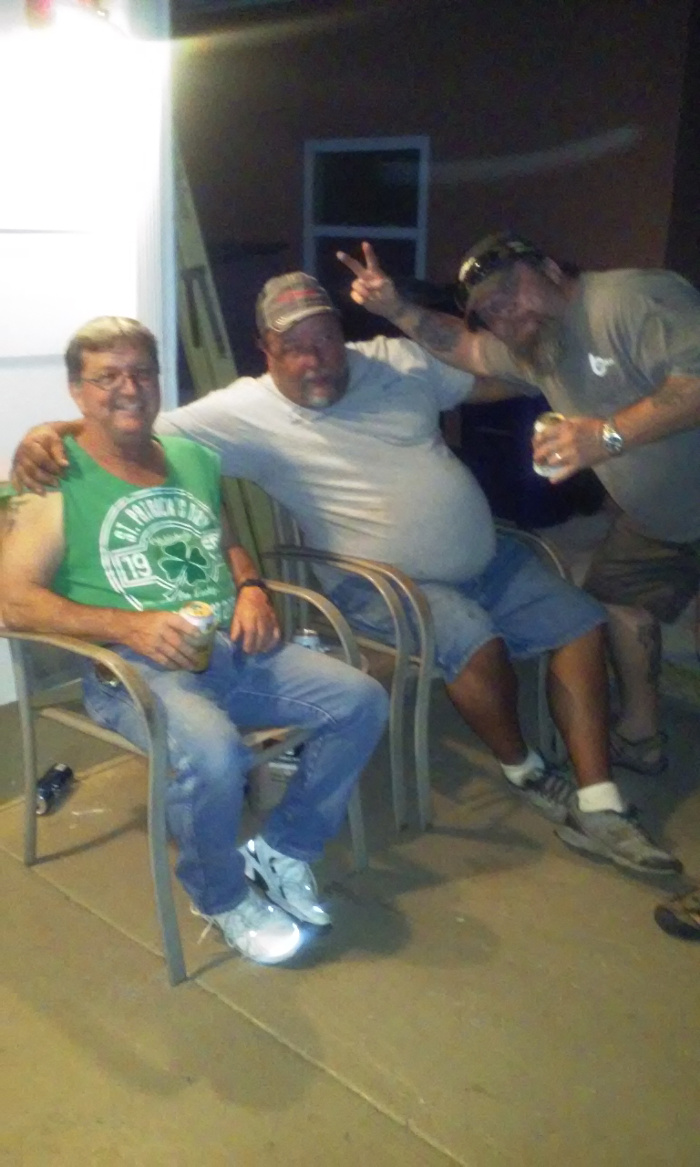 Within six months of landing in St Petersburg, Florida, the standing rigging was replaced new. A perfect new genoa was made for the new roller furling system. I had also asked the sail maker if he could design and build a full batten mainsail with the same total surface area as the old gaff sail. He not only met the challenge but actually increased the sail area by almost half a square meter. Just before Christmas, the Saugeen Witch got this new mainsail. It was perfect time after hurricane season to start sailing the Caribbean. But life was good where I had settled in Dunedin, Florida. The job I landed was neat projects with great people. Then I inherited good fun neighbors like Ricky, Jeromy and Mike; enjoyed special friendships with people like Matthew; and was lucky to meet Tracy. As I keep re-learning over and over; the longer you stay in one place, the harder it is to leave. But, eventually we did four years later at about 51. After about two years of neglect below the waterline, the Saugeen Witch needed to be hauled out of the water to clean up and re-finish the underwater surface.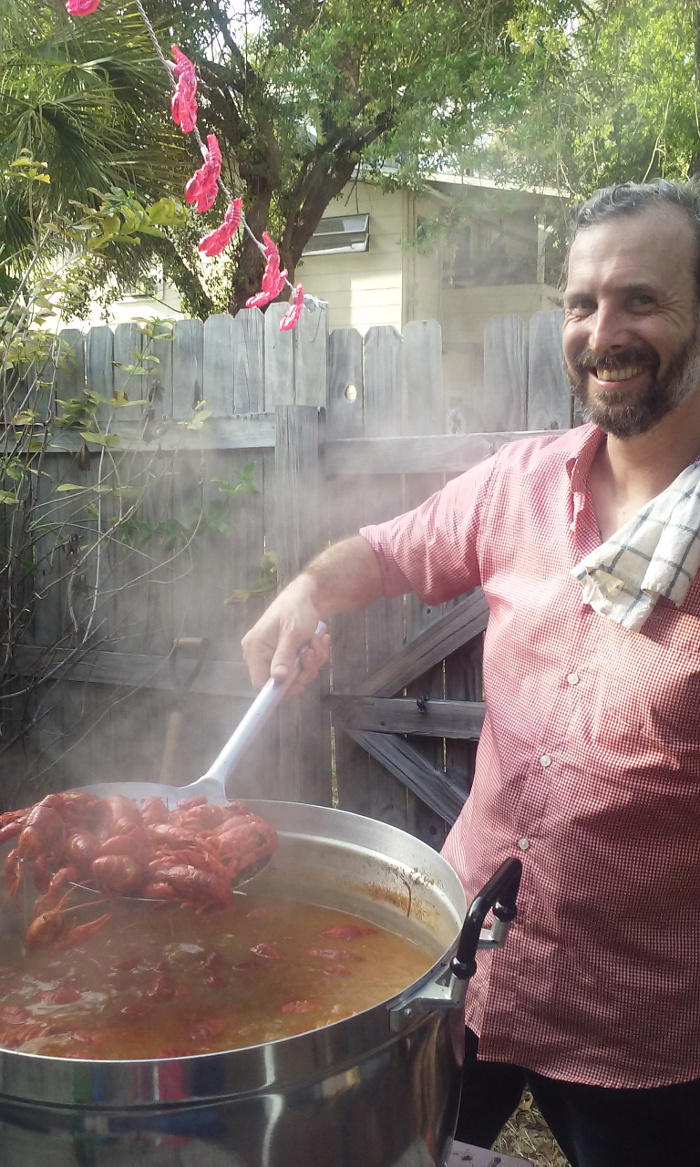 The choices are very limited in Florida's Tampa Bay area for getting your boat hauled out of the water to work on yourself. A smart sounding skipper I had met recommended the Charlotte Harbor Boat Storage. So, after some farewell parties and a years since an overnight passage, we cast off from Clearwater and headed south to Charlotte Harbor. The extra growth on the hull made the going slower by at least a knot but it also churned up the water making a spectacular night time bio-luminescence light show. I think generally, the warmer and cleaner the water, the more bio-luminescence but there is no doubt disturbance in the water helps too. The Charlotte Harbor Boat Storage is up on the northern end of the Charlotte Harbor at the mouth of the Myakka River. After navigating a manual lock system, you have to go a number of miles up fresh water channels where the whole going is very shallow. Fortunately the boat yard gives very helpful detailed instructions and the channels are well marked making the whole process quite unique and interesting. True to the old skipper's recommendation, the Charlotte Harbor Boat Storage lived up to being a most excellent place to stay and work on your boat. Friendly, helpful staff, a huge screened in common area overlooking the water with kitchen and showers. One evening I walked in on a group of sailors watching a cool fun ~90 minute documentary/story video about a wild guy sailing around the world called "Chasing Bubbles" (
youtube link
).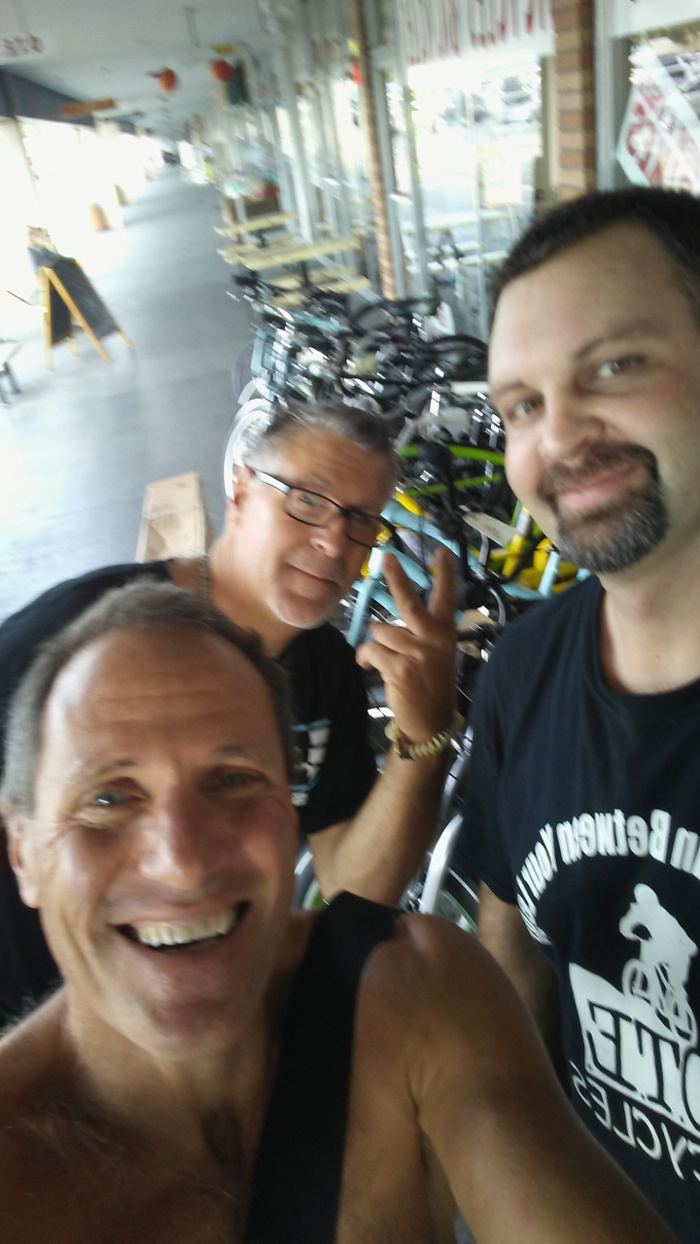 Although this yard is far from any marine store, it is within cycle distance along a nice path to huge hardware and grocery stores. Fortunately, Todd, owner of the Dunedin Bike Shop, had given me a folding bike to use while I was there and then leave for someone else. Felix also came down one day and brought with him some epoxy I was short. With this help, I was mostly able to work on the boat instead of spending time searching for things. In about 10 days, the Saugeen Witch was ready to go sailing again and Larry came down to visit bringing with him Tracy. Next day the boat was hauled back into the water and Tracy and I started sailing down to Dry Tortugas National Park. This is the most west of the Florida Key islands. Getting there took three days, starting from the boat yard, a fuel stop at Bar Harbor, and half a night hove-to waiting to enter the reefs in morning light.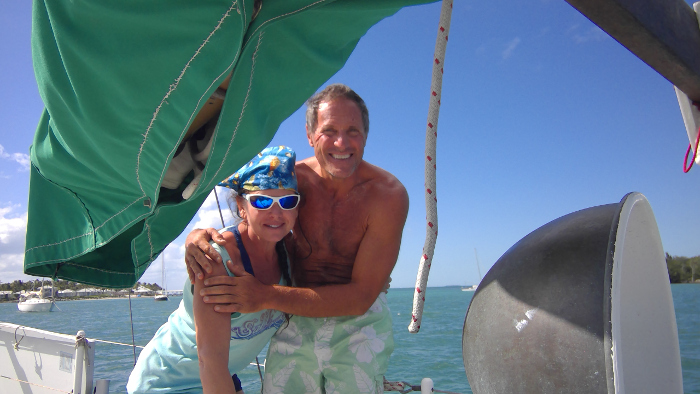 We spent a day running around exploring this really neat old military fort we pretty much had to ourselves after the tourists had gone. Some of the tourists came by airplane and the anchorage happens to be right in the same area they use as water runway. It was neat watching them take them off and land from our perfect viewing position. Interestingly, the huge multi arched ceiling structures of this fort were made of brick, concrete, and rebar. Of course, concrete is not waterproof and over time the re-bar has rusted and expanded resulting in seepage and stalactites and stalagmites in many places like you would see in a cave. So, it's kind of like an open air cave. Sailing from Dry Tortugas to Key West is a little tricky to the south only in that the Gulf Stream is quite strong flowing to the east and the solid trade winds are coming from the east. Going to the north is less wind and current but also quite shallow requiring motor. Though I suspect the northern route is more popular, the Saugeen Witch prefers sailing in the open waters. Taking this southern route, we left Dry Tortugas a few hours before sunset. By nightfall we were safely out of the reefs and sailed through the night entering Key West harbor the following afternoon. It was during this passage that I learned more about the compromise you pay with a roller furling headsail. Poor shape of partially furled sail is the problem you often hear about. To overcome this problem, the sail maker put foam padding along the luff. This actually works quite good at keeping nice sail shape when partially furled. Better than expected. However, the foil and extra material rolled around the stay up front also effects wind flow. Consider the wind can come from one side or the other of this roll. Wind can blow into the side that effectively closes this role of material or opens it. When sailing upwind, the Saugeen Witch can sail a good 5 degrees higher when the wind is blowing this role closed compared to 5 degrees less when it's blowing this role of sail material open. This may not seam like a big deal but when you're slowly beating into port watching the sun go down fast, it's a compromise you re-consider. One of the things we tested while in the clean waters of Dry Tortugas was the water maker. It had not been used for many years. In that time the high pressure pump, the pressure release valve, and the pressure gauge had all seized. Although I was able to rebuild the high pressure water pump to working order again, we were unable to make water. So, while in Key West, we ordered a spare water pump, and new pressure gauge and release valves (
watermaker video
). The route to Panama that I had been thinking about for some time had us sailing up and around to the north of the Bahamas for some easting and then back south between Haiti and Cuba picking up the trade winds from the east for a favorable ride down to Panama. This route does add much distance compared to what initially looks like an easier way; west past Cuba and down Mexico's Yucatan peninsula past Belize and Honduras down to Panama. However, take a look at the pilot charts and you'll notice this shorter route goes against wind and current the whole way. Uninterested in motoring into wind and waves, we choose the longer but more favorable sailing route. After a week or so in Key West, we were finally as ready as we could be to cast off. However, God thought differently. In the trade wind world you're basically always getting wind from the east; however, in the short term it will come at times a bit from the south and at other times a bit from the north. Leaving Key West, we wanted a bit of help coming from the south. A few days with winds from the South East would be much better for a sail North East along the Gulf Stream past the Bahamas. In our case, the extended weather forecast indicated winds more from the North East for the next many days. So I posed a few options to Tracy: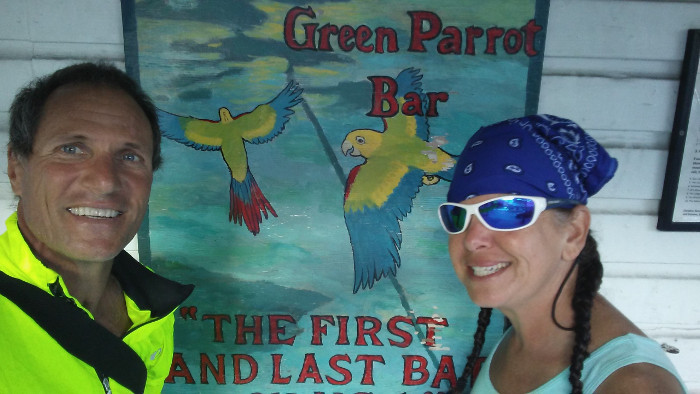 Hang out in Key West for next weather window accepting this is a kind of dangerous place to hang out as there is no shortage of vices in Key West.
Motor to Marathon (town about 40 nautical miles away) to hang out for next weather window.
Sail down to Havana, Cuba (about 90 nautical miles away) to hang out for next weather window.
Tracy choose option 3 so next day we headed to Cuba. Cuba
Hemingway Marina, a little west of Havana, is one of only a few places foreign yachts are welcome in Cuba. Unfortunately, Hemingway Marina was not on any of the charts we had. Fortunately, one thing we do before leaving anywhere is go to noonsite.com and download all the pages for every possible country we could end up. Other useful sites at
travel checks
and download
kiwix
. Noonsite had the latitude and longitude coordinates of a channel marker with advice to call the marina via VHF radio when you get close. So, we sailed close to Havana and then continued downwind along the shoreline until we saw this channel marker. Once we saw the marker, our VHF radio call was met with a prompt professional reply from the marina manager with instructions for entry. It is a tight narrow channel into Hemingway Marina with shallow reefs on both sides for a few hundred meters from shore. With mostly offshore winds in the morning and onshore in the afternoon, timing of transit worth considering. Not wanting to risk anything with the officials, we tossed the last little bit of some marijuana into the sea as we entered the channel. This was a good thing because our first stop was at a sea wall in front of a building before the marina with a guard dog sniffing through the boat. Next we were directed to a certain place on another sea wall at the marina where a number of other officials boarded the boat for various reasons. Most notably, the manager told us that the entire country was in a state of mourning. By pure dumb luck our visit happen just after Fidel Castro's death so, for something like 9 days, no public dancing, music, or drinking was allowed. Basically, this means that we pretty much picked the worst time possible to visit Cuba outside of a revolution. The country known for mellow people, excellent music and dancing with good rum was on hold. Interestingly, the same official who told us this went on to say that he'd be happy to accept a beer from us now. Being a dry boat, we had none to offer so gave him a kombucha. He never said he disliked it but left it unfinished. With official business completed, we were free to do as we pleased. Apart from a handful of boats, the marina was empty. It is on a huge piece of beautiful waterfront property with spectacular amenities now unused and in disrepair. It was like a ghost town maybe partly because only workers or foreign boaters were allowed past the single gated entrance. No local Cubans are allowed in the marina area. In fact, no person born in Cuba could enter or exit the country by boat even if they possessed a foreign passport. Another boater recommended visiting a part of town close by where the buildings were of mosaic tiles and art well worth exploring by foot into town east of Santa Fe. On our way there we met Mario. Mario spoke English he had learned from watching TV. Our Spanish still sucked. He escorted us to the art district highlighting points of interest and acted like a nice local guide. Next day we met up with Mario for a trip into Havana which involved a few different rides in taxis still running 50 year old cars. With the country officially in mourning, Havana was mostly Canadian and European tourists walking around outside. The locals were inside; out of the public eye enjoying themselves. We walked around for a while and then eventually joined Mario and a couple of his friends in their place. Eventually we went back out again for a bite to eat. Soon after, Mario was seized by two walking police and escorted away so we took a cab back to the boat. Next day we met with Mario again who told us that, being from Santiago, he did not have the paperwork necessary to be in Havana. Some things are just not meant to be understood. Spending more time in Cuba exploring inland would have been super easy. Sailing around for a time in the Batabano Gulf on the south shore would be awesome. But the clock is always ticking and I most wanted to get through the Panama canal into the Pacific for westward sailing before the season got too "ripe" (South Pacific cyclone season). So, after a few more days, I bought a big box of cigars from Mario to give my brother Warren and we cast off. The weather window we were looking for was approaching and we rode it nicely up through the gulf stream between Florida and the Bahamas at times going over 9 knots. Especially in confused seas like you experience in the gulf stream, it is better error on too little sail up rather than too much. Given the sail area we were flying, I'd guess the gulf stream current was often pushing us along by about 3 knots. Once well north of Grand Bahama, we turned right and sailed east for a few days. Of course, sailing to the east is much easier being well north of the trade winds coming from the east. However, this also involves dealing with more temperamental low pressure weather systems that come in bits and bursts. During one calm day, a huge pod of whales passed close around us. We watched them for a while and they ignored us. It was as though we just happen to be floating along their path. I'm always reminding myself that sailing requires patience and flexibility. Patience and flexibility in every form and fashion you can imagine. In time, expect to imagine more you might need to be more patient and flexible. The small country of Turks & Caicos is a little off the beaten track of cruising sailors. With small villages near crystal clear blue waters and a relatively minor 7 day visitor visa for boaters costing only $50, it is an attractive rest stop worth enjoying. It was also right along our path to Panama. I think my level of patience sailing east through the intermittent weather systems must have been lacking because we turned heading south to Turks & Caicos too soon. We were safely east of the Bahamas but not yet east of the Turks. It took a couple days of south sailing with increasingly difficult easting to realize the mistake. So, to get our easting in, we had to turn back north. All up it took us 2 weeks sailing from Cuba to Grand Turk Island. If I had the patience to continue our easting when we were still north of the Bahamas, we could have taken a few days off that passage. Turks & Caicos
We sailed into Grand Turk from the northeast as the sun rose. Perfect smooth big hollow waves wrapped around to break on the northwest coast as we sailed past. We anchored off Cockburn Town and snorkeled in clear blue water over reefs watching tropical fish and turtles. A little to the south at Government dock is where you check into the country and we learned it is also a very busy cruise ship stop. So, after only a couple days exploring we sailed over to hang out in Cockburn Harbor off South Caicos Island. Cockburn Harbor and South Caicos Island is the opposite of Grand Turk and Government dock. We were the only visitors there enjoying unobstructed sunsets and locals mostly involved in fishing. Here Tracy and I had an excellent time snorkeling clear warm water and walking around a beautiful clean island and small fishing village. Christmas came while were there. The locals cooked a big in the community pit on the waterfront. A number of other people from the local church drove around in a parade singing and handing out ice cream cones. So, Tracy got her most excellent Christmas present of a tasty ice cream cone saving me from my lack of foresight. When our 7 days were up, we checked out of the country in the convenience store. This is where the local customs agent came to use as her "office". Then we cast off bound for Panama.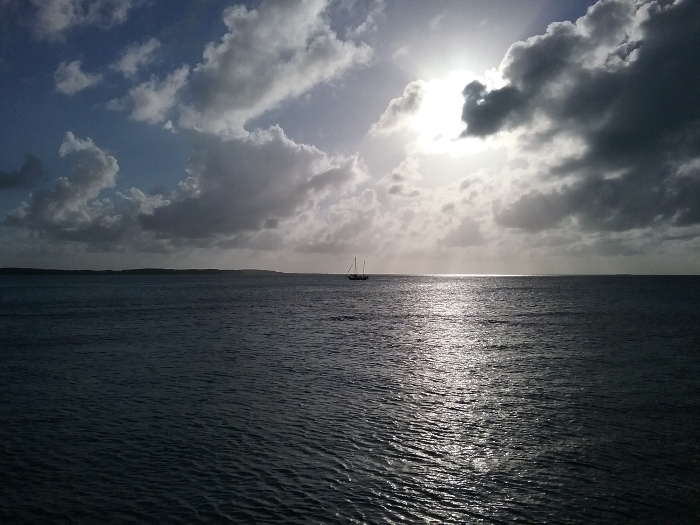 During the middle of the night, while in the Windward Passage between Haiti and Cuba, the AIS alarm went off. It warned we were on a collision course with some vessel going 18 knots. This is a little fast for a sail boat. The AIS receiver also told us this boat's name which was more like a pleasure boat; not some commercial ship. We identified the boat on the horizon thanks to it's red and green navigation lights and we watched it get closer. At night, boats and planes light up forward and side facing red and green lights. Red is front and left (port); green is front and right (starboard). If you see white then you're looking at their back. If you see both red and green then you must be looking at their front and it's heading straight to you. With all the open space of the ocean and a beautiful clear night full of stars, we watched unvarying front read and green navigation lights heading directly into us. Under the rules of the sea, a vessel under sail has the right of way over a motoring pleasure vessel like this. With the goal of not adding confusion to all aware parties, our duty is to maintain course. However, it's more important to avoid a collision and it's hard to confuse anyone who is asleep. So, we waited until we could see it was a fiberglass pleasure boat of about 20 meters. It had no other lights on beyond its navigation lights. Given its hull and speed and the metal Saugeen Witch, a collision would likely mean we would both go down. So we quickly jibe turned out of the way and watched it pass within 30 meters. Obviously no one was awake at the wheel. Soon after this close call collision, we sailed out of the lee of Haiti and into the open Caribbean with fresh 25-30 knot trade winds. From here we enjoyed fast sailing all the way down to Portobelo, Panama. Panama
Portobelo is a spectacular west facing natural harbor. Towards the end of the previous hurricane season, a fluke hurricane tossed abnormally high waves and winds into the harbor sinking a dozen or so boats at anchor or dragging them to shore. One sailboat we were anchored near had sunk completely straight down leaving only the top half of its mast pointing straight up into the sky. Portobelo is a fun little tourist town with hiking trails and Spanish ruins to explore close by. It's also a good stop to deal with Panamanian officials to set up canal transit procedures. There are a number of old Spanish forts around here and we were spent a number of days just hiking around exploring them. It is here in the hills around Portobello that we also encountered our first Howler Monkeys. They make such a awful sound I was certain they were "monsters" and now knew beyond doubt what a monster sounded like. An old friend of mine used to say that common sense is often not so common until you experience it or learn it. Maybe someone has to tell you and you have to listen to understand before it becomes common sense. It was while anchored in Portobelo I learned some common sense. A boat anchored with chain is going to move around differently over time than a boat anchored with nylon. Of course, this is because chain is heavy. In light winds, the boat anchored with chain is effectively laying on the chain. Where this chain hits bottom could be a fair distance from the actual anchor. As winds vary in strength and direction, just where the chain lays on the bottom (the effective anchor pivot point) can vary considerably. A boat anchored with light nylon will not have this behavior because it's anchor will most likely stay in one spot. The Saugeen Witch's anchor starts off with 80 meters of chain and we anchored near a large wooden fishing boat anchored with a very long nylon line. I thought we were at a safe distance until one evening we returned to find both boats dangerously close to each other. If the two boats started knocking into each other, the big wooden fishing boat's bulk combined with the metal Saugeen Witch would likely result in a lot of damage on both sides. They would have chewed each other up pretty well. Obviously, strong winds shifted to light wind in different direction and we needed to move. After experiencing this, it is common sense that more space is necessary between boats with nylon and chain anchor rodes. After about a week in Portobelo, we sailed down to the Shelter Harbor Marina near Colon. (
rambling Panama video
).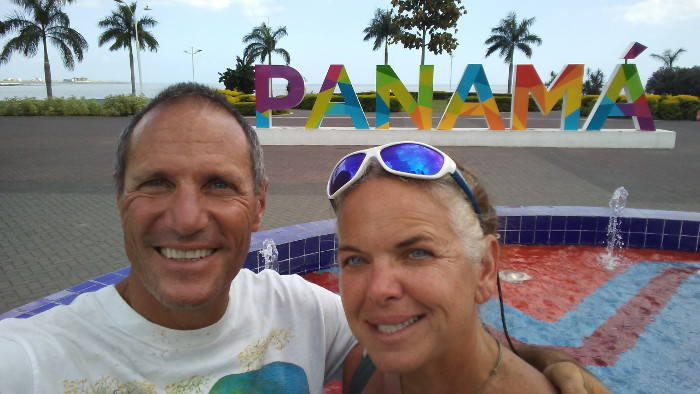 From Colon, Tracy drew her Sera-Gita logo with the Saugeen Witch on the sailmakers building at Shelter Harbor Marina and returned to her home in Florida. The Panamanians like their bureaucracy. I decided to hire an agent recommended by noonsite to help deal with transiting the canal. His $350 charge was well worth his help with bureaucracy and advice on how to deal with officials. After a few weeks, we got through the final lock into the Pacific. Philip from SV Parotia
philip-koch-nature.de
, Alan from Kraken Kissed Adventures, Anne Marie from
explorepelee.com
, and another young sailor musician are each individually unique adventure travelers. We were lucky to find each one of them as help through the canal. (
rambling canal video).