the feelgood organization
Home
up
Give without expectations.
Building dinghy for Saugeen Witch: Seba
After hearing many stories of problems with inflatables and finally getting stuck with mine when half of it lost its air, I decided to make a hard dinghy that would be easy to row, sail, or motor and never sink. In 2009 I found plans for what looked like the perfect one. Then I built it and it was.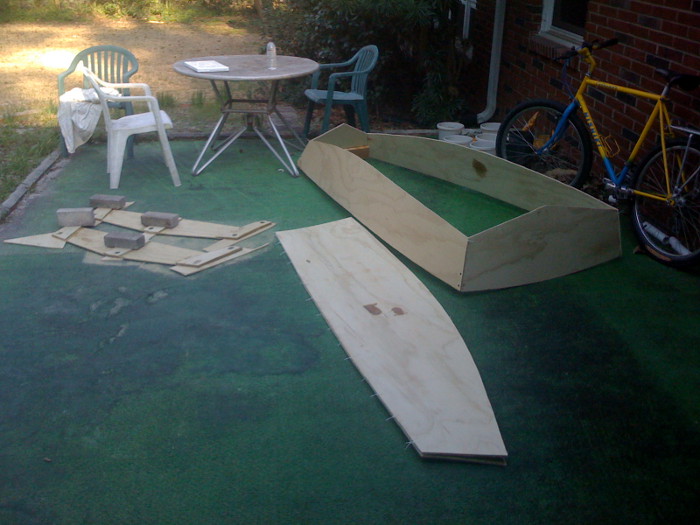 Start.
First step was to cut out the bottom, sides, bow, and transom from plywood. These pieces got stitched together with plastic ties.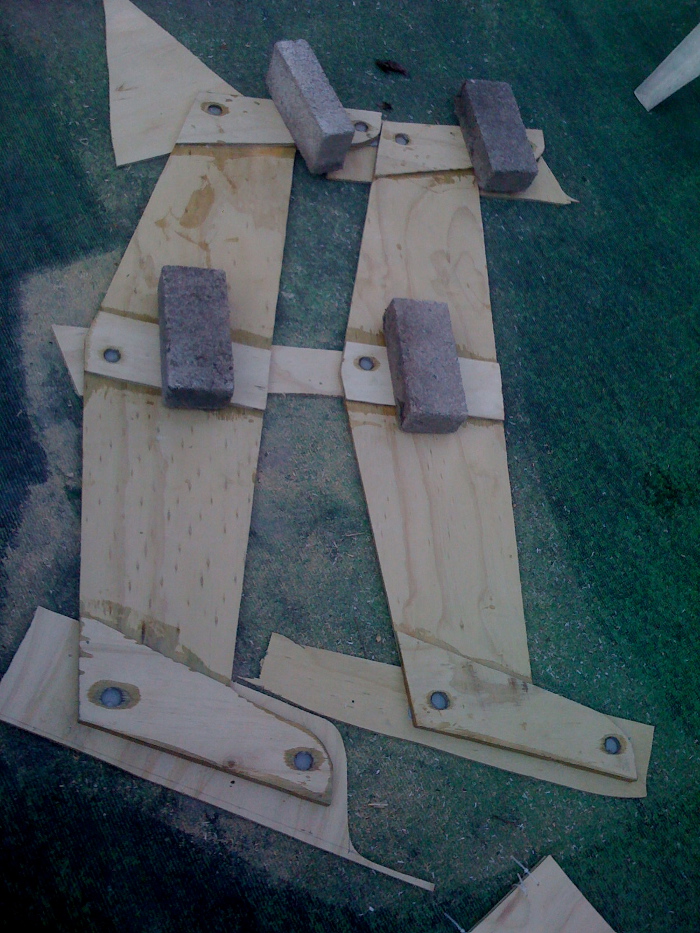 Center bulkheads.
Key to the design is the center bulkheads. These two pieces fit in the exact center of the boat so that the boat can be cut in half and stored in half the space. The epoxy filled holes you see are where bolts will hold the boat together while in use.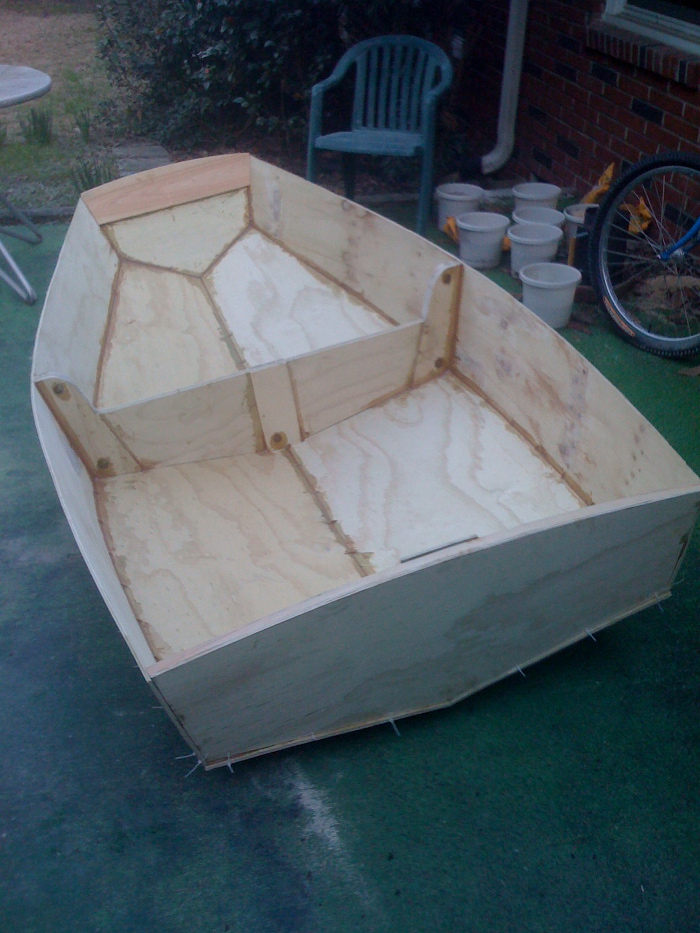 Now she finally resembles a boat!
After procuring all sorts of special materials and reading the plans 100 times, I'm starting to feel like I'm getting somewhere.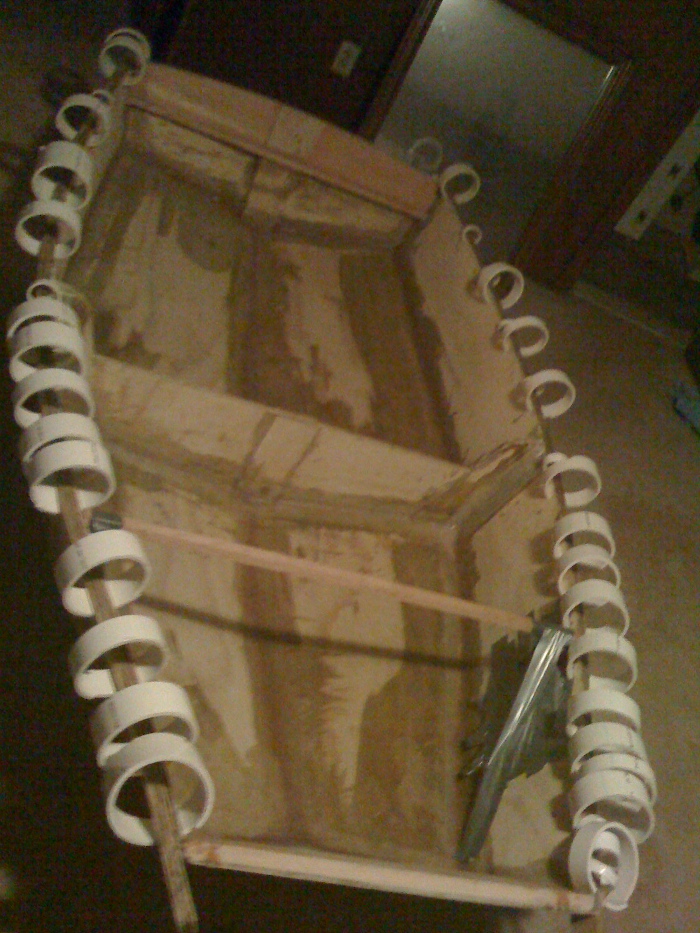 Cool clamps
The gunwales are reinforced with a few extra layers of plywood to help the boat maintain it's shape once it's cut in half. One great tip I got from Graham was a great idea for clamps. You need lots of clamps to build a boat! Graham had the great idea to cut PVC pipe into sections and slice the sections lengthwise. Each slice then becomes a super cheap clamp. Pick the size of your pipe and the length of your slice to fit the job. This super simple idea is the coolest piece of wisdom I learned from this project.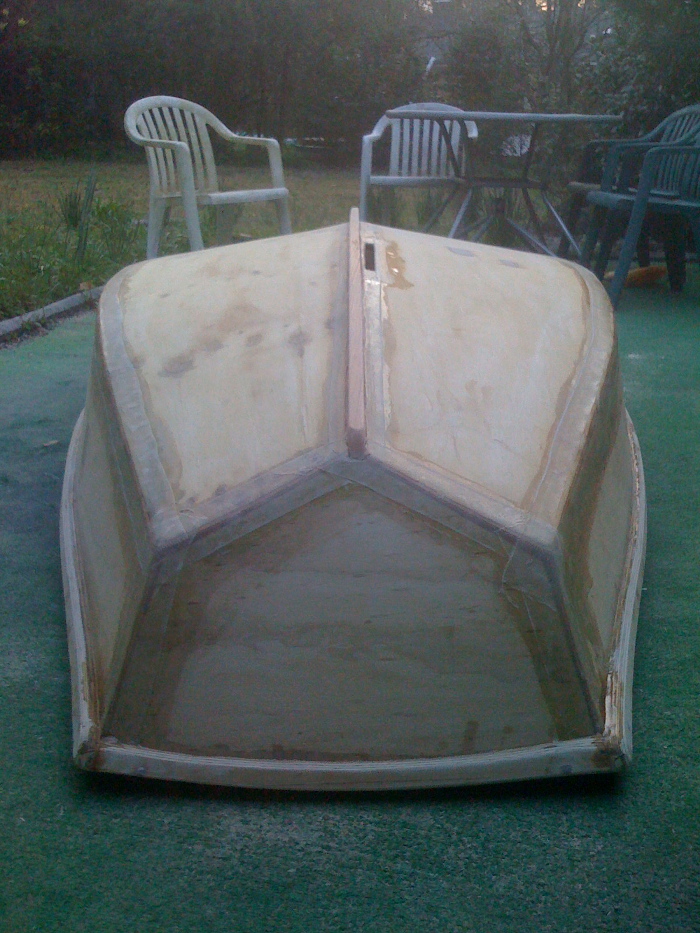 Keel
Looks like keel and centerboard box line up well. I think she's about ready to cut in half. Must take a break to drink a beer and think about it more first.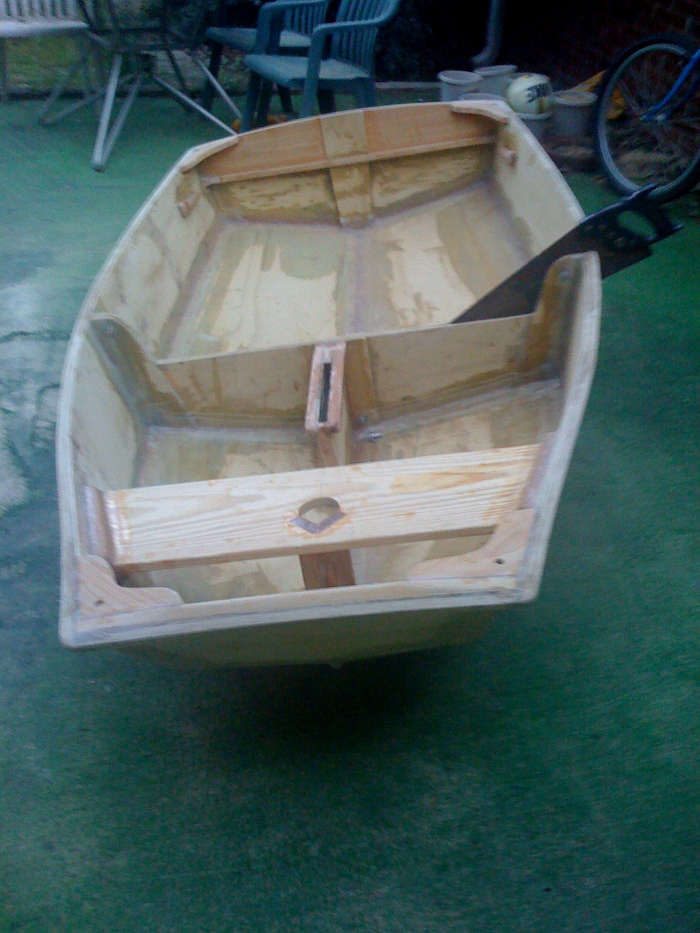 The cut
The two center bulkheads were glued together with a bit of cardboard; enough to fit saw blade between them. Notice hand saw to the right. Most thought I was crazy to do this but it all made sense to me.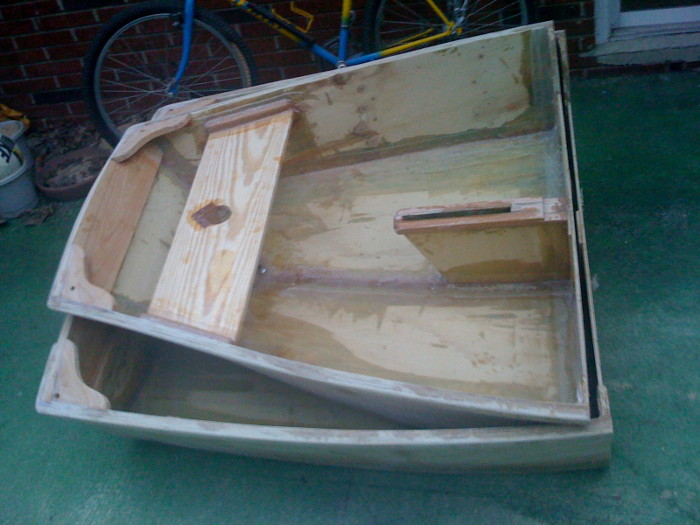 Nesting pram
This is why she wanted to be cut in half; so the front could nest in the back. Now she'll fit nicely under benasea's main boom.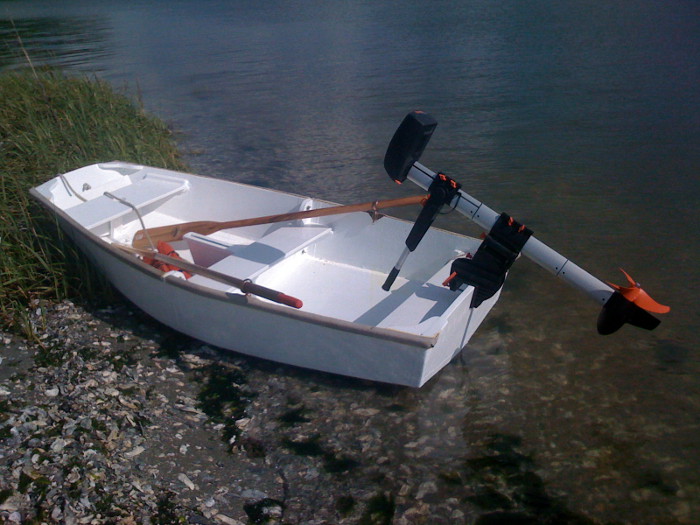 The christening
Today I lowered her into the water from buenasea with the staysail halyard. It was the first time she felt water. Headed out through the shipping traffic to circumnavigate Drum Island in Charleston harbor. She tracked perfectly under oar. Without much load, wind, or current, relaxing speed is about 2 knots. Torqueedo electric motor gets her up to about 4-5 knots at full speed but battery would only last about 30 minutes. At about 2 knots, battery lasts about 6 hours. Doing the math confirms that patience is a virtue. Speed with motor/oar combination wasn't as good as I would think; will have to experiment more. After returning to buenasea, I plugged the motor into the solar panels and had it fully charged again in a few hours. So, it looks like this buenasea tender plan will work. Feeling good. After procuring the goods, I was able to travel about 7 miles for free. No fuel, no utility bill. 7 miles will gradually become 700+, for free. Feeling really good.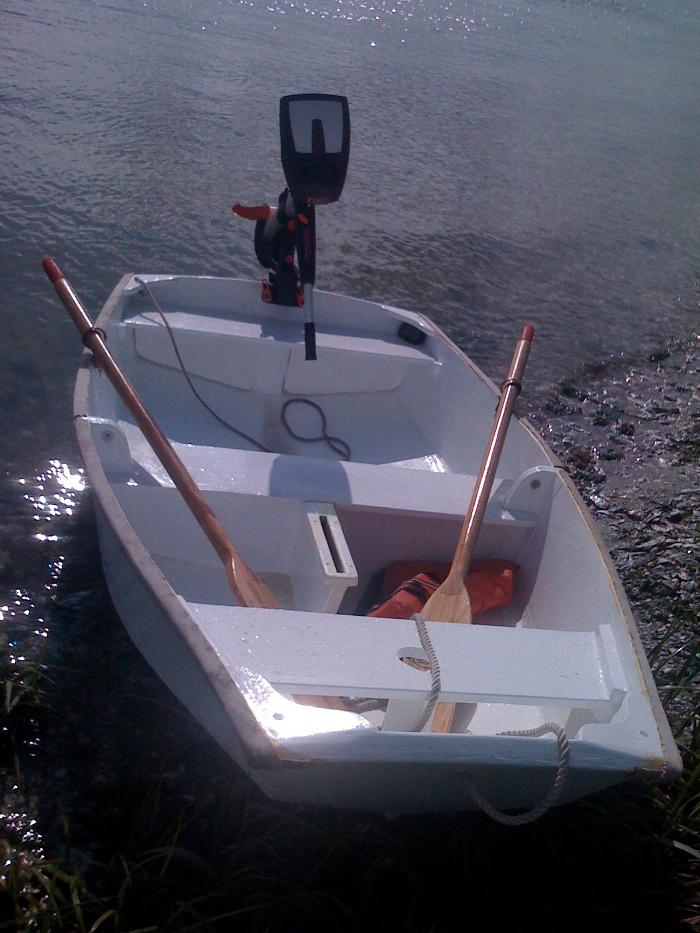 Thanks!
When she felt water for the first time this morning, I named this boat Seba. Special thanks to Carla and Graham at B&B Yachts for Seba's plans. It was the picture of them on Seba's sister boat in Turkey many years ago at the top of the below page that sold me on their plan.
http://www.bandbyachtdesigns.com/cpaw.htm