the feelgood organization
Home
up
Take responsibility for your own happiness.
Mountain bike ride along Pacific Coast from Canada to Mexico

It was when I was 20 that I decided to sell my computer to raise some cash for a mountain bike trip; North America, west coast, north to south. The computer was an old Commodore 64 with two disk drives and two printers. A retired guy in Oroville, North California, called me on it so I drove out to meet him at his place with all the equipment. He was living with his wife and about 20 cats in a trailer on a couple acres of land. There was a lot of junk all around his trailer. He must have liked collecting stuff and he had the time to collect it. We set the computer up in a tight corner of the trailer to make sure everything worked fine and agreed on $800. He was $150 short on the cash so suggested we walk around the yard to see if he had anything to trade. I told him I most wanted the cash for a mountain bike trip this coming summer. I had no use for old car parts, refrigerators, washing machines, and such but realized I didn't have much choice. Eventually, he showed me a Gary Fisher mountain bike frame and two wheels. They were relatively new and in great shape. Now I owned one and a half mountain bikes and $650 bucks. My buddy Tim Fraker, radio name Jack Straw, knew about my trip and suggested a girl friend he knew might be interested in coming along. The three of us met in a pub. Her name was Karen Abel. She had three kids and was living off welfare and going to school to be a teacher. Last I heard Karen finished school to become a teacher and I bet she's far better than most. She was interested in the bike trip down the west coast from Canada to Mexico but didn't have a bike. Over the next couple of months I dug up the rest of the bits necessary to finish building the Gary Fisher mountain bike so that Karen could ride it.

It was end of May or early June when school finished at Chico State. We picked up two cardboard bike boxes from a bike store and stuffed them with bikes and camping gear. Then we hopped on a Greyhound bus from Chico, CA to Seattle, WA. I gave my old Datsun B210 to Jennifer Bailey so she could drive it down to LA for my brother Cliff to use. I think the trip really started on the way to Portland, Oregon. Karen and I had eaten some magic mushrooms shortly after departure from Chico. While most of the people on the bus were trying to sleep, we were laughing. Every once in a while someone would yell at us to shut up but we quickly forgot. We were still feeling good by the time we made the Portland stop. A few months earlier, Tim Fraker and I had grown some good marijuana plants and I had a bit of the harvest with me. I rounded up a few guys from the bus to smoke some and we went around a back alley near the bus stop to enjoy. I was struck by a comment from one of the guys while we were smoking. He said something like "look around at the people you've gathered for this." I hadn't noticed. Besides me, the white boy in our little group, there was Karen, blond fair skinned, a Native American, a Negro, a Latino, and an Asian. Welcome to America feeling Good!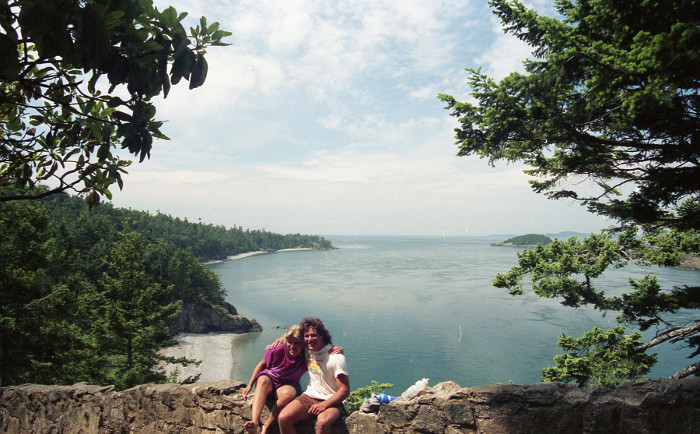 The next afternoon we arrived in Seattle. My bike box made it but Karen's didn't. It wasn't going to make it until the next day. I had a cache of maps and knew we had to ride north to Canada before heading south. That was the extent of my plan. Now we couldn't ride. Paying to sleep and not being able to ride was not part of the plan. Somehow, while stumbling around, we met a nurse who lived near by. A few days earlier her apartment had been robbed. Although she didn't know us any better then that thief, she led us to her place and let us stay. Not long after letting us into her apartment and opening up her futon bed for us, she left for the night shift. Karen and I slept in her bed alone in her apartment while she worked. After our good nights sleep, the nurse returned from work. We said goodbye and went back to the bus station for Karen's bike box. After putting Karen's bike together, we took the ferry to Bainbridge Island and started riding to Port Townsend. We were riding north along a simple straight two lane road south of Port Townsend. Karen was behind me and a big container truck was driving south down the same road. The truck swerved into our lane heading directly towards me so I rode into the shoulder. When the truck followed me into the shoulder, I rode into the ditch and jumped off the bike as far as possible away from the road. As soon as the truck passed me it switched back into its proper lane and continued on. After thousands of miles of riding experience, this is only instance where I'm certain a driver was trying to kill me. We spent a night in Port Townsend sleeping on a beach just south of town. After taking the ferry to Whidbey Island, we continued north to Anacortes. From there we took the ferry to Friday Harbor for a night and then on to Orcas Island. The Seattle nurse told us of a nice camp site with natural hot springs on the south east corner of Orcas Island. We were told the owner sometimes let people stay for free in exchange for work. We spent about a week there fishing, hiking, biking and generally just hanging out partying. One day I was to mow the lawns. The riding lawn mower stopped moving in the middle of a field. After taking it apart I discovered a stripped split gear. An additional spacer, say from a few bits of an aluminum can, could fix the gear. Not having any aluminum cans, I left the parted mower in the field and rode to the next town (maybe 10 miles) to get some beer. Some time had passed before I returned. The owner wasn't happy because I had not communicated my thoughts to him. He thought I had left. However, the aluminum spacer theory worked. I got the mower working again and finished my job. After that, all was well, and we left a couple days later.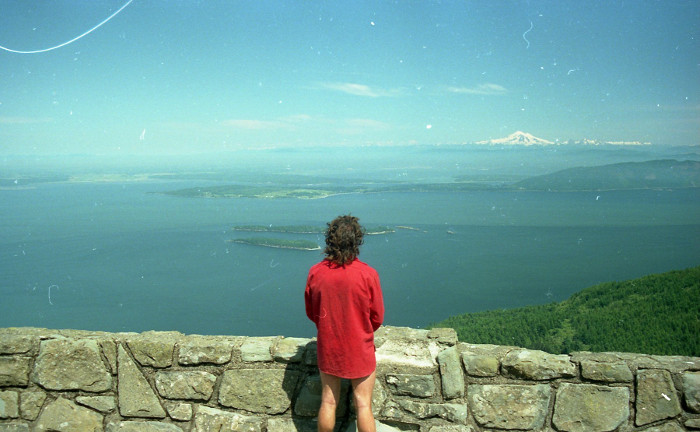 From Orcas Island we took the ferry to Sidney on Victoria Island. Karen had an Aunt somewhere between Sidney and Victoria. We spent a night at her Aunt's house and continued on to Victoria. The ferry ride from Victoria to Port Angeles was good. Despite favorable conditions, the energy in the water entering Puget Sound was evident and the power of Mt Olympus was strong. Now we were heading west from Port Angeles. Shortly after leaving town there was a yellow sign warning motorists to share the road with bicycles. Someone had painted over that sign with black spray paint with the words "you're 2nd class in this state!". It was kind of a nerve racking sight. Fortunately, we never had any problems with trucks or cars even after reading this sign.
We rode through Forks and into the Hoh Rain Forrest. There was a guy there for his brother who had just died in attempt to climb Mt Olympus. We rode up the road into the Hoh Rain Forrest and stayed for a few days. One day we hitched back into Forks for food supplies. It never rained on us in the few days we stayed in the Hoh Rain Forrest. It rains close to 400 inches a year there and a forest ranger said we were experiencing an odd stretch of dry weather. Logging is the name of the game in this part of the country. North of Hoquiam, Karen and I met some people who were having a party. At their house there was a band, a keg of beer, and a fire in the back yard. The open pit fire was huge with big a pile of unsplit cedar logs sitting next to it. I threw a lot of big cedar wood on that fire. No use splitting it. That was the biggest fire I had seen before and everyone was fine with me making it bigger. Cedar wood was plentiful and head high flames were fine. Karen and I pitched the tent close by.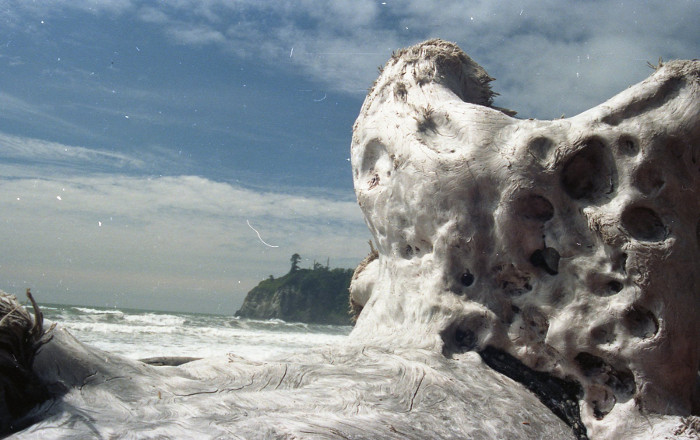 At the party we met a log truck driver from Hoquiam who had some great hydroponically grown pot. We spent some time with him and headed south restocked with excellent smoke. When you're on a tight budget cycle touring and want a shower, it's good to notice schools and campgrounds. When you see a campground, you ride into the restrooms, take a shower and continue riding. We took a shower at a campground on the way to Long Beach, south west Washington. Long Beach has a sign stating it to be the longest beach in the world. I've since seen multiple claims to this. Though beautiful, I don't think Long Beach really has the longest beach. What it does have is a bold bird.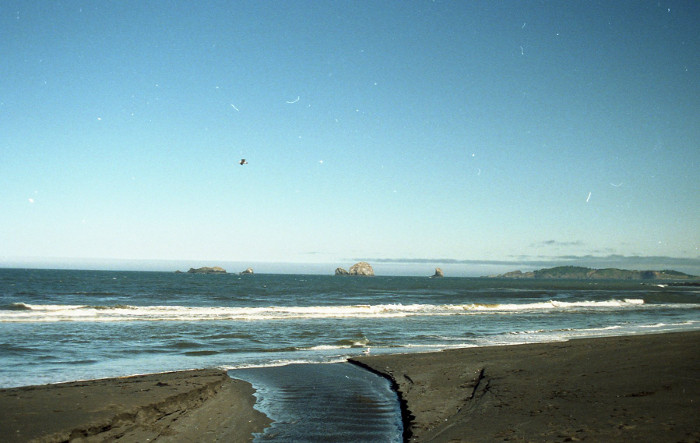 I was sitting at a picnic table on Long Beach with a bag. The bag had 5 beers, half a loaf of bread, and a big chunk of cheese. I was kicking back eating a sandwich and drinking a beer when a big black raven flew down, grabbed my bag, and took off with it. He flew hard. I just watched awestruck. With the heavy load, he slowly and forcefully gained about 50 feet before dropping it. Fortunately, nothing broke. Beware of hungry birds. One beer less and he would have taken it all. The Oregon Coast Bridge from Washington to Astoria, Oregon is really three different bridges in one. There are actually three different spans and architects in one bridge across the mouth of the Columbia River. Louis and Clark spent some time south of Astoria. Karen and I toured their fort and continued riding south right past Tillamook where there is a huge cheese factory. We never toured the cheese factory because we didn't know about it at the time.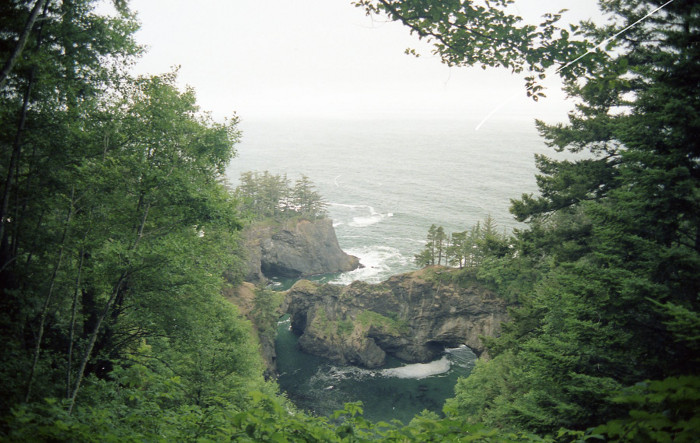 Around Cape Lookout, we pulled into a campground and rested the bikes against a table. Sunset was close so before setting up camp, we walked to the beach to collect fire wood. With arms full of perfect fire wood we walked the beach until dusk searching for our bikes propped up against some table in the trees. We never found our bikes that night but ended up sleeping in the understudy of a fur tree. Huddled together under a fur tree in a drizzling rain is not comfortable. Everything from identification and cash to kitchen, bedroom, and transportation was tied to our bikes. They could have been quickly tossed into the back of a truck and driven away. As soon as light returned the next morning, we started our search again. Almost immediately, I noticed a small trail that looked familiar. We walked down it and saw our bikes exactly as we had left them against the table in the trees. Shortly after setting up the tent the rain increased in earnest for the rest of the day. We hung out in the dry tent eating and sleeping. Karen's sister in Southern California was to be married soon and her father lived in Glide, Oregon. By connecting with her father, Max Able, Karen could attend the wedding as planned. At Reedsport, we rode east along highway 38 and into Glide to stay at her father's place. Max was a welding instructor at the local community college. On our last night together we slept on a huge thick soft white animal fur he had in the living room. Max had rebuilt an old Chevy using refrigerator panels for the body. It was a beautiful old car that looked new. Max, his wife and Karen drove me back to the coast the next day and I continued riding south.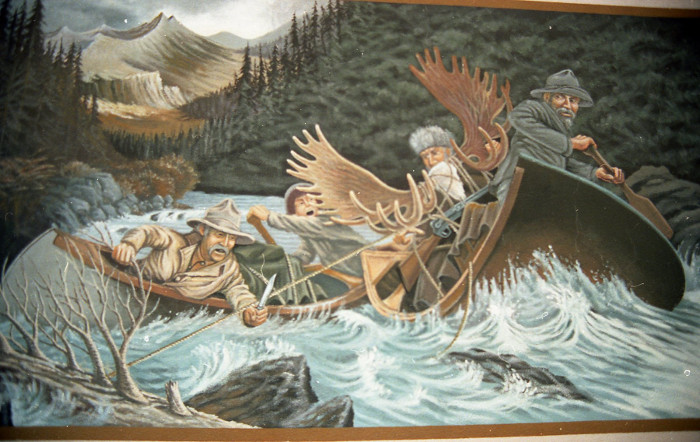 Logging is the economy along the coast of central Oregon. I thought it would be fun to earn money cutting some of these trees so started inquiring for work with logging companies. One guy offered me work tying trees onto the trucks. He said that was the best stepping point before being promoted to falling trees. I refused because I didn't want to start below cutting them down. The evening I was in Brooking, I stopped at an A&W for a root beer float. While I was enjoying my float, a girl drove by a couple of times and then pulled in from behind the building and stopped next to me. She just stopped, looked at me and said nothing. I asked her if she would like to get some beer and go to the beach. I tossed my bike into the back of her truck. She was not old enough to buy beer and I had just turned 21 so we went to the store so that I could get some beer. We drove to a lookout and enjoyed our beer and company. We were in the bushes about 20 meters from the trail when it got dark. When another couple walked up the trail with flashlights, my girl voiced concern about being noticed. I told her to just be quiet and we wouldn't get noticed. She didn't understand and sat up greeting them. The couple still didn't notice. They were in their world and after they passed, we resumed back into ours. When you're in the light you can't see the dark; when you're in the dark, you can see everything. When we were finished, I took my bike from her truck and rode away to make my camp on the beach. I never thought much about Karen again.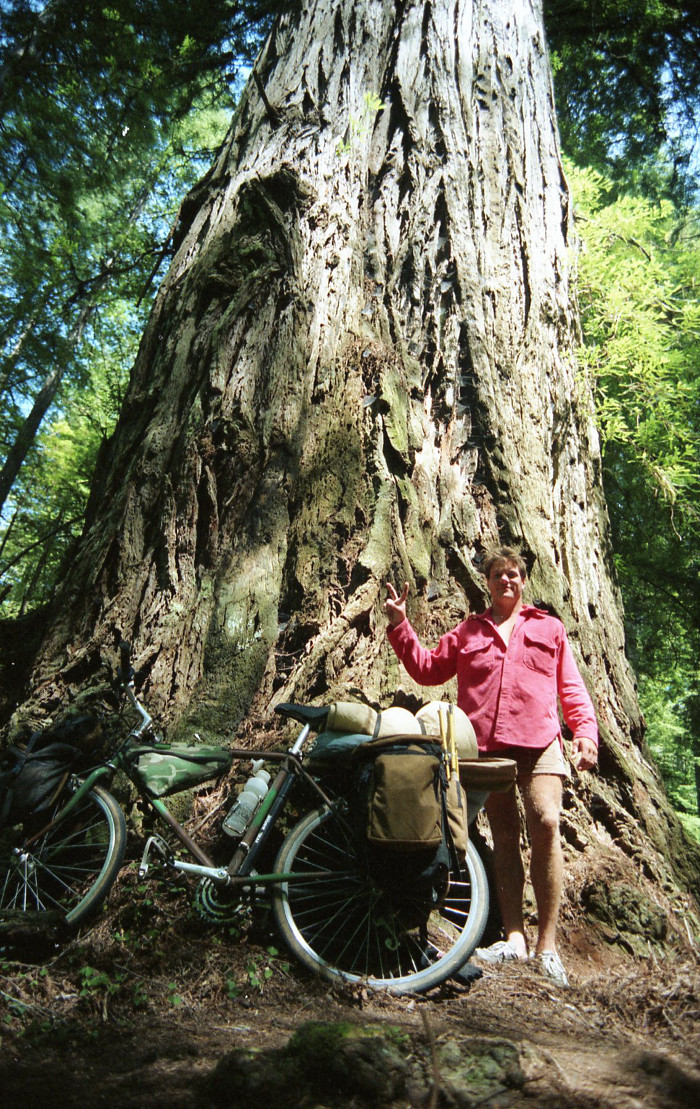 Southbound from Crescent City, CA, there's a long incline. The giant redwoods drop some slippery slime on the road. With a weighty bike, you cannot power to quickly up this hill or the rear wheel will slip. Pretty much all the way from Canada to Mexico, highway 1 hugs the Pacific coast. This is true except for northern Washington and a stretch from Eureka to Fort Bragg in California. There is some pretty treacherous topography along the coast between these two towns. In order to stay close to the coast I headed west at Ferndale along road that better traversed the coast than highway 1. South west of Ferndale, I set up camp to be pestered by raccoons. Attempting to escape, I moved to the top of a mound of rocks set up on the side of the road by the department of transportation. I slept just 10 meters up the hill from my bike and bags. Every so often I'd hear raccoons going through my stuff. When I did, I just reached over to pick up a handful of rocks and tossed them in the direction of my bike and bags. This worked fine. I noticed no damage to my gear when I packed up the next morning.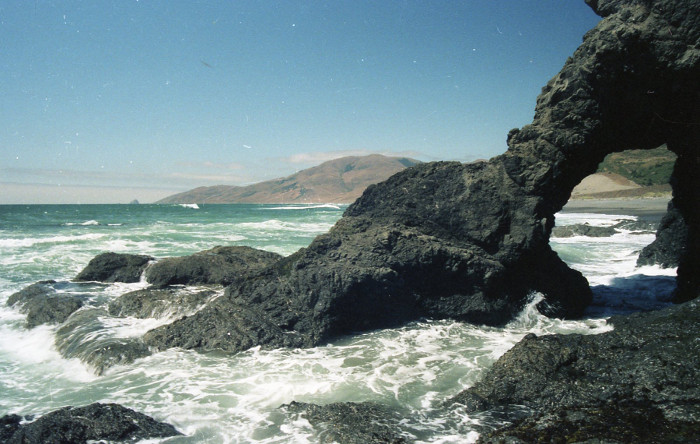 With expectations of a beautiful bike ride through the most remote coastline on the west coast of the continental United States, I woke up and rode up and around and then down to the coast where there was a lone house near the beach. I was out of water so walked up to the house with my water bottles. While I was filling my bottles, a girl walked out of the house. I asked only if it was ok for me to fill my water bottles. She said nothing. She just stood there and stared at me. When I was through filling my bottles, we looked at each other for a few moments; I turned to my bike, and rode away. Shelter Cove is at the bottom of a big hill. The cove to the south was full of anchored salmon fishing boats at night. The fishermen took off early in the morning and returned at night. There was one building next to a small dock where the catch was weighed and sold. I suspect the building was also a small supply house and pub but I never went inside. I met a Native American who fished on a small boat with the owner. He fished with his bare hands which were well calloused and cut up. He had earned about $7000 so far this summer but had not collected any of the money yet because his van was broken so he couldn't drive to spend it anywhere anyway. The boat owner held his money. He was happy with this and planned on collecting it at the end of the season. Native Americans are the most trust worthy people I've ever meet. They will trust you like no other and stick to their word. I hope he got his cash from the owner and I hope he bought the new van he wanted.

I spend the 4th of July there but went to sleep at dusk in the tent I pitched in a field overlooking the ocean just north of the building/dock house. At dawn on the 5th I was the first one up and walked over to the building to sit on a bench. There was a bag full of about 1/2 ounce of pot sitting there. With desire to earn some money and experience salmon fishing, I found a piece of cardboard and drew up a work wanted sign. I stood by the dock house behind my sign as all the fishermen headed back out to their boats. Since I got no inquiries, I re-packed my gear and rode back up the hill and south to Fort Bragg. With stories of good money salmon fishing fresh in my mind, I went to a marina in Fort Bragg and inquired for work on a fishing boat. I met a guy from San Francisco area who had just gotten a divorce and purchased a small fishing boat with commercial license. Weather permitting, he was planning on heading out the next day for a week or two until the holds were full. We went out to top off the diesel tanks and fill the holds with ice. That night I slept on the deck of his boat. Early the next morning he listened to the weather report again and told me he didn't want to go out today and maybe not for a couple more days. I was not interested in waiting so gathered my gear and continued riding south. The Russians highly prized sea otter pelts for garments. They had outposts along North America as far south as Northern California. Their most southerly fort was Fort Ross. I stopped at Fort Ross to tour their fort.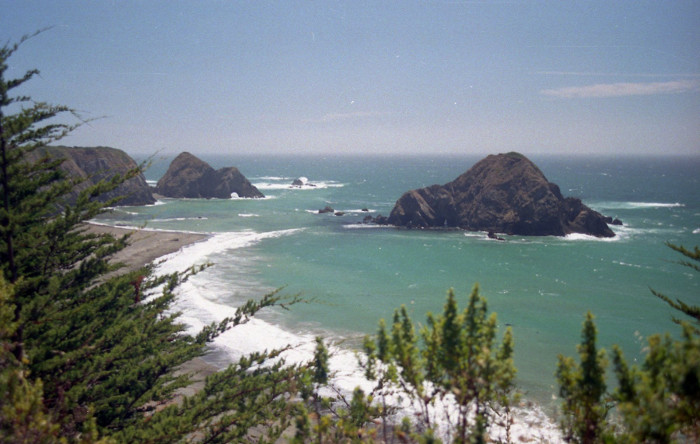 I camped on the beach south of Bodega Bay and found a small black and red knit hat. There was nothing special to that hat beyond it fit well. For some reason I kept that hat for many years. San Francisco was the biggest city I had to pass through since Seattle. Before navigating through it, I camped in one of the old rock artillery structures in Fort Baker just north of the Golden Gate Bridge. The next morning I headed south through San Francisco. By mid-day I was riding Market Street back to the coast from San Francisco. A few different guys whistled at me as I rode down this street. In Santa Cruz I slept in a park near government buildings downtown. A spider bit me on the eye sometime in the night. By the time I woke, it was swollen and quickly swelled shut. Since I could not safely ride my bike with one eye, I picked up some ice and laid down on the side of a street on the east side of town for many hours. By late afternoon the swelling in my eye had relieved enough to see through it so I continued riding south. I stayed in a nicely treed campground in Monterey. There were two girls there who were also enjoying the same ride south. They had a guide book and talked about gorging on cheese while touring the Tillamook Cheese Factory up in Oregon. I was disappointed not to have known about this. I never considered a guide book. The auto club maps I used worked fine but they convinced me that a guide book could make the experience more enjoyable. 17 Mile drive in Carmel was a good detour. Mostly just big houses and nice golf course. In Morro Bay I met Romey Buggs. Romey was from Portland Oregon. He bought a road bike from REI, got a lift to Port Angeles, WA and started riding south along the coast. We rode together the rest of the way to Mexico. Romey had the idea of stopping at Wendys and ordering a side salad to go. Cost was a little over $1. We first did this in Lompoc. The counter person gave us a plastic container with a lid; we walked over to the salad bar and overfilled the container and the lid with food a couple of times for a full meal. We did this a number of times on our way south for good inexpensive fuel. Romey and I stopped at Gaviota State Park for one night and rode up the hill to kick back in some natural hot springs. The University of Santa Barbara has many beautiful women. In an attempt to pick up some girls, we spent the next night in Isla Vista and crashed a few college parties. I ended up sleeping in a field on the cliffs. Then we continued riding south.

I got my first flat tire in Ventura. Part of my gear included every piece of tool necessary to completely take apart and rebuild my bike. I never needed most of these tools. Romey said he was accustom to flats. I believe this was because he was riding a road bike and I was riding a mountain bike. Mountain bikes wheels and tires better handle the extra weight of touring. We continued south through to Los Angeles camping on the beach. In Santa Monica we rode along the strand; the bike path on the beach. At Venice beach we stopped and left our bikes inside of an electrical transmitter or fuel type place. It's a big brick walled square structure right on the beach in the center of action. The workers inside had a big water balloon launcher made with a funnel attached to two long pieces of surgical tubing. Two guys would hold the end with a shooter in the middle. They stood inside the walls and launched water balloons at people walking or roller skating along the strand. They had their aim down pretty good. After walking around Venice a bit we eached picked up a quart of beer and walked to the ocean side of the electrical place our bikes were in. While we were watching the waves and drinking our beer, a 4x4 full of police drove up to us. A few cops got out to us to give us tickets for drinking beer on the beach. We told them our situation and that we didn't have any identification available. They gave us each a ticket and drove away. After laughing about how each of us had given them false names, we tore up the tickets and tossed them to the wind. Then we noticed we still had our beers. We finished our beers and continued riding south. We stopped at my parents place for the night and then rode down to Newport Beach. We camped on the beach on Balboa Island between some volley ball courts in front of million dollar homes. My brother, Warren and his friend Tom Sage were living near the beach in Solana Beach. Romey and I stopped to stay with them for a night before heading down to Mexico. We left most of our gear at Warren's place and headed to Tijuana the next morning. In Tijuana we ate and drank tequila. While walking north across to the US border that evening, kids liked giving us high fives. One of the kids had a pin wedged between his fingers and it pricked me so I never gave any more kids high fives. Having left our camping gear at Warren's place, we found a big lot full of container truck trailers. We opened an empty one and spent the night in it. Some time during the night trucks came in and pulled many of the containers. They also dropped some off. Luckily, they never touched our container. When we got out the next morning, the lot looked quite different. Luckily, they never hitched up our trailer and drove us away somewhere.

On the way back north to Solana Beach we passed through Mission Beach. There was a men's body building contest going on. Romey and I had filled our water bottles with the remaining tequila. We kicked back and sipped on our bottles right in front of the stage facing the crowd. All the beautiful San Diego women were watching the body building show. We just sat watching them. From Blacks Beach we rode on the beach to Solana Beach. Despite my warnings, Romey rode more in the water where the sand was harder. This salt and sand from our final ride together took a toll on his bike. This was the end of our ride together. I had finally spent the $650 I'd received from my old computer and needed to make money for the following college semester. I knew I could find fast work in Colorado so headed there to work for the remaining few weeks available. Romey continued riding south to the tip of Baja California. When he finally got back to his home in Portland, Oregon, he returned his rusty bike to REI.