the feelgood organization
Home
up
Face your fears and feel good. Tahiti to New Zealand Sailing Tour
Tahiti sits in the middle of the Pacific Ocean and is super easy to find. All you have to do is look in the middle for an island shaped like turtle. It's head is facing Chile. This turtle is the island of Tahiti and it is the commercial center of the Society Islands and all of French Polynesia. Society Islands
At 51 we arrived in Tahiti. It was about a week before Tracy was scheduled to fly into Papeete. She was to join us again for the rest of the season sailing to New Zealand. Coming from the north east with the wind and waves, landing at Venus Point is easiest. Venus Point is at the far north point of the island. This is where Captain James Cook first choose to measure the transit of Venus back in the 1700's. The English society sent people like him to various points around the world to measure the transit of Venus at a certain time because for some special reason the results of their measurements would most help position the Earth in relationship to other objects in the universe. Today at this point is one of many monuments for Captain James Cook, who after successfully doing his measurements, went on for many years exploring and building maps of the Pacific Ocean from New Zealand and Australia to Alaska. Cook was the first European to meet and document many native populations in this area until he died in Hawaii. I'm far from a Star Trak expert but believe Captain James Kirk from that TV and Movie series was inspired by the real Captain James Cook. Swimming off Venus Point was my first experience in crystal clear water over black lava sand. For the most part, these Society Islands are sinking volcanoes surrounded by a white coral reef barrier. They're just not as old as the atolls and so still have a mountainous land on the inside. The only way into these islands is through passes in the white coral reef barrier. After a few days at Venus Point we sailed through one of these passes and anchored near the Papeete airport. This was a convenient spot close to the best stocked shops since Panama making provisioning simpler than anywhere else for thousands of miles.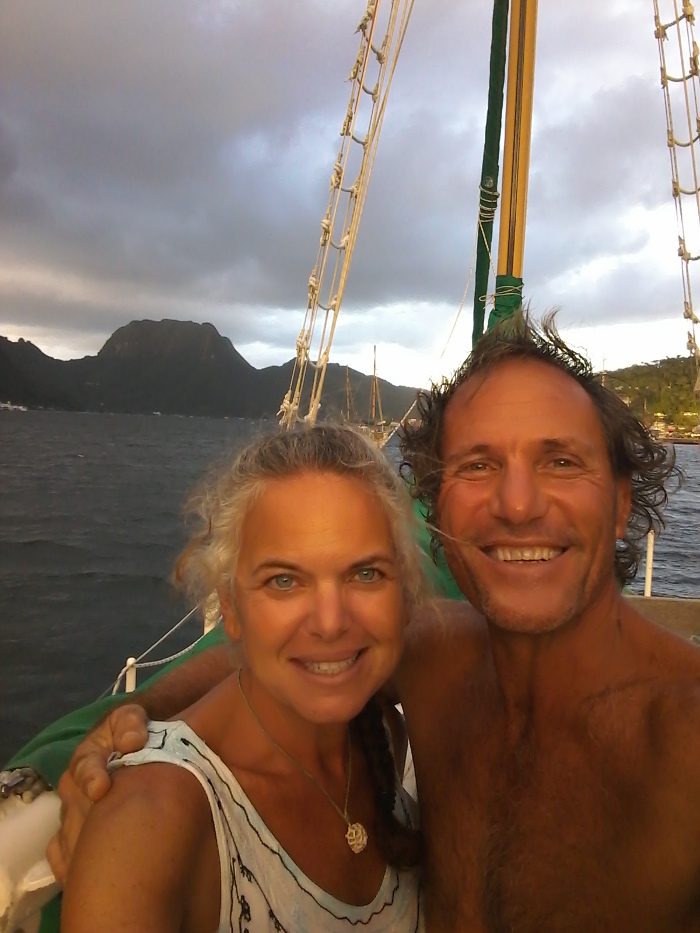 By the time Tracy arrived, the Saugeen Witch was stocked up and ready for cruising again even through she came with a surprisingly large amount of M&Ms for munching and chocolate chips for baking. That was awesome! Unless you're part of the European Union, French Polynesia wants to make sure foreign visitors leave before getting too comfortable. Towards this end, the officials make sure you have a return flight booked and paid for before they let you fly in. When you plan to leave by a more flexible sailboat, they take from you the value of that return flight in the form of a bond so that if they catch you overstaying your time, they can use that bond to send you back home. Turning Tracy's return flight into a bond took us a few more days in Papeete dealing with officials. Then we were ready to get out of the hustle and bustle of the big city. One morning we hauled anchor near the Papeete airport, headed out the pass in the fringing coral barrier and sailed to Moorea. Exiting the pass was wild because, as we were sailing out in nice wind with calm water, we watched fast double head high hollow waves breaking on the reef only a stones throw away. Moorea is the perfect place to sail from Papeete. It's close enough to sail in one day. It is well developed for tourism with good sign-age, amenities, and easy snorkeling on the reefs. We entered D'Opunohu Bay on the north side. First we sailed deep into this bay because there are some super hiking trails up this valley that would take many days to explore.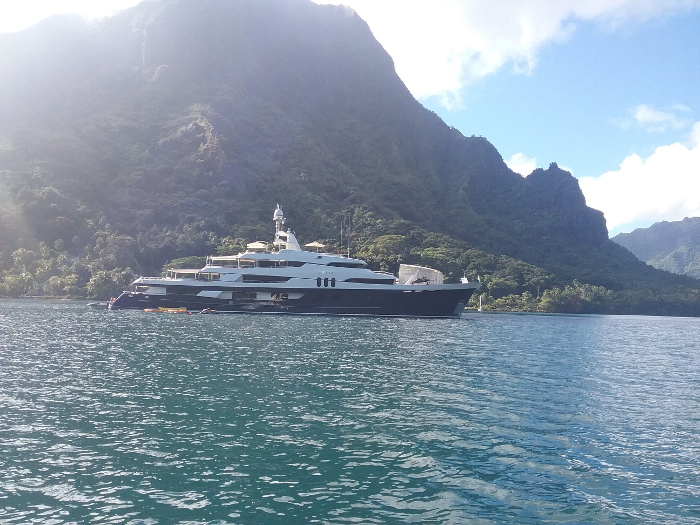 Interestingly, this bay also appears to attract mega yachts. During the time were were there, a number of huge mega yachts anchored near us. Some of them had helicopters and loads of toys like jet skis and speed boats attached. Although the employees were often seen cleaning and working, I got the feeling they also had plenty of time to play as the owners were not there much of the time. Anchoring near the outer reef, we often watched manta rays slowly fly by during their endless reconnaissance over the white sand sea floor. From Moorea we sailed over night to Huahine. Huahine was our favorite of the developed Society Islands with convenient anchorage next to nice town close to waves breaking on barrier reef. There are also nice hiking trails and spectacular snorkeling close by. The Heiva Festival was in full swing while we were in Huahine. There was the traditional dance with the powerful drum music and there were some other interesting competitions. For example, one competition had a couple dozen men line up with spears near a coconut sitting on top a thin 20 meter pole. Whoever best hit this small, far and high swinging object, won. The competitors kept the atmosphere easy, friendly and relaxed with light conversation somehow just knowing and giving the next go to the man most ready for their toss. One day we hired a scooter to ride around the island and passed by a stream full of huge blue eyed eels. Some of these eels were a good 1.5 meters long and were obviously use to people feeding them. A guy gave us some bread to feed them and they would literally eat out of your hand brushing up against your foot and leg without worry. We sailed out of Huahine one morning to anchor in Vairahi Bay. This is a relatively undeveloped bay on the east side of Raiatea. Maps.Me indicated a hiking trail close by up to some waterfalls. Maps.Me is a most excellent Android app with offline maps based on OpenStreetMap with community updated information like wikipedia. One thing about these Society Islands is that anchoring inside the reef is over white sand. The closer you get to the reef, the shallower it gets so you can basically drive into a spot you feel comfortable anchoring and watch the anchor dig into the bottom easily diving to reset if you like. However, if you want to anchor next to land, most of these bays are quite deep, like 20+ meters, with rocky bottoms. Close to shore there is often a wall from this deep rocky bottom up to a submerged rock shelf. Many of these shelfs are so shallow you can walk on them the rest of the way to shore. Of course, just because the light is not good and you can't see the shelf does not mean it is not there. At least this is what I learned at our first anchorage in Raiatea. Actually, our first anchorage was on the south side of Vairahi Bay where we probably would have been just fine. But after a couple hours of considering the wind forecast, an exposure to waves, and maybe an over-feeling of the need to just do something after a couple of beers, I decided to move over to the north side of the bay. With Tracy reading out depth while driving the boat ever so slowly to shore, I was up front watching the bottom ready to drop the anchor. Then, all of a sudden, I watched the boat hover over what looked like solid land as the front of the boat came to rest stopping on top of it. We basically drove the boat onto land so that we were stuck. Half the boat was hovering over water 17 meters deep and the other half was hung up on a rock shelf. Fortunately, as the other side of luck would have it, God is as nice as I was bad. Within minutes of starting to organize a spare anchor setup for kedging off the stern, a local fisherman drove up talking French. He must have been close by watching and obviously understood perfectly the situation we were in. His English was as good as my French, which is not saying much, but gestures were enough. We tossed him a line and he pulled us back into the bay enough for us to just drop the anchor and be easily over a situation that could have quickly become very bad. While hiking to the waterfalls next day we noticed his boat tied up to a sea wall and left some fishing gear on it for thanks but never saw him again. Eventually we headed up to Tahaa which is inside the same barrier reef as Raiatea. Then we ended up near some of the most spectacular coral gardens on the west reefs off the village of Teruaupai. Coral bleaching is very real. Most of what you see now in the Caribbean and Pacific is now dead. It's like the reef fish there are living around ghost towns because they have no place else to go. However, this little spot between two barrier reef islands was full of healthy coral and fish life. We enjoyed snorkeling for a couple days until the warm water made us cold blue. Then we sailed up to Bora-Bora. (
rambling video
). By the time we arrived in Bora-Bora, my three month visa was coming to an end. Aside from hiking a little inland and snorkeling on the south end of the main bay, most of the time here was spent preparing for sail to Samoa and working with officials to check out of the country. Checking out of French Polynesia involved filling out 5 new forms, finding a place to scan and email 3 of them, and waiting some days for favorable response. Looking back on the Saugeen Witch log, almost 2 out of 12 weeks in French Polynesia was spent checking into and out of the country. In this increasingly populated and complicated world going forward, best to just plan on more time and effort than you might imagine dealing with officials. American Samoa
It was a 10 day sail from Bora-Bora to American Samoa. Along the way, we sailed near some islands and atolls just to watch them pass by. For the most part the wind was from directly behind and the waves were larger and more confused than you would expect for the given wind. With the Saugeen Witch not rigged for such downwind conditions, most of the time we flew less sail than we could have to limit chafe and damage. Even so, on one first morning light deck check I noticed the single big stainless steel bolt connecting tiller to rudder (like connection from steering wheel to tires of a car). It was broken in two. Half was sitting on deck and the other half was mostly hanging out other the side. Fortunately, threading a new bold was easy. Ten minutes later it would have been a little nightmare. It was another reminder for me to look around and investigate other little things here and there. Fact is everything on a boat is always in motion flexing and rubbing against this or that. Everything fatigues or wiggles out of place somehow. For this reason, unless you're racing with the ability to replace warn fittings and equipment, it's worth taking time to be as aware of your boat as possible. This means looking around. Imagine how things interact with the stress and with their neighbors. Can it be adjusted, re-oriented, or replaced by different material to control the damage? Even a rock gets warn down by the rain. Landing in beautiful Pago Pago harbour was after passing many miles of spectacular islands and shoreline. This huge well sheltered natural harbour is uncommon in this part of the world. It's quickly apparent the US Government pays well for it by means of the National Park, National Seashores, and infrastructure. This also makes for some of the healthiest corals in the Pacific. The local post office also makes it as easy to get goods and materials. While waiting on the post office for audio and video equipment and new oars for the dinghy, we watched locals pick up a new baby stroller, a car bumper, house siding, and more things delivered by the likes of Amazon.com or Home Depot as easily as if you were in Kansas. Aside from some spectacular seashore, healthy coral, and nice walks through the National Park, the best part of American Samoa are the people and their bus system for getting around. These people have small open buses that pick you up and drop you off wherever you want. The buses without an excellent sound systems are sporting a big screen TV. They all travel along an incredibly scenic seashore. Schedule is mostly frequent enough to be of no concern and cost is so insignificant, Tracy and I enjoyed scenic 2 hour joy rides through the countryside being entertained by the locals. The Samoans we met were most relaxed, friendly and helpful. For example, looking for fruit bats one day, a woman stopped working on her house and took us in her car to the other side of town sharing advice and stories along the way until stopping under a tree by the sea full of bats hanging out sleeping. A month after arriving, we had received all we needed from the Post Office. Most importantly we had to say goodbye to a super couple from Hawaii who had anchored next to us. I can't remember their names but the captain had designed and built his steel ketch himself in Oregon and named it the best boat name I've seen. The boat is named "Love" and it's dinghy is named "Tender Love". We each left waiting on items in transit misdirected to Auckland or Los Angeles or somehow unlikely to show up for an unknown period. But these things were not important and Tonga was beckoning. So, we cast off from Pago Pago and sailed for three days to Vava'u. Tonga
Although Tonga is only a few hundred miles south of Samoa, they are a full day in time ahead. The people of The Kingdom of Tonga are the first to start every calendar day. GMT+13.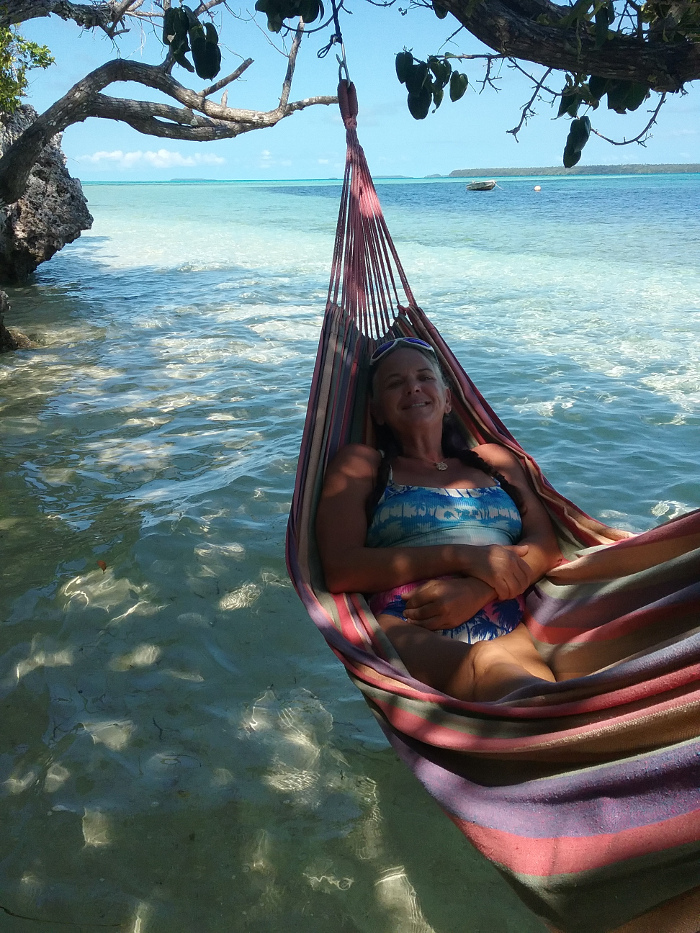 Tonga is also home to some of richest birdsong. We spent a month sailing between various islands and anchorages in the Vava'u group and its capital of Neiafu. (
rambling video
). In doing so we captured a healthy collection of dawn and dusk birdsong for peace out videos. We also snorkeled coral and watch colorful reef fish for hours. On the island of Kenutu, we found the most deep red dirt imaginable. A woman in Neiafu sold clothing naturally dyed by this red dirt. We also used a small amount to tie dye a couple shirts to amazing success.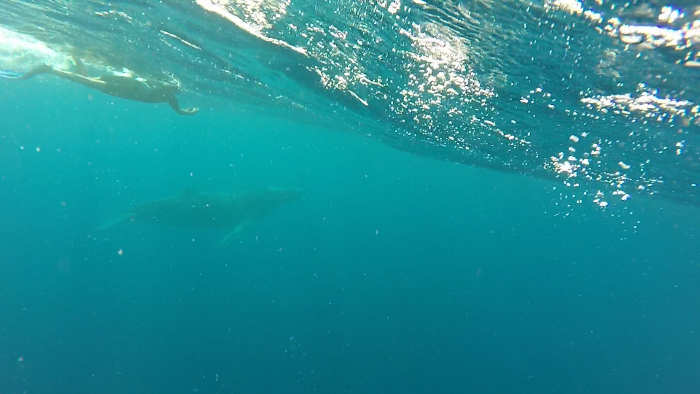 It just so happens that Tonga is where humpback whales come to calf in the winter. While sleeping in the boat at night, we would listen them singing and talking. I think the males did the most singing with more variety in their vocals. The mothers and their calves did more talking. It was easy to tell the difference between mother talking (big lungs), baby talking (little lungs), and the males singing (huge variety). With a guide, you can swim with them. Tracy organized a trip for us to go swimming with the whales. After much of a day driving around watching various mothers and their calves, we finally were allowed to jump into the water next to one pair. The guides want to make sure that the whales are comfortable near a handful of snorkelers. We watched mother hang out at various depths from 5 to 20 meters in the clear blue water teaching her baby how to breathe and hold its breath. Baby would stay with mother, come up for air, and return. After many repetitions, mother would come up for air and then move to another location and depth for baby to follow. I guess they continue this breathing practice for many weeks. November marks the start of the South Pacific cyclone season. With October progressing, it was time to get out of cyclone danger area and my decision was to use New Zealand as safe place to be during this season and then hang out exploring there for a while. With this in mind we sailed down to the Hapai Group for a few days and then cast off for New Zealand watching whales spewing and splashing as if waiving us fair well. My strategy for sailing from Tonga to New Zealand involved stopping at North Minerva Reef, which is still in the trade wind latitude, and watch the weather. When the weather window looked favorable, resume sailing. We were almost within eyesight of this low lying atoll when I saw the forecast for next three days indicated a high pressure system moving it's way from Tasmania, Australia east across the Tasman Sea to New Zealand. These weather systems typically work their way from west to east around the world at higher latitudes in both the southern and northern hemisphere. I figured this high pressure system would continue moving east and by the time we got that far south it would be passing New Zealand and we would easily ride it's backside winds down to the North Island. However, this figuring of mine was naive inexperience. In the southern hemisphere, there is pretty much nothing to stop the flow of these weather systems except for South America and New Zealand. This high pressure weather system I planned to ride south to the east coast of the north island got "hung up" on the mountains of New Zealand and sat there to the west of the island. While this high sat there, a series of low pressure systems came up along New Zealand from the south. I've since observed this same behavior many times to the point where I think you can plan on these high pressure systems "stopping" for a rest before continuing east over New Zealand. For us the result was a slow sail mostly beating to windward with a couple days hove-to in storm conditions. Eventually we made it fine sailing into the Bay of Islands around sunrise 13 days after leaving Tonga with nothing broken and all systems and crew in fine shape. Entering the Bay of Islands, the waves died down but the wind continued to increase. We sailed towards Opua on the east coast of the north island. This is the port of entry the government most promotes for foreign boats entering the country and they make it really easy with professional officials. There is a dedicated quarantine dock that's like an island with plenty of space tyeing up to any side. But we didn't know that. What we could see is that Opua is just about at the end of a tidal river and the incoming flood tide was at it's peak pulling us into an area full of moored boats and shallow mud. The winds on our tail were getting stronger. Even with reduced sail, approaching the town of Russel along the way was fast. It's interesting to observe later the effects of claustrophobia. After spending so much time with unlimited space, we were now being pushed and pulled into a crowded area where any mistake in tight maneuvering can mean breaking things and other peoples property. As we were flying by Russel, I just kept feeling increasingly uncomfortable. New Zealand's main Port of Entry for small boats like the Saugeen Witch is Opua and Opua is up a shallow river at the end of a long bay. The increasing wind was pushing us up this narrowing bay into Opua. At the same time the incomming tide was creating a current that was pulling us into Opua. The water around Opua is full of boats on moorings or in the marina and beyond that is mud too shallow for the Saugeen Witch. My calls So, we pulled in behind a rocky peninsula and dropped the anchor. Instantly, I felt relieved. We spent the day cleaning up and watching tour boats and parasailers jet around even as the wind and waves continued to increase. The next morning was calm and peaceful making for an easy motorsail the rest of the way into Opua for check in.